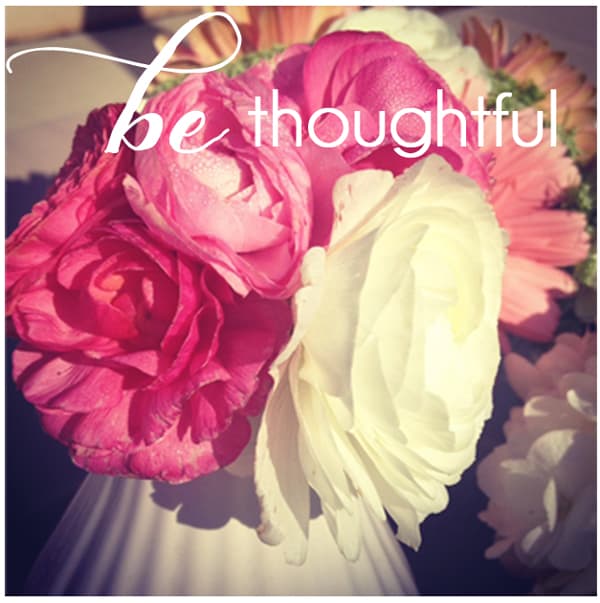 I hope you are all having a wonderful week. I decided to drop in a quick blog post today, a reminder if you will — to be thoughtful.
The name of this site, Thoughtfully Simple, isn't just something I thought was catchy or unique — it's character trait that I feel is important. Whether I'm telling my girls to "be thoughtful" of others or if I putting together a gift for a loved one that I want to be thoughtful yet simple … personable yet understated — I always have "be thoughtful" in the back of my mind.
It really is no different when it comes to my career (as a community manager) or my time spent here designing events and blogging. There is something that rings so true with the phrase "be thoughtful." Are you a writer who wants to engage your community? Are you a marketer who wants to sell goods? Are you a mother who wants to do the best by your children? A designer, a teacher, a (you fill in the blank)?  All of the above … or something else entirely depending on the day? Regardless, I challenge you to pause and think about how consciously being thoughtful can alter your course of thoughts and actions.
Some of the ways I personally try to "be thoughtful" daily:
–Smile. Really, make sure you smile. Especially towards your children. You might think "of course I do this daily" but really make an effort. Recently my 5 year old told me "Mommy, you always look like you're thinking … you should smile more." Do it.
–Blog commenting. I must have never got the memo that people don't do this anymore. I never stopped. Some of you reading this now might realize that I come and comment on your blog often. I do it because I want to, because you took the time to write something, and I'd be honored to read it and connect over your content.
–Thanking your community. Whether they are your personal network of family and friends, your blog readers, your Facebook fans or Twitter followers — thank them. The most thoughtful thing you can do is to show your community you are listening and that you value and appreciate them.
Which reminds me, I changed out our Facebook cover photo to include your wonderful smiling faces. Fun right?
I'd love to hear your thoughts on the topic of being thoughtful. Have anything to add?