Let's be honest, wedding registries are usually chalked full of home furnishing and kitchen items that the bride is swooning over. Sure- the groom may have added a grill or gave his input on the color of the bathroom towels, however most often- wedding registries lack "guy stuff." Well, not any longer- grooms everywhere can rejoice, your voice can be heard!

Check out this guy-geared site, The Man Registry. Grooms can now really get excited about creating a wedding registry, with gadgets and gizmos galore- this is the perfect place for a "groom only" registry or a place to get some awesome groomsmen gifts. Here are some of my favorite groomsmen gift ideas: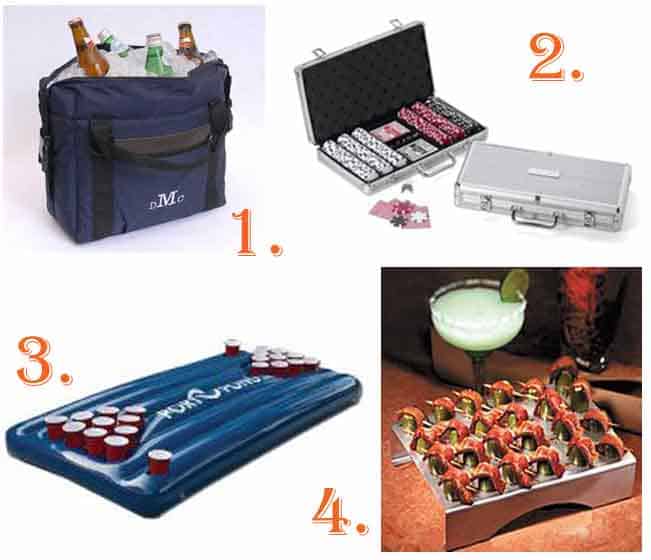 Any groomsmen would be happy to receive the above gifts. Not only are they cool and out of the ordinary, they are something that one can actually use (and enjoy) over and over.
1. Soft sided cooler. Hold up to a 12 pack and you can even get this monogrammed. 2. Poker set– now they can invite you over and get your game on! 3. Floating beer pong table…loving this! I think everyone has that one groomsmen who would love to receive this as a gift! 4. Jalapeno griller. Have a grill lovin' groomsmen? This is perfect for stuffing and grilling jalapeno peppers. HOT!