When it came time to choose a theme for my little London's 5th birthday–I knew I wanted to do a birthday breakfast party and decided it would be fun to make it also a pajama party. Since she's a little young for a traditional sleepover, it was a nice twist and made for a really unique birthday!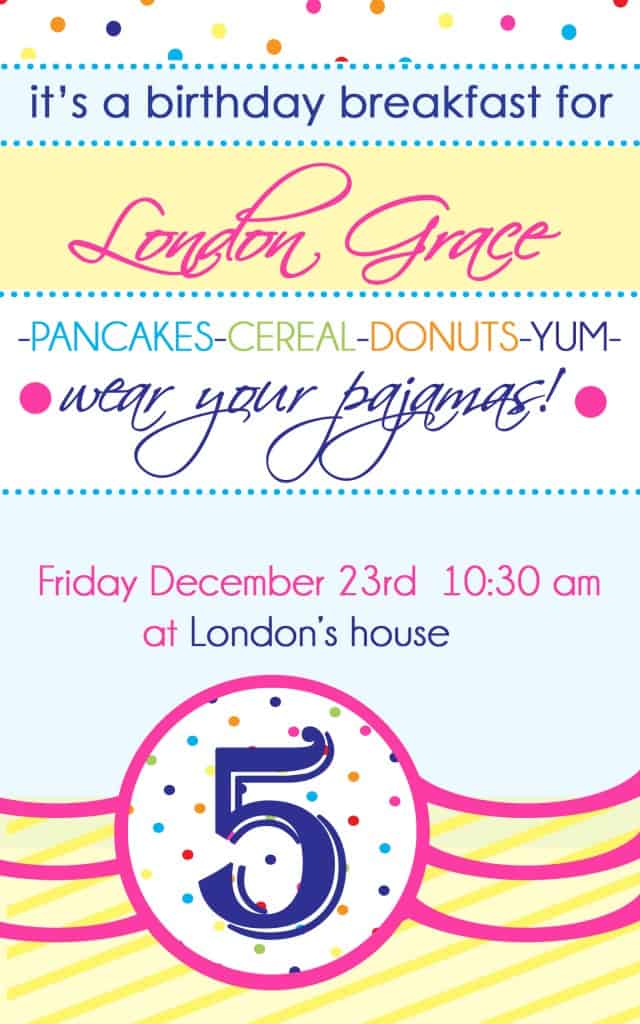 My inspiration for the color palette was non-peril sprinkles — they just scream BIRTHDAY!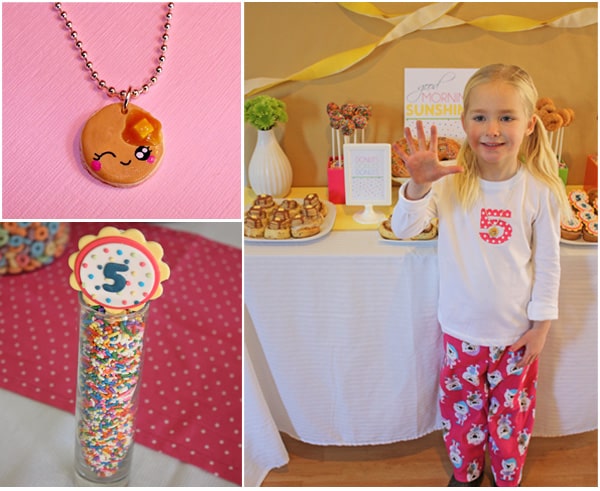 The party was on her actual birthday (2 days before Christmas!) and it was fun to wake her up with new "birthday pajamas" for her breakfast party and a darling pancake necklace (I found it on Etsy here).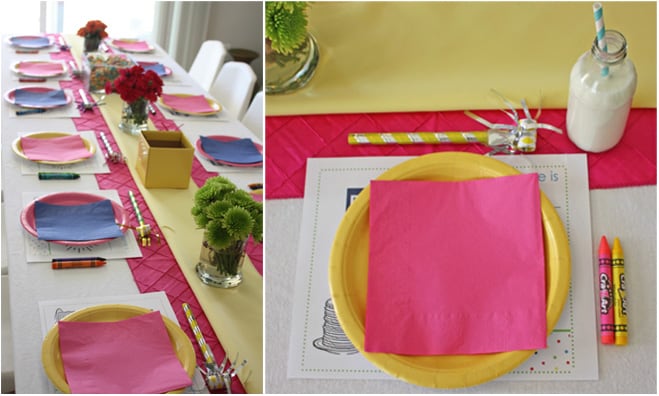 The breakfast table was set for 12 little ones and I made it bright & cheery–just like a birthday morning should be!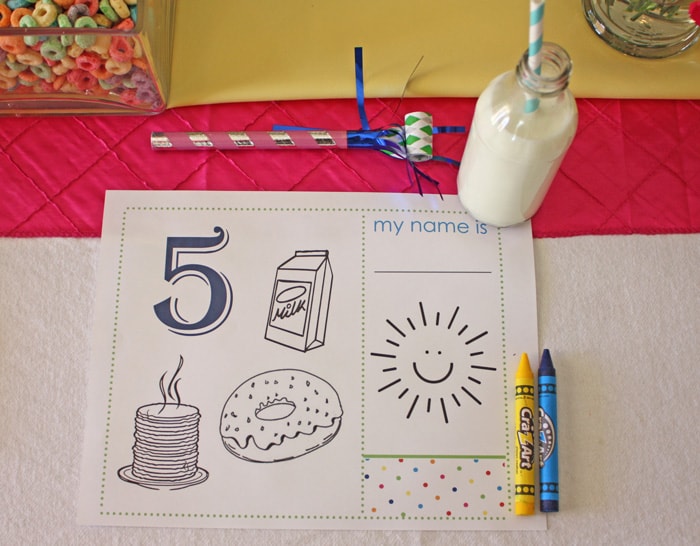 I designed simple paper placemats  for each child to color (FREE printable link at bottom of the post!). This kept their little hands busy while the parents greeted one another and grabbed a cup of coffee.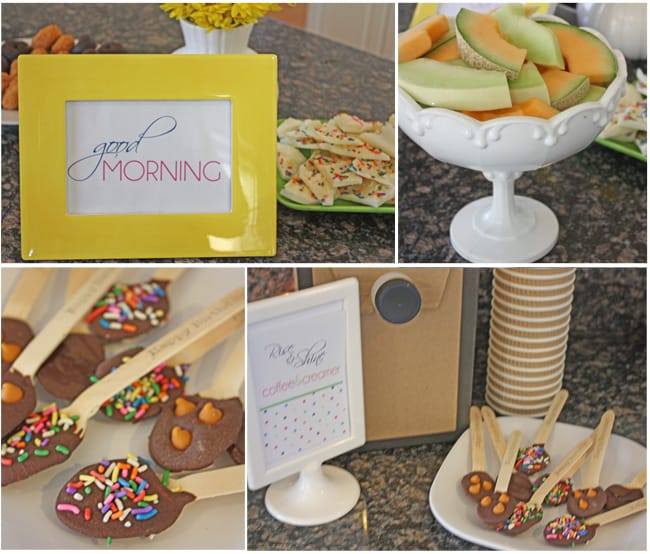 Coffee, creamer, chocolate spoons, birthday bark and fruit made up a little "rise & shine" station for the moms & dads.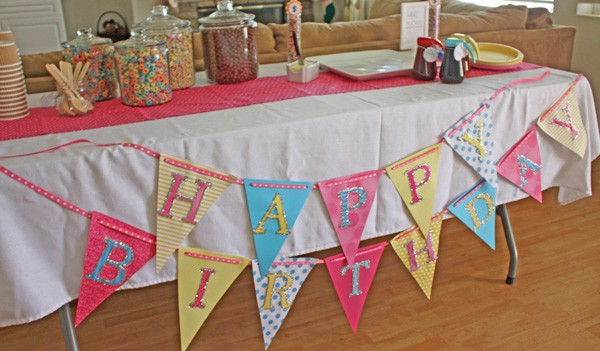 The real sugary fun took place over at the cereal buffet and birthday pancakes station! Loved the colorful birthday banner (and it matched the table runner she made perfectly)!
All the sugary cereal a kid could dream of — a true birthday treat for our little one! Served in these darling kraft paper bowls. I stamped the wooden spoons with "Happy Birthday" which was an easy way to add something special. The vintage milk carafes were a great thrift-store find.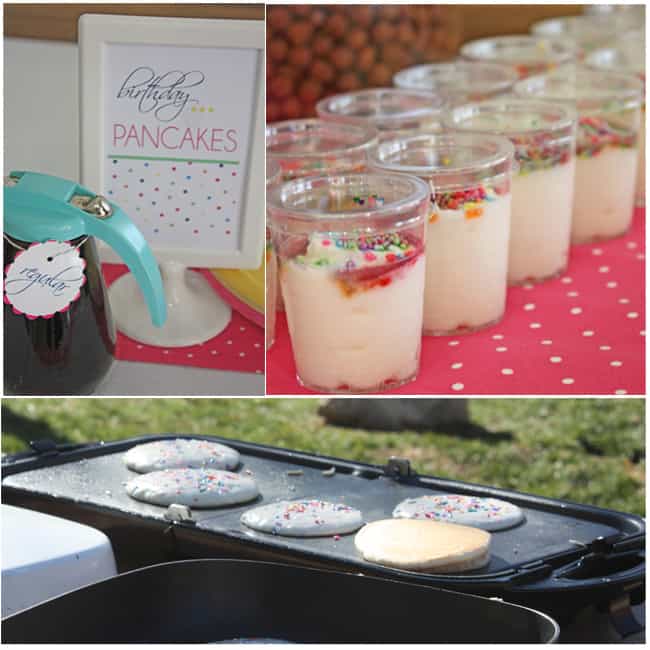 Mini yogurt parfaits, funfetti pancakes and flavored syrups were all out for grabs. The Mr. whipped up pancakes and bacon to order outside since it was such a gorgeous December morning.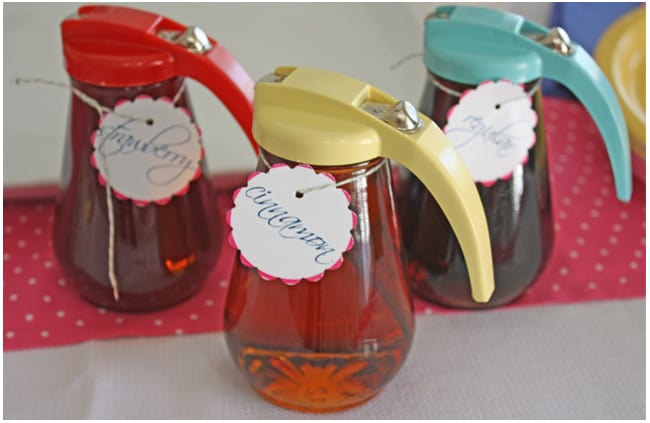 These vintage syrup dispensers were also an Etsy find — and I LOVE having them in my collection now :).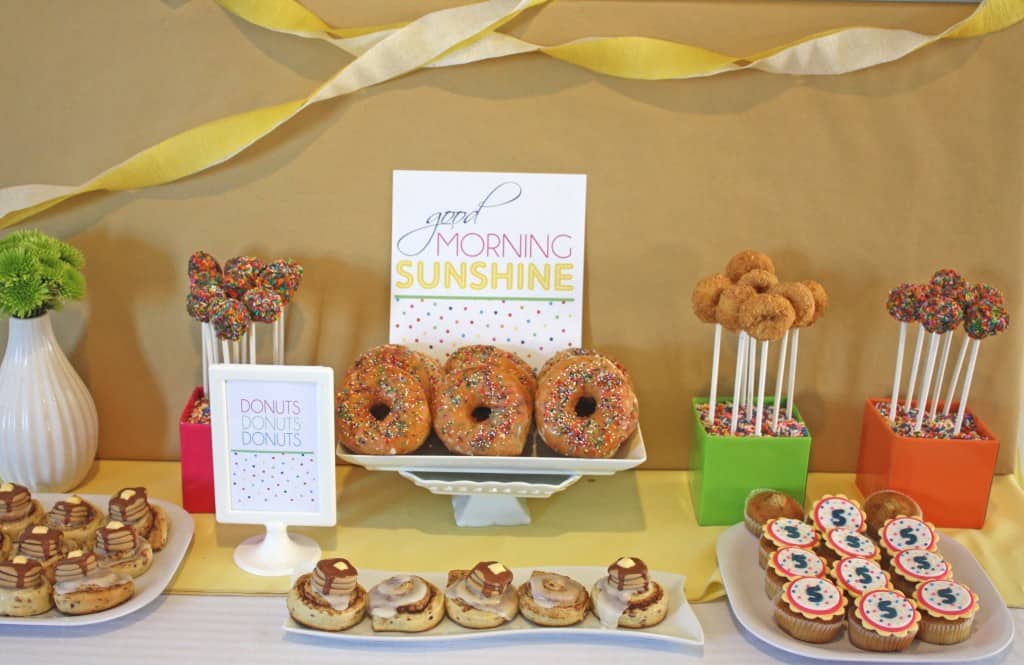 My other favorite element was the breakfast "dessert" table. Donuts and cinnamon rolls that delighted every kid (and several parents)!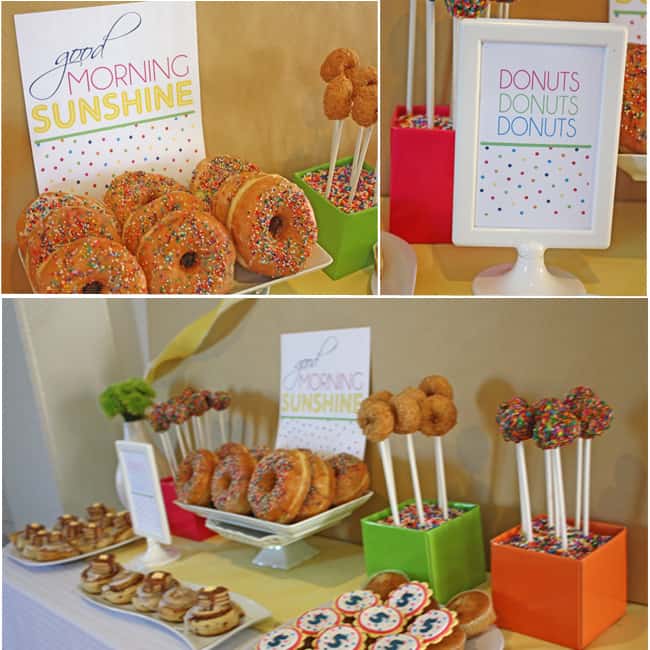 It was just so much fun to put together! The donut pops stood up perfectly in these bright containers from Blumbox (they have new inserts which made it super easy).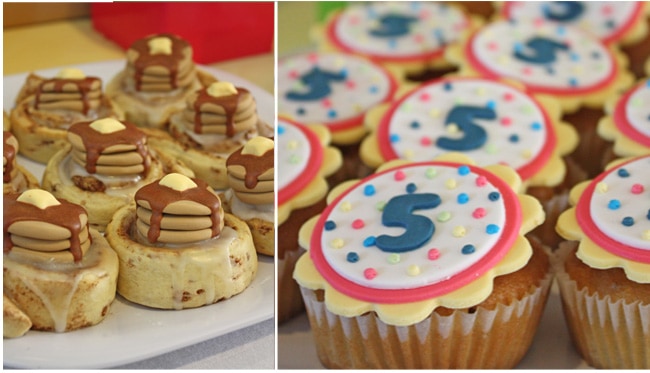 And these little edible toppers from Edible Details … can you say, PERFECT? I could not get enough of these darling stacks of pancakes — they were so adorable! And the muffin toppers matched our invite perfectly, just so cute!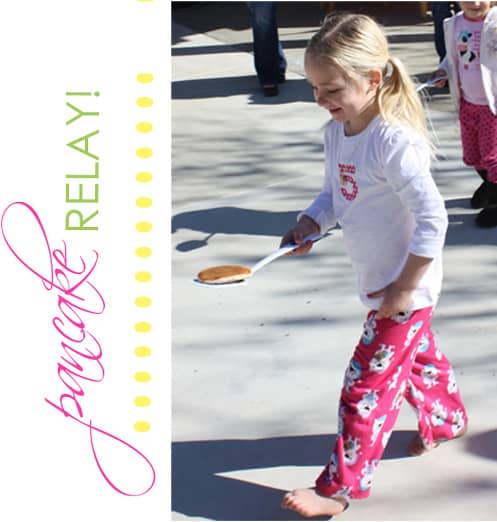 Activities and Games: We let the kids make cereal necklaces and also played a pancake relay game.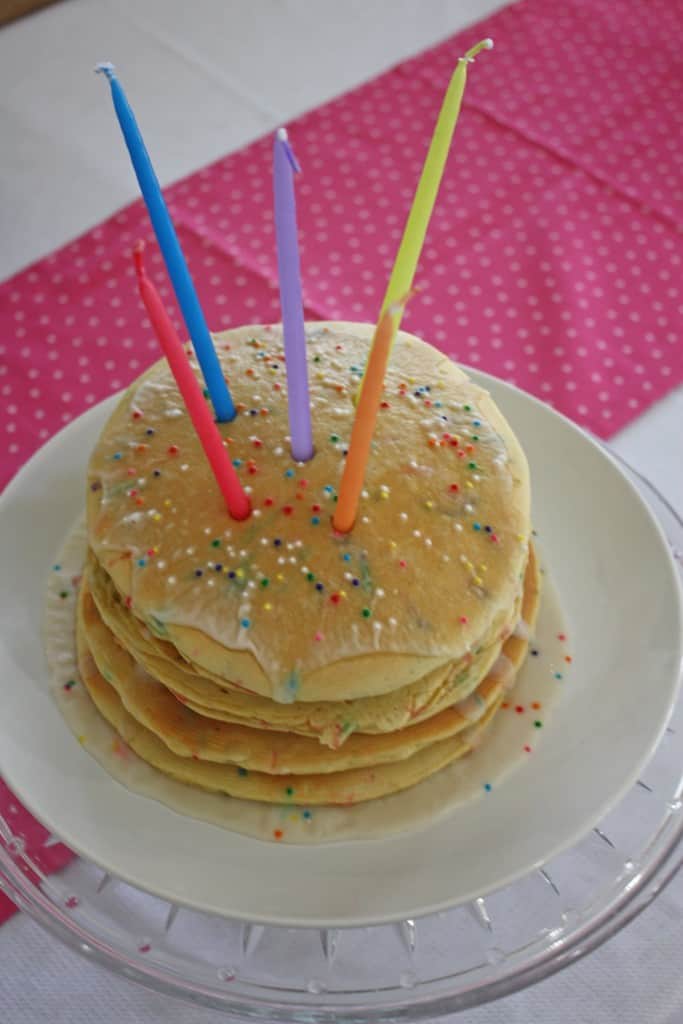 The birthday pancake-cake looked like a stack of giant pancakes, but was really a cake! It was a little tough to convince the birthday girl that we weren't serving more pancakes (that yes, this was an actual CAKE), but once she tasted it — it was a hit! This is the recipe I used.
For favors, we sent the sugar-overloaded guests home with something that would pick them up after their (inevitable) afternoon crash … Fruity Pebbles rice crispy treats. Oh yes, try them — they are so good!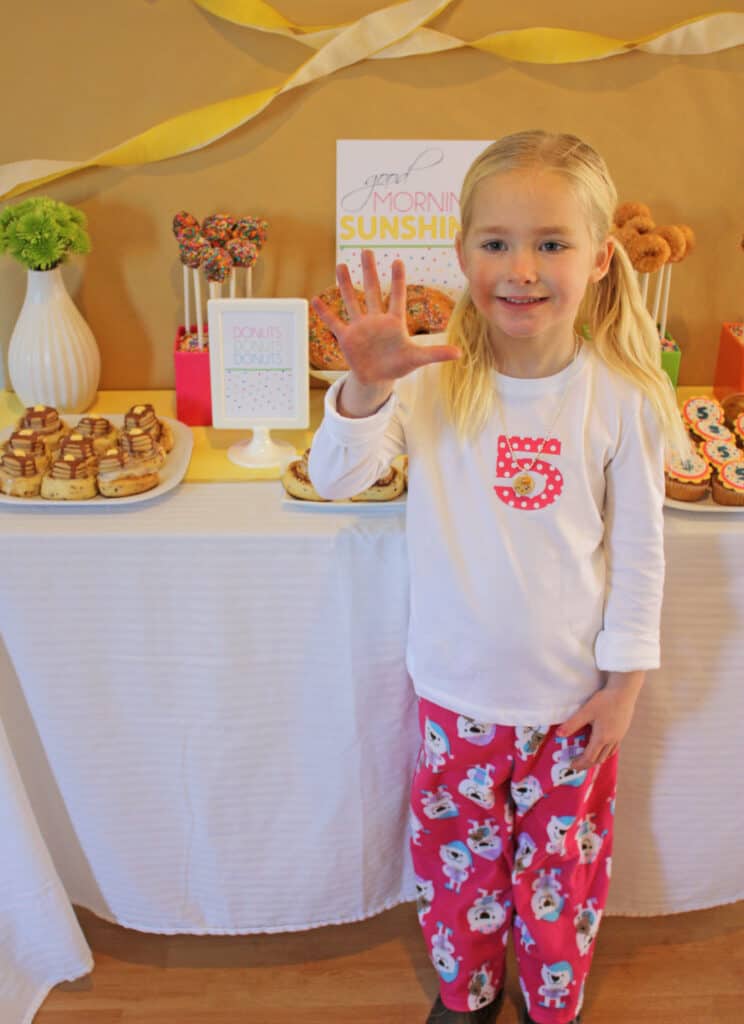 And the birthday girl, awe so sweet :). A big thanks to all those who helped with her party, attended her special day (bright & early!) and to those reading now–thank you!
What do you think? Is there a birthday breakfast party in your future?
** I got so many requests for the placemats I designed that I am sharing FREE downloads and have included ages 1-6. Feel free to print and use at your own Birthday Breakfast party! Download the signs & placemats here.
For a look back at London's 4th birthday, check out her Cowgirl Party.
You can also see her 3rd birthday,  a Sweet Shoppe party.

Invites, Paper Elements, Styling | Thoughtfully Simple
Cinnamon Roll & Muffin Toppers | Edible Details