Here is a wedding that I know you have never seen before. I know because it is my wedding — the day I married my love. Not many (quality) photos exists which is why (7 years later) I am JUST bringing myself to share them. The lack of photos? Well, that is for an entire separate post (hint: the title could be 'The photographer is the most important vendor you will hire'). For now, I will share these few photos with you and although I have no proof for those of you who did not attend, believe me when I say it was much more beautiful than what was captured.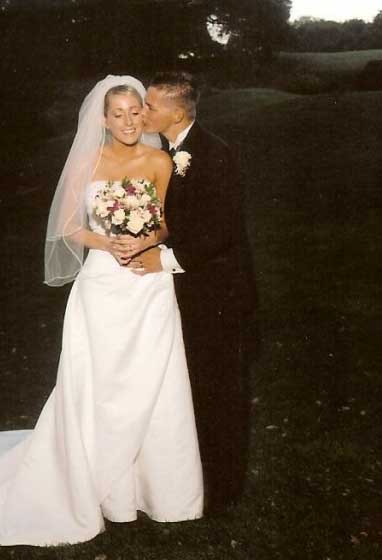 There we are (just 7 years younger!). Even looking back, that was still the "perfect" dress. I don't think I would change a thing about it. The veil? Eh…. I was NOT a veil person. However, there was some "insisting" by some and well, there I am… with a veil. Brides: don't be afraid to speak up – if you don't want a veil, don't have one (ok PSA over, promise).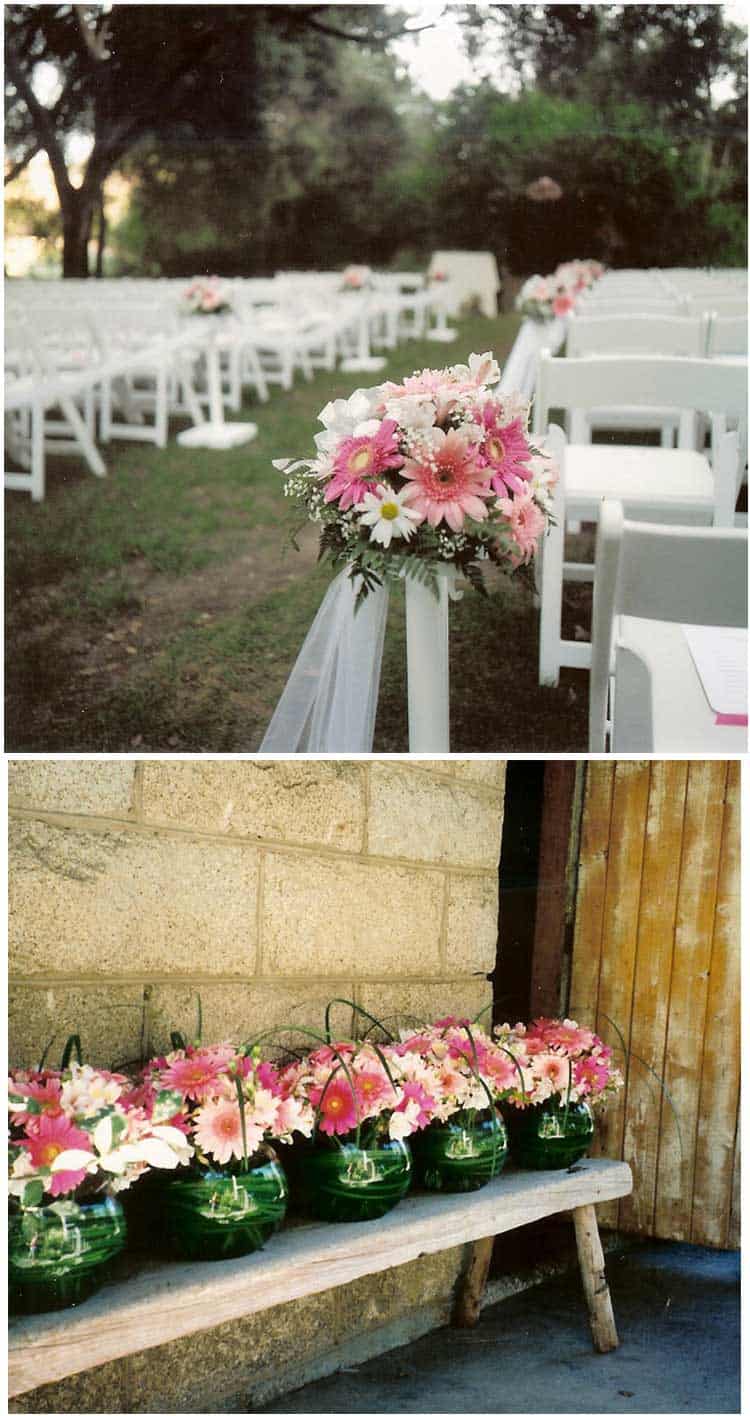 The setting was a far off green on a golf course where an 150 year old stone house was located. Here is a line up of all the centerpieces before they were placed onto the tables. Several shades of pink Gerber Daisies with swirls of Lemon Grass in the bottoms of the vases. They were simple but looked amazing.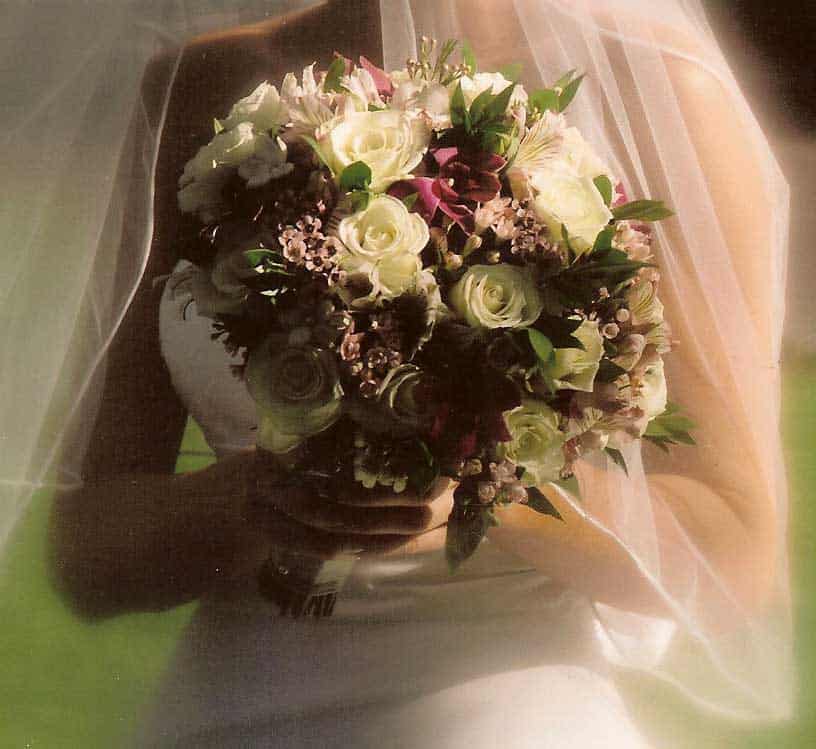 My bouquet (which I LOVED).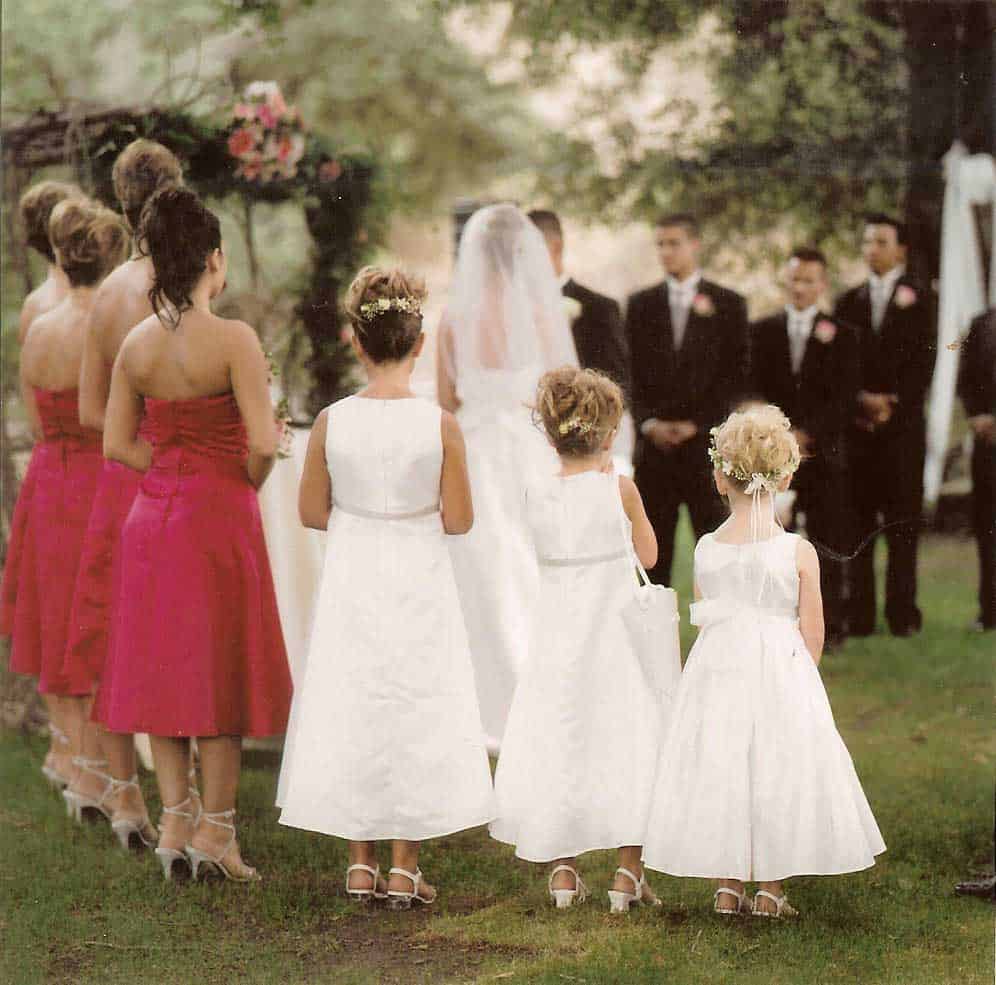 A glimpse at our gorgeous wedding party. Bridesmaids in lovely fuchsia tea length dresses and these darling 3 flower girls (they were so small back then, melts my heart!). The guys wore black tuxes with silver vests and ties.
You can see a (rather blurry) peek at our arch. Boy was it stunning! I hope I can uncover a close up photo someday to share.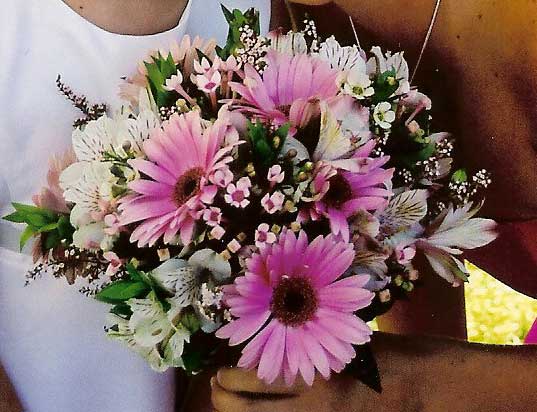 Bridesmaids bouquets (this photo makes them appear more purple than they were).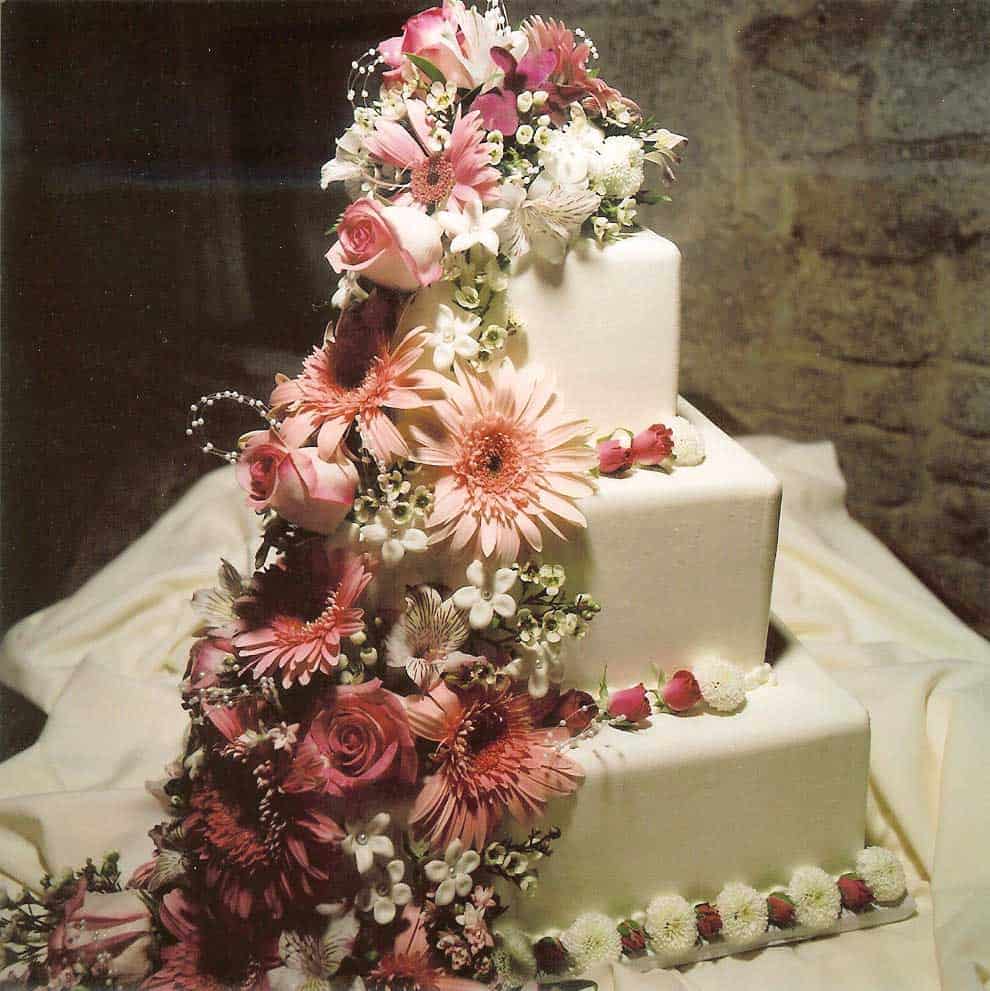 The cake… oh the cake. Not only the best tasting cake I've ever had but it was visually stunning. I had NO idea what the floral part of the cake would look like until I saw it at the reception. I trusted my florist 1,000% and told her to surprise me (still shocked I did that, boy how I have changed since then!). The flavor was perfect for a warm summer wedding. White cake soaked with Midori, lemon butter cream filling and a white icing that had just a hint of orange. It may sound odd — but the cake was really refreshing.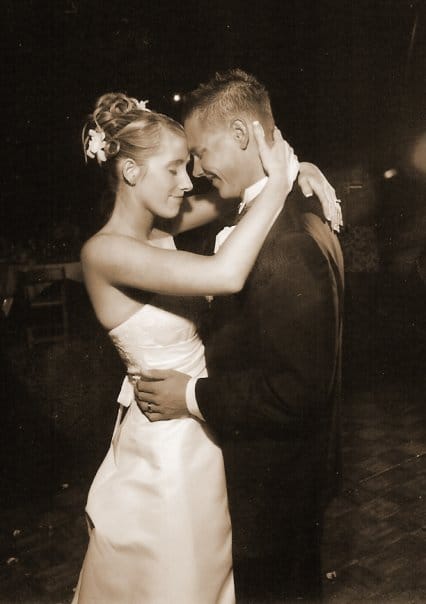 So, there may not be many photos that captured that night as I remembered it — but that night, in that moment we had nothing on our mind but the new life we were beginning. No photographer upset, nothing to dampen our mood. I suppose it has taken me 7 years to realize that in the big scheme of things, the poor photographer choice was a minor hiccup.
Plus, maybe we will just have to renew our vows in three years and do it again. But if so, you better bet we will be choosing the BEST photographer we can find!
Vendors
Venue | Temecual Creek Inn
Florist | No longer in business, but deserves a huge shout out…so, thank you MARY!
Cake | Jodee's Bakery
Photographer | To remain unnamed
So, make me feel better — anyone have any wedding do-overs they'd like to fix? (Just please don't say the groom!)