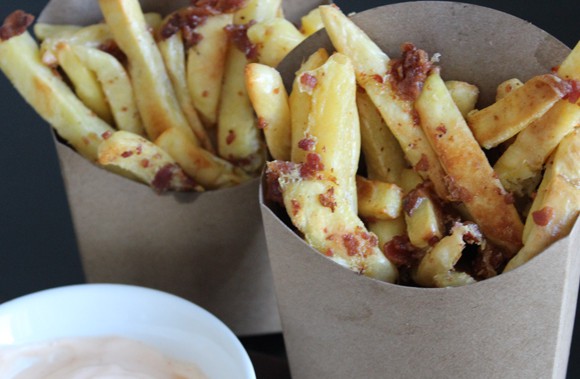 What? I had you at bacon. I figured that might happen.
I recently decided since everything is better with bacon, that must be true about french fries as well. I was right, these babies are deliciously sinful. The bacon flavor combined with the crispy fry …. so good. Dip them in your favorite dipping sauce (recipe for this Sriracha mayo below) and you have a winner.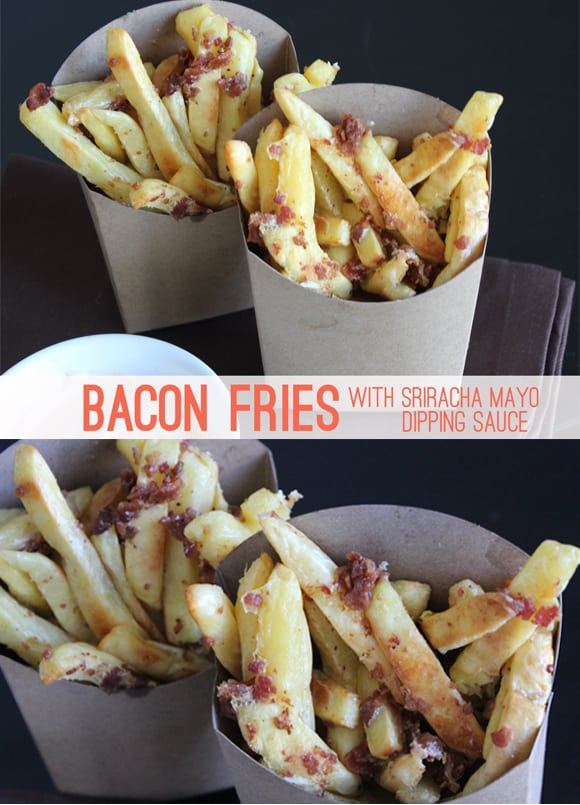 Bacon French Fries & Sriracha Mayo Dipping Sauce
Ingredients
1 bag frozen French fries (whatever brand is your favorite)
1 egg
1/4 cup milk
8 strips of bacon, cooked and finely chopped
Sea salt to taste
How to Make
Spread frozen fries onto baking sheet and place in oven at the directed temperature (check the bag). Remove from oven half-way through the cooking process (approximately 15 minutes). In a small bowl, whisk egg and milk, adding in the bacon pieces. Toss French fries in the egg, milk and bacon mixture until they are fully coated. Place fries back onto the baking sheet and return to the oven for the remainder of cooking time, or until fries are lightly browned.
Before serving, sprinkle with desired amount of sea salt.
For Dipping Sauce: Combine 4 Tbs Mayo, 1-2 TBS Sriracha, and 1 Tsp lime juice
Recipe originally created for SC Johnson where I am a blogger panel member. See it here.