My youngest daughter is seven now, but ever since she could stand up she's been helping me in the kitchen. Prepping, cooking, baking, eating — she absolutely loves it all. I love how she gets excited about the entire experience; from gathering ingredients, to putting in the hard work in the kitchen, to sitting down and savoring the meal.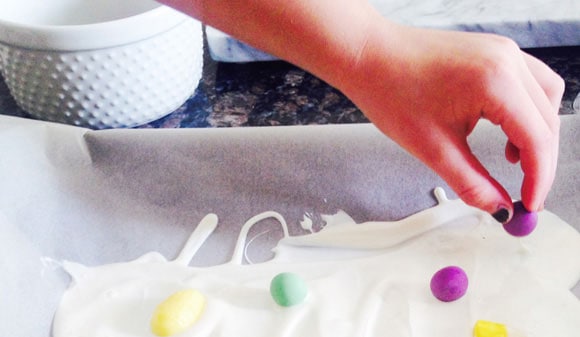 This is us using left over candy to make a easy Easter dessert for our neighbors.
The kitchen seems to be a place where she problem solves often. Whether it's substituting an ingredient or brainstorming ways to use items grown in our backyard garden, she's always thinking. So when I learned about Unilever Project Sunlight's latest film, The Way Kids See It I knew this would be something her and we'd both enjoy. The video shines a light on the unique ideas and the magic that children all over the world apply to tackle all sorts of environmental and social issues. It's pretty inspiring! Check it out:
..

After watching we talked about how unique ideas help to create a better world, and which Summer Sunlight Activity we'd like to do to make our household more sustainable. Pairing the challenge with her love for the kitchen, we decided to make our challenge  One Ingredient, Five Ways which will help eliminate food waste in our home.
We'll be sharing our challenge and time in the kitchen together here soon — stay tuned for the recipes!  In the meantime  you can join in the fun! Check out Project Sunlight, find the activity that speaks the most to you and take your own challenge together.
Our first step will be deciding which ingredient to choose. Any suggestions? Keep in mind it's ONE ingredient FIVE ways! What do you suggest?
This post is a sponsored collaboration with Unilever Project Sunlight. Of course, all thoughts are my own. Thank you for supporting our sponsors.