I'm a big fan of using tissue paper pom poms in my party decor. What I love about them is that they are inexpensive and can be used in a wide variety of events. I've used them for birthday parties (like this candy party) and baby shower (like this spring shower) + many other events. I often get asked how I make them—so today, I thought I would share my tips for making and also for buying tissue pom poms.
How to make tissue paper pom poms. They aren't difficult to make, but I'll be honest and say they are time consuming. If you have a couple nights to dedicate to making them while watching your favorite TV show, I say go for it. Here are the simple steps I follow: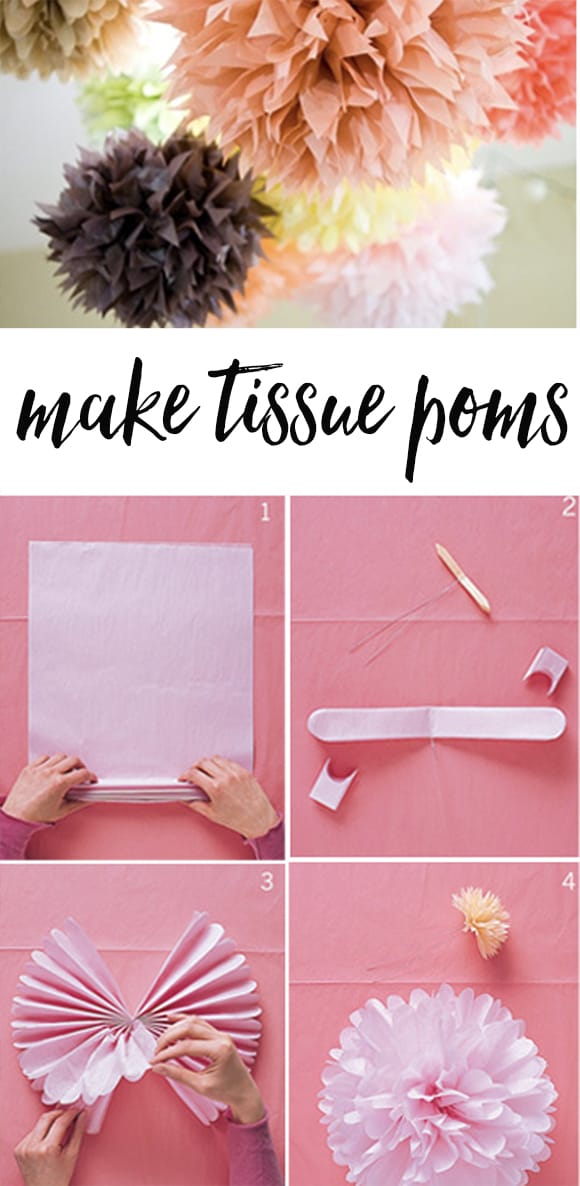 Aren't those finished pom poms gorgeous?! They were used in a first birthday party I spotted over on The Sweetest Occasion.  The DIY method looks like this, not too much to it. It's a pretty simple method and you can check out the full details and how-to here. Remember though to give yourself some time (and extra tissue for mistakes)! Also, I recommended finding a little higher quality (aka thicker) tissue than what you might typically use for gift wrapping. It's easier to tear and the thicker paper tends to hold up nicer.
Print out the steps with images so you can have it on hand when you're making these!
If I've scared you or the DIY method just isn't your thing, I suggest just ordering your tissue pom poms.  They are inexpensive and this will save you from having to trek to 8 different stores in 3 cities to find the perfect shade of teal tissue paper (not like I've done that or anything).
Whether you make them, or buy them … these tissue poms are a great way to add some flair without breaking the budget. My daughter even re-purposed her poms from her recent birthday party into decor for her bedroom — love that!
…