Looking for something fun and festive to serve at your holiday gathering? This holiday dessert pizza is just the thing – trust me!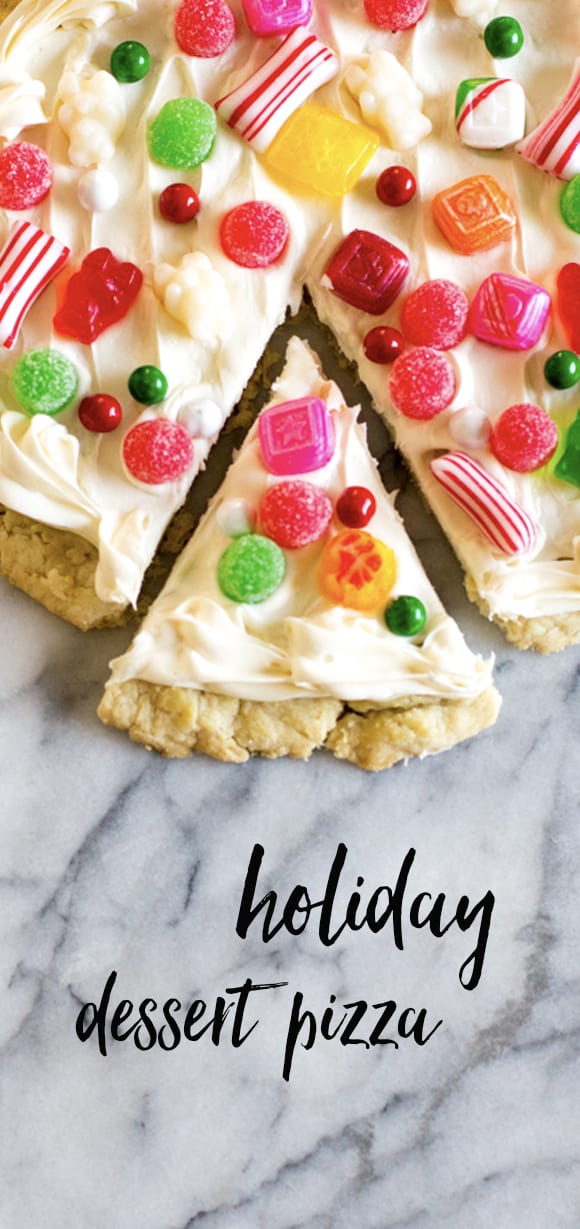 I don't know about you, but I love holiday baking! I'm a big fan of the traditional sweets like Christmas cookies, gingerbread, and cinnamon rolls. But I also love to come up with new creative holiday dessert recipes, especially for entertaining. That's how this new recipe came about. I was dreaming up a fun and colorful dessert for a kids' holiday gathering and it hit me: DESSERT PIZZA. I mean, it's like pizza (who doesn't love pizza?!) but it's sweet… and covered in candy. I knew I had to bring it to life. So I started planning. I knew my "pizza" needed three (very important) components: the crust, the icing, and the toppings.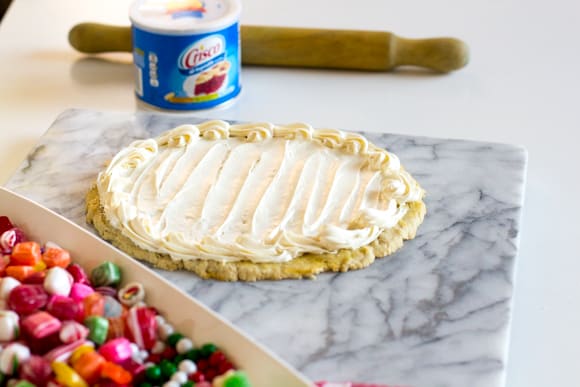 This dessert pizza needed a great foundation and that's exactly what this pie crust is. The key ingredient in this delicious crust is Crisco®! I love Crisco® All-Vegetable Shortening in my pie crust recipes because it delivers higher, lighter-textured, moist and tender baked goods (recipe below). And if you've never made pie crust before, please do not be intimidated. It's actually really simple and doesn't take long at all! The crust was so tender and flaky you'll want to make it for every pie and pizza this holiday season ;).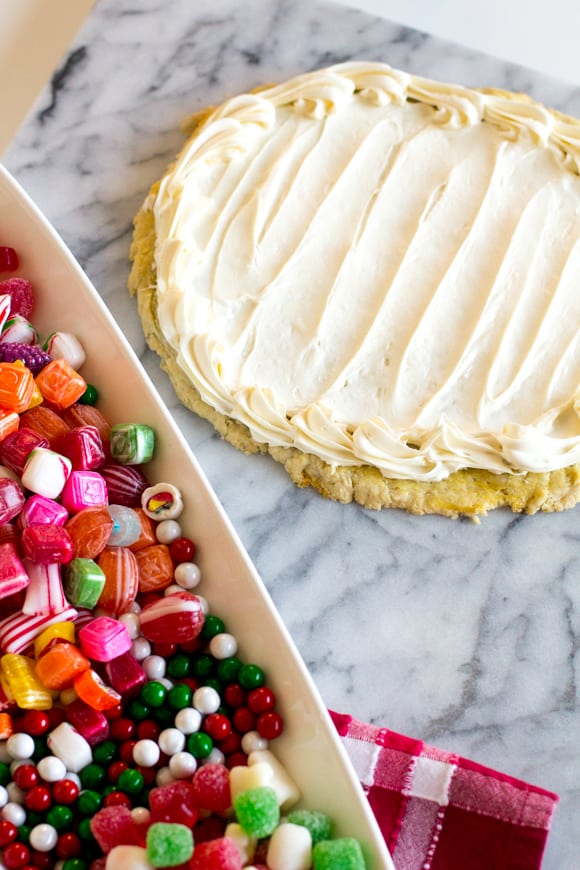 After I baked the crust, I let it cool completely while I whipped up the frosting for our dessert pizza. I also used Crisco® in my frosting. The shortening acts as an emulsifier, creating a fluffy, creamy frosting which was perfect to spread over my crust. (Just make sure your crust is cooled before you spread on the frosting). I used this frosting recipe.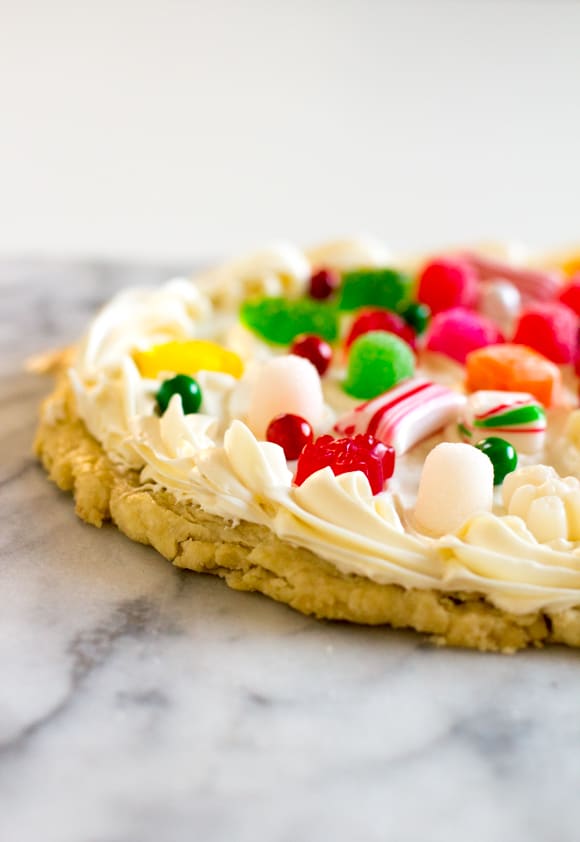 Look at that flaky crust and smooth frosting. This will seriously please holiday guests of any age!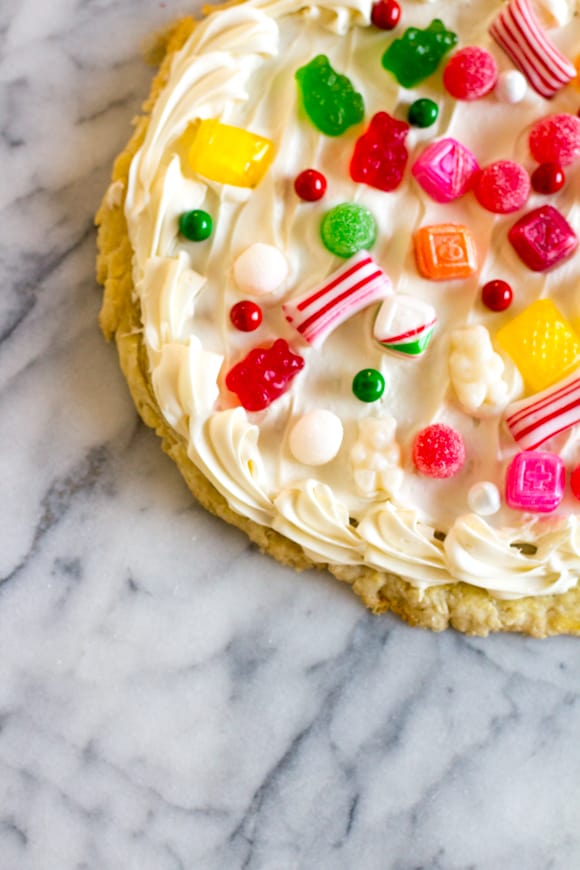 And of course, that third component is an important one–the toppings. For our holiday dessert pizza it had to be bright holiday candy of course! My daughter and I went to the bulk section of our market and selected a variety of holiday candy. You know, a little of this, a lot of that.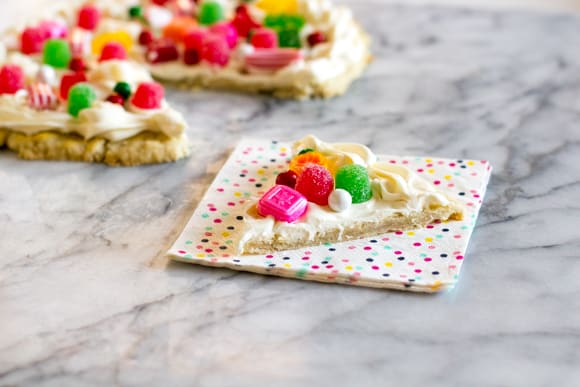 I cut our dessert pizza into slices and the kids grabbed a piece (which they did after careful evaluation of candy toppings of course). This was such a fun recipe to make but even more fun to watch the kids enjoy it. I have to say: I think it is a holiday recipe hit! What do you think? Will you make your own dessert pizza this year?
Holiday Dessert Pizza Crust
Ingredients
¾ cup Crisco® All-Vegetable Shortening, chilled
2¼ cups flour
½ cup cold water
To Make
In a large bowl, cut shortening and flour together. I use a pastry blender, but using two forks works! Combine until it looks like small pebbles.
Add the cold water and stir until it combines into a mound. If it seems you need more water, you can add cold water, a teaspoon at a time.
Place dough in between two pieces of floured plastic wrap and chill in the refrigerator for about 20 minutes.
Roll it out to form your "pizza crust" and poke a few holes in it with a fork so it doesn't puff up while baking.
Bake at 350° oven for 10-20 minutes, or until the crust is cooked through and starting to turn slightly golden.
Cool before frosting.
Find more great Crisco® recipes on Facebook and Pinterest.
Be sure to visit the Crisco Brand Page on sheknowsmedia.com where you can read other bloggers' posts!