Cocktails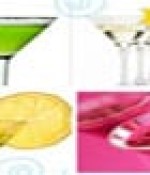 December 28, 2008
Four festive martinis that are oh so yummy and SIMPLE to make! Raspberry Pomegranate Martini, Lemon Drop Martini, Champagne Martini, Apple Martini. Recipes and simple tips to make your hostess duties easier but still with fabulous results!
Four Festive, Fun and Simple Martini Recipes!

These Candy Cane Shot Glasses will make a perfect touch to your holiday dinner or get together. Your guests will surely notice these sweet swirled shot glasses and what a festive touch to your bar setting or table top!
Want to skip the pumpkin pie this Thanksgiving but still want to be festive? Why not serve this Pumpkin Martini instead? Okay, still make the pie, after all it is Thanksgiving, but perhaps some of the adults would like the option to drink their dessert!
Now that the holiday season has arrived, there is no doubt you will be hosting your share of dinner parties and festive get-togethers. One important part of every Hostesses' menu are the drinks.
If you are like me, you love coffee…. anytime of the day. Why not serve one of these coffee inspired cocktails during your next party? They are simple to make, don't worry.

These pumpkin shakes are such a festive treat for the fall season. And so SIMPLE, only 4 ingredients!
Sure Halloween is about kiddos in cute costumes and loads of sugary sweets….. but adults can have fun too! This Halloween serve a spooky themed wine and let your guests get a kick out of the fun and ghostly labels. If you are going to be a guest this Halloween, a bottle of Halloween-themed wine [...]