It's pretty well known that I rather decorate things than bake them. I am a big fan of taking store bought desserts and dressing them up to make them look great. Some people love to bake. Me? I love to decorate and hate all the dishes that comes with baking. I'm always picking up desserts from my local grocery store bakery and giving them a twist. Whether its turning pre-made cupcakes into ghost cupcakes, or adding a floral topper to a store bought cake for an engagement party, I'm all about keeping things simple. I got the inspiration for this easy cheesecake when thinking about ways I could use fun Halloween candy. It took under ten minutes to make and looked so cute!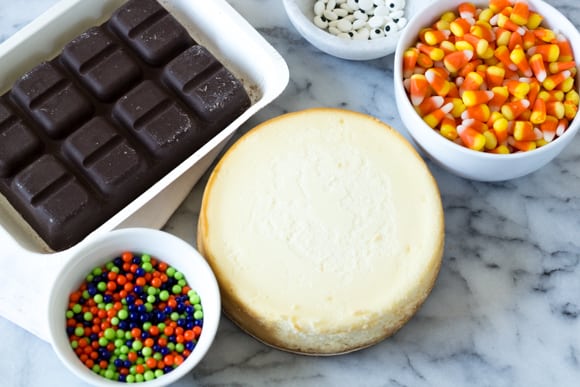 Start with a store bought cheesecake (if you want to bake your own, this cheesecake recipe is so simple I didn't mess it up when I made it the first time). If you get a frozen one, be sure to thaw it out before decorating. When you're ready, melt chocolate and drizzle over the cheesecake. Next, top with your favorite Halloween candy. Seriously, that's it guys.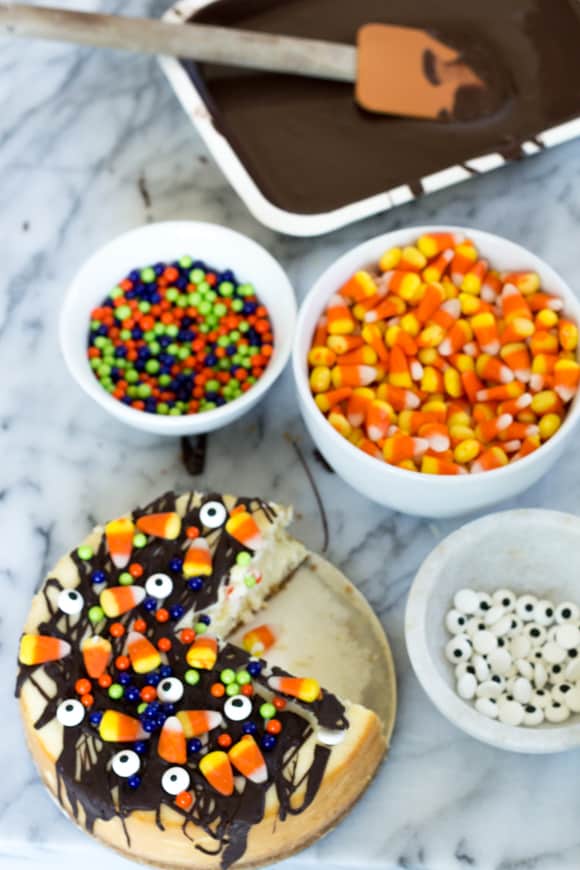 You could use any candy to make this beyond Halloween. I've done it for Christmas dessert and it was really cute! It's a great way to use up leftover holiday candy as well.
No one has to know you didn't make it either! I won't tell (promise!). This easy cheesecake should go in your arsenal of desserts, just saying. Here's a short video if you want to see me making it in action!
Looking for more Halloween desserts? Check out these 4 simple Halloween treats.