Desserts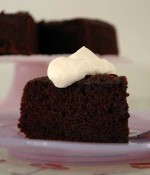 February 17, 2010
Saint Patrick's Day is right around the corner, so let's start with dessert first! If you are looking for an interesting St. Paddy's dessert idea or simply a reason to drink more Guinness- look no further!
St. Paddy's desserts- all you need is Guinness!

This oh-so simple peppermint bark recipe is a must try. Festive Holiday Dessert for your next gathering!

Looking for some holiday treats to make ans take to that Christmas gathering? Here are four sweet and impressive treats that you can make without all the fuss.

Looking for some last minute pumpkin themed treat recipes? Here are three of oldies, but goodies!
Warning: the following images may make you hungry, trigger cravings for sweets, and viewing may possibly result in drooling.
With that said, I have been dying to share with you a fabulous company that has answered the dreams of modern hostesses everywhere….. meet Sweet Street Desserts! Creating delectable and
Anyone with a sweet tooth knows that a cookie is just not a cookie. Some are softer, some you crave more, some are perfect warmed, and well….some are just adorable! These cookies definitely fall into the "adorable" category. The Flour Pot has turned a delectable cookie into the perfect gift idea. Check out some of my favorite designs:

Whether you decide to decorate your own cake because it is tradition, or if it is simply to save some money by avoiding a professional bakery- you do not have to sacrifice professionalism. You can easily bake your own cake and use gorgeous accents to give it that impressive look, drawing out the "oohs and awwes" of your guests.

Get the kids in that back-to-school spirit with these adorable candy apple pops (minus the apple)! Bakerella has done it again, creating these equally cute and yummy cake pops.

Now this is one bright idea! This rainbow cupcake idea is from Our Best Bites, and this one takes the cake cupcake. Perfect for any child's birthday or
Pin It

If you are looking for a great dessert for your 4th of July celebration that is simple yet fun and festive…check out these cupcakes!
Pin It