Holiday entertaining season is fast approaching and every year I like to plan a head a bit and file away some easy party appetizers and small bites for when I'll need them later. Appetizers and small bites are my go-to party food because you can keep the recipes incredibly simple and make a variety small bites which keeps things interesting (and guests happy).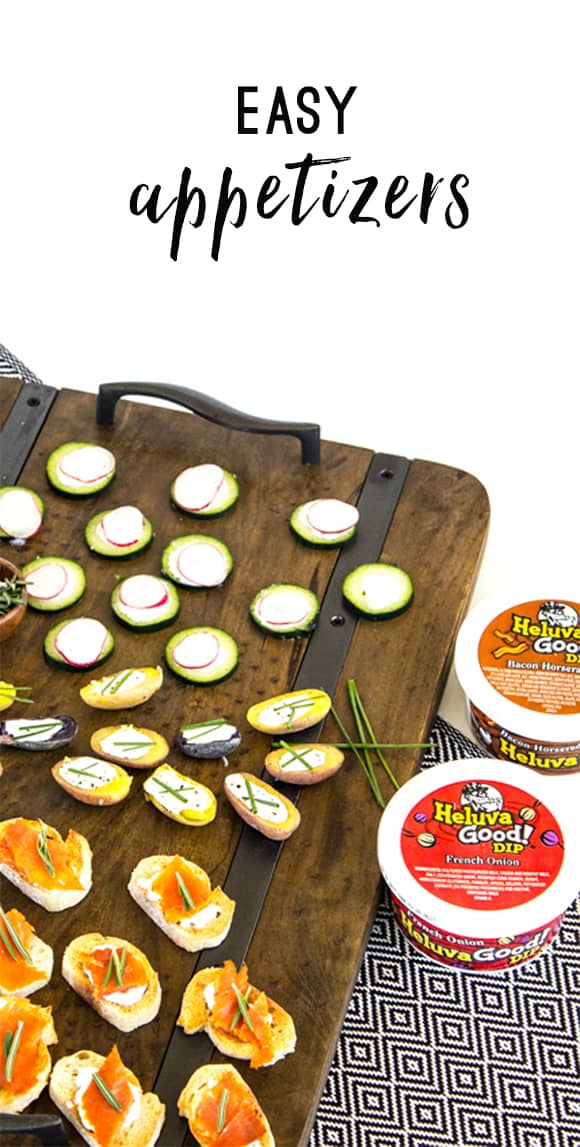 I recently made a tray of small bites using some fresh ingredients at my local farmers market. Each appetizer was different but all three utilized a bit of dip. I've partnered up with Heluva Good Dips this season and have been sharing different ways to pair their flavorful sour cream dips with local fresh ingredients (like this bountiful veggie tray I recently shared). I like that their dips are made with real sour cream and lots of flavorful spices so they pair really well with a variety of flavors.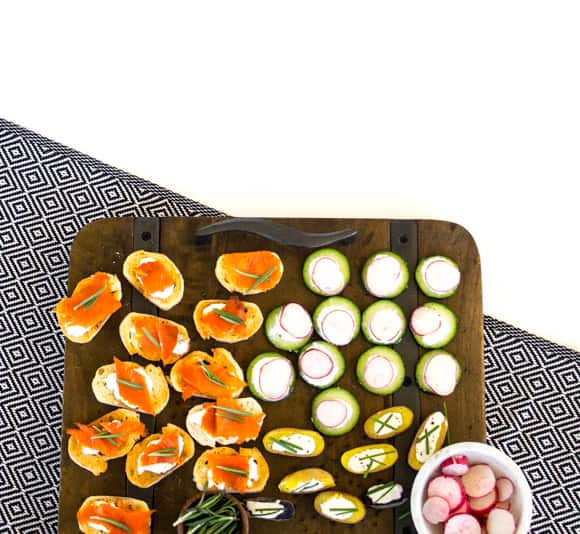 I created a smoked salmon crostini, A cucumber + radish wheel, and a mini heirloom potato bite. Each was unique but really simple to make. When it comes to party appetizers, simple is always my motto.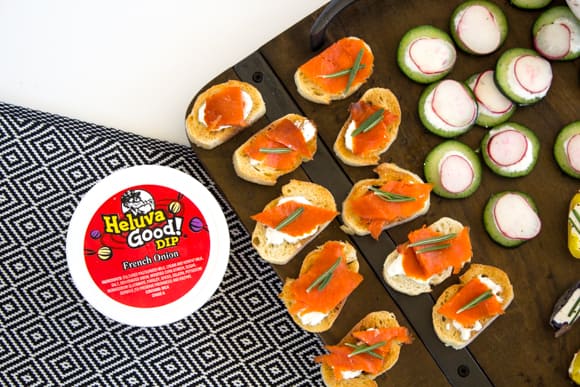 To make the salmon crostini
 I lightly toasted sliced baguette pieces in the oven with a bit of olive oil. Then, I added a drop of Heluva Good! French Onion Dip on top. Next I placed a piece of smoked salmon and then garnished with a bit of fresh rosemary. This looks like a really impressive appetizer to serve but it's really easy to make.
To make the cucumber + radish wheels
Top slices of cucumbers with a drop of Heluva Good! French Onion Cup and then place one slice of radish on top.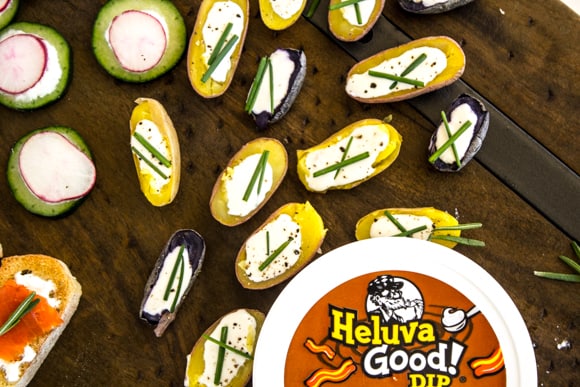 To make heirloom potato bites
Microwave small heirloom potatoes until they are soft. Cut them in half and scoop out just a little of the potato (just enough to make a small well for the dip). Add a scoop of Heluva Good! Bacon Horseradish Dip to each potato. Top with cracked black pepper and garnish with fresh chives.
Each one of these easy party appetizers took less than ten minutes  to make and are crowd pleasers. Using the flavorful dips makes all the difference here, feel free to mix things up and experiment with your own flavor combinations.
Be sure to use the Pinterest button below and save these ideas for later!
Visit HeluvaGood.com for full product info and to find out where you can buy Heluva Good! dips in your neighborhood.
This is a sponsored post. All opinions are my own.