What could be better than a  warm, gooey breakfast? Not much in my book. Last week, I kicked off the Pepperidge Farm   PuffectionTM  Holiday Entertaining Challenge, and whipped up this recipe for Blueberry Cheescake Danishes — they were delicious! This week, I'm putting a kid friendly twist on this recipe.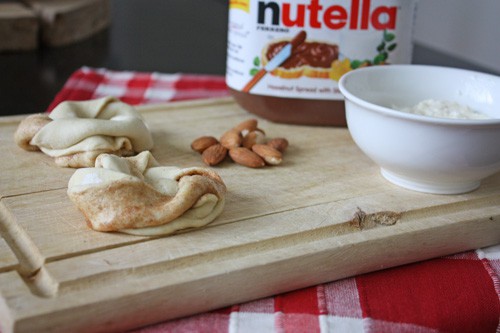 I created the same cinnamon sugar danish and then filled it with a cream cheese and Nutella center. YUMMY.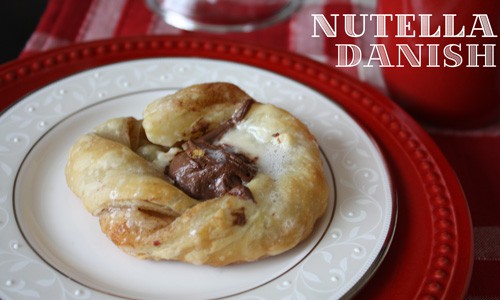 The flaky danish paired perfectly with the creamy center. This would make a great Christmas morning breakfast (bonus is that they are super simple and fast to make).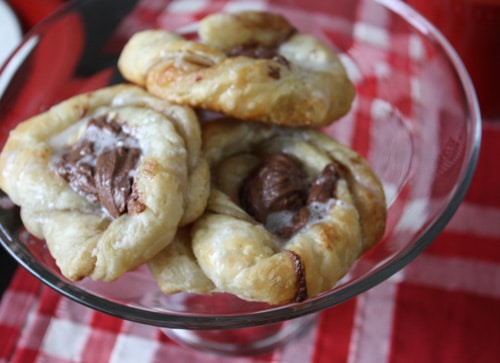 Pile them high on on a cake stand Christmas morning. Just be warned: they won't last long!
Nutella Cream Cheese Danishes
Ingredients
Vegetable cooking spray
1 tbsp. ground cinnamon
5 tbsp. granulated sugar
1/4 of an 8-ounce package cream cheese, softened
All-purpose flour
1 pkg. (17.3 ounces) Pepperidge Farm® Puff Pastry Sheets, thawed
2 tbsp. butter, melted
1/4 cup Nutella
3/4 cup confectioners' sugar
3 tsp. milk
1/4 cup sliced almond, toasted (for topping, optional)
To Make
1. Heat the oven to 400°F. Spray a baking sheet with the cooking spray.
2. Stir the cinnamon and 4 tablespoons granulated sugar in a small bowl. Stir the cream cheese and remaining sugar in a small bowl.
3. Sprinkle the flour on the work surface. Unfold 1 pastry sheet on the work surface. Brush the pastry sheet with half the butter. Sprinkle with half the cinnamon-sugar mixture. With the short side facing you, cut the pastry sheet lengthwise into 6 strips. Repeat with the remaining pastry sheet, making 12 in all.
4. Twist 1 pastry strip then coil into a spiral. Place the pastry onto the baking sheet. Brush the end of the spiral with the remaining butter and tuck tightly under the bottom of the pastry. Repeat with the remaining pastry strips. Place 1 teaspoon cream cheese mixture and 1 teaspoon Nutella in the center of each pastry.
5. Bake for 20 minutes or until the pastries are golden brown. Let the pastries cool on the baking sheet on a wire rack for 5 minutes.
6. Whisk together the confectioners' sugar and milk to create a glaze. Drizzle on top before you serve.
…………….
Be sure to visit the Puffection TM tab on the Pepperidge Farm Puff Pastry Facebook page and share your own holiday Puff Pastry recipes, and http://www.puffpastry.com for more recipes, tips and how-to videos
Disclosure: Pepperidge Farm has provided me with a stipend for my time and materials invested in the Pepperidge Farm® Puffection TM Holiday Entertaining challenge, as always thoughts and opinions are my own.