This is a sponsored post, of course all thoughts are my own. 
It's that time of year again, when we all have to plan what to serve guests, bring to a potluck, or prepare for our holiday entertaining. I don't know about you, but sometimes it's frustrating trying to come up with something new and delicious. Well friends, I bet it's safe to say you haven't thought of this one yet. If you're looking for a new party food idea that is  delicious, creative, and simple to make … you're in luck.
Today I'm sharing easy bacon appetizers and party food ideas! You in? Okay, get ready to recreate at home – a "Bacon Bar!" (Plus I'm giving one of YOU bacon for a year! More at the end….)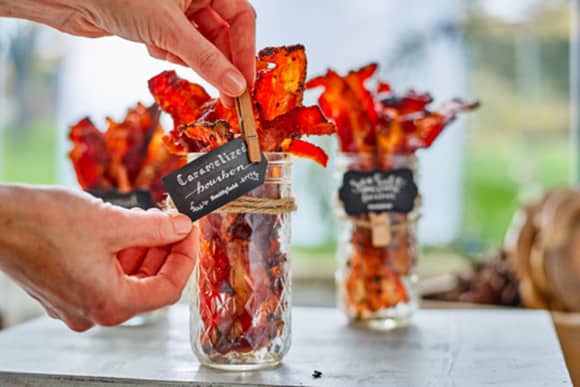 Who doesn't love bacon? The Smithfield Bacon Bar makes bacon the star and if a fun twist on typical party food. You can mix things up with different Smithfield bacon varieties like Peppered Brown Sugar, Sea Salt Caramel (Yes, FOR REAL), and Caramelized Bourbon Bacon. Talk about your food becoming a conversation starter. YUM.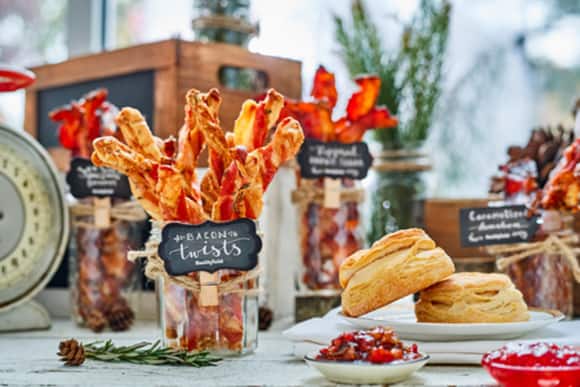 There are so many ways to set up your bacon bar and it will work any time of day. Serve some warm flakey biscuits and set out some bacon jam guests can spread on top (YUM), add it to a Bloody Mary (best cocktail garnish EVER), use as topping on you're favorite side dish–really you can get creative. Seriously, are you drooling yet? You're guests are going to LOVE the unique flavors!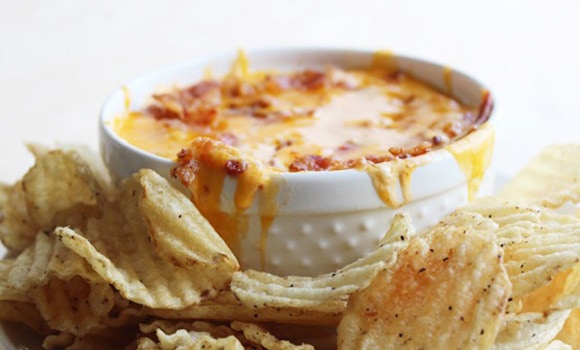 This bacon also really elevates any traditional dip recipe you might be serving. Here, this cheese dip became instantly upgraded when I added bacon crumbles to it!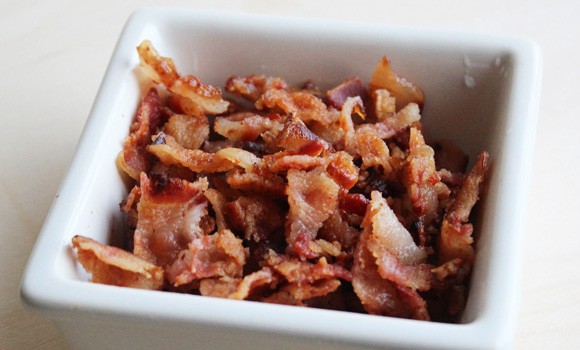 Or, you can just eat the crumbles because……bacon.
I also like the idea of serving a flight of bacon with all of the different flavors guests can sample. Then have them vote on their favorite! Be sure to label each one and give guests paper and pencil so they can cast their vote.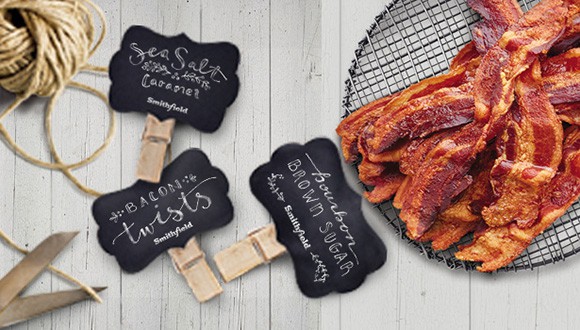 Visit Smithfield.com/BaconBar for free printable labels, décor ideas, and recipe inspiration to give your Bacon Bar a personal touch and let guests know what each flavor is.
One appetizer I'm making this season is definitely going to be these Crispy Bacon Twists with Gouda and Apricot Preserves. Don't these look delicious?
My head is pretty much on overdrive thinking of all the ways to set up a bacon bar. I'm pretty sure we could set this up for breakfast, lunch, dinner, and dessert and guests would love it. What do you think? You better start planning because I have an amazing giveaway for you! 
*I'm giving one lucky reader Smithfield Bacon for a YEAR!  Want to win this tasty prize? Check out Smithfield.com/BaconBar and browse  the different easy bacon appetizers and recipes, come back here and comment telling me your favorite Bacon Bar recipe in the comment section.
**UPDATE: Winner selected, congrats to Clarissa!
I'll pick one winner and they will receive a coupon booklet for free bacon for an entire year. Giveaway closes 12-14-2016.
This is a sponsored post in collaboration with Smithfield. All thoughts are my own.
Comment below and enter to win bacon for a year! 
Need more bacon in your life? I've got you covered with these bacon fries and this bacon beer cheese dip. Enjoy!