This post is sponsored by Philadelphia Cream Cheese.
Setting up a build-your-own bagel bar might be the best idea I've had in a long time. It's the perfect breakfast or brunch spread when entertaining (think book club, bridal shower, baby shower), or when hosting out of town guests. Imagine your in-laws waking up to this spread! The whole thing really looks and feels so fancy when in reality it all takes only about ten minutes to set up (and requires zero cooking!). But, you don't have to tell anyone that.
Plus, with a variety of toppings, there is sure to be something for everyone.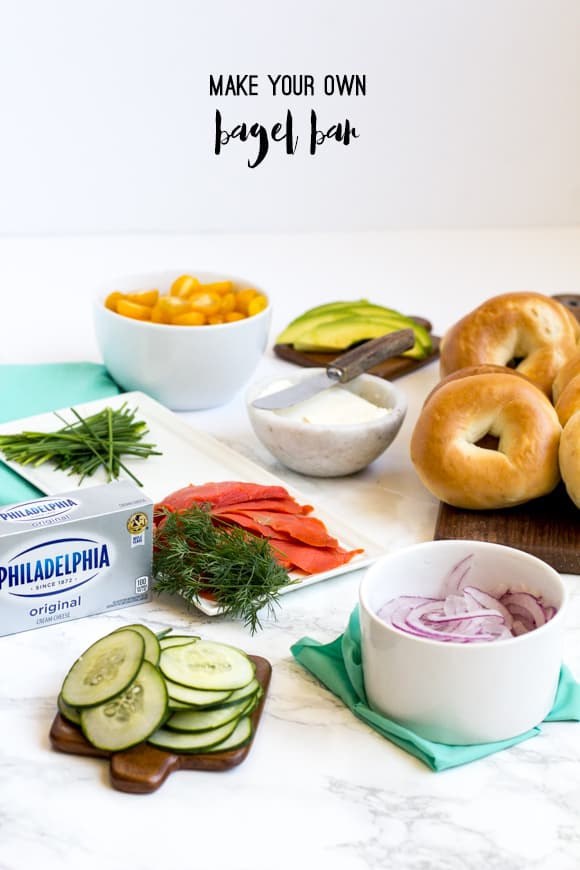 I like the idea of using mini bagels because then you can make a few different versions and get creative with your toppings without having to commit to a full bagel and be too stuffed to go back for another.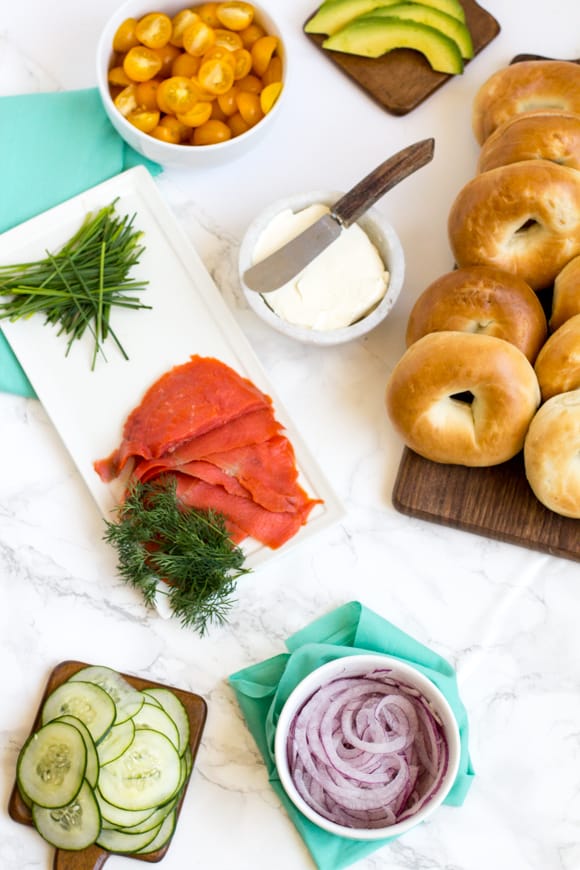 I also opted not to toast the bagels (if you can't get on board with that I totally understand) because I like them a little soft and not warm when I pile my toppings on. You can set a  toaster nearby if you want to give guests the option to toast theirs.
The secret to a good build-your-own-bagel creation is a good base of Philadelphia Cream Cheese. It's  Spread it on the bagel before you add your toppings. Made with fresh milk, real cream and no preservatives, nothing  else tastes like Philadelphia Cream Cheese so be sure to be generous with it.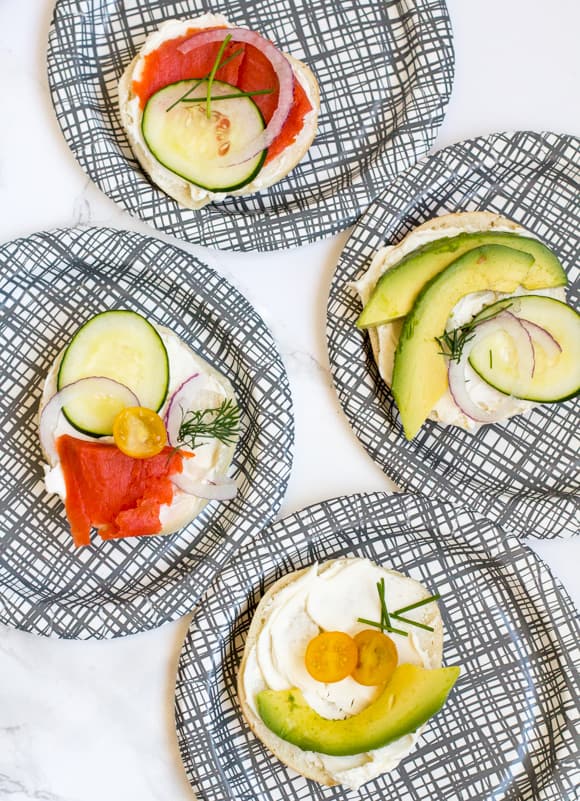 In the next step you just can't go wrong–add as many or as few toppings as you'd like.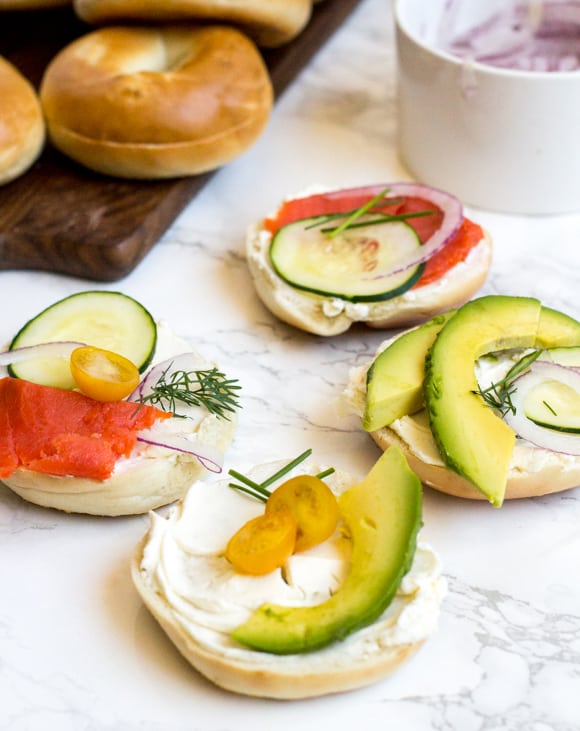 My advice is to make a couple different creations and experiment with the flavors. My favorite combo ended up being topping my bagel and cream cheese with smoked salmon, cucumber, red onion, and chives. YUM. You really can't ever go wrong with avocado either if I'm being honest.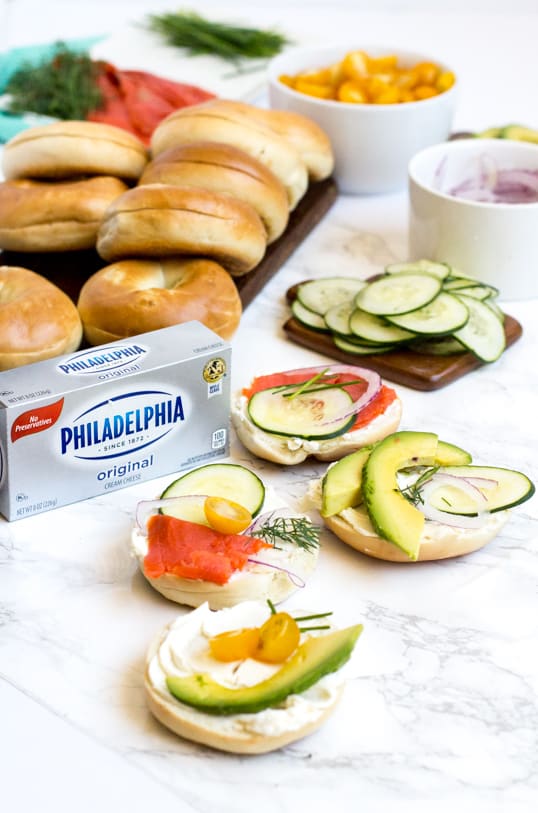 What do you think? Ready to impress guests with this easy bagel bar idea?
Build Your Own Bagel Bar
Serves:
8 Servings (One serving equals one mini bagel or two halves)
Ingredients
8 Mini bagels
8 oz PHILADELPHIA Cream Cheese Brick, softened
1 Avocado, sliced
18 Cherry tomatoes, cut into halves
½ Red inion, thinly sliced
1 Cucumber, thinly sliced
8-ounce Smoked salmon
Fresh dill and chives for garnish
To Make
The purpose here is to have guests create their own bagels adding their favorite toppings. So, you'll want to set out all the ingredients in a nice spread. Remove the softened PHILADELPHIA Cream Cheese Brick and place it in a bowl so guests can easily spread the cream cheese on their bagels. If the bagels are not already pre-sliced, you'll want to slice them ahead of time. Set all of the other ingredients out in small bowls or on platters.

For all of your entertaining needs, turn to Philadelphia Cream Cheese. Always have it on hand to create fun appetizers and desserts that pop. I had a great time developing my build-your-own bagel bar
for out of town guests. For more creamy, delicious recipe ideas, click here.