If you're looking for unique fall salad recipes, be sure to jot this one on your list (or better yet, save it to Pinterest so you can easily find it later)! This Asian Slaw will be an unexpected burst of color and flavor at your next fall dinner.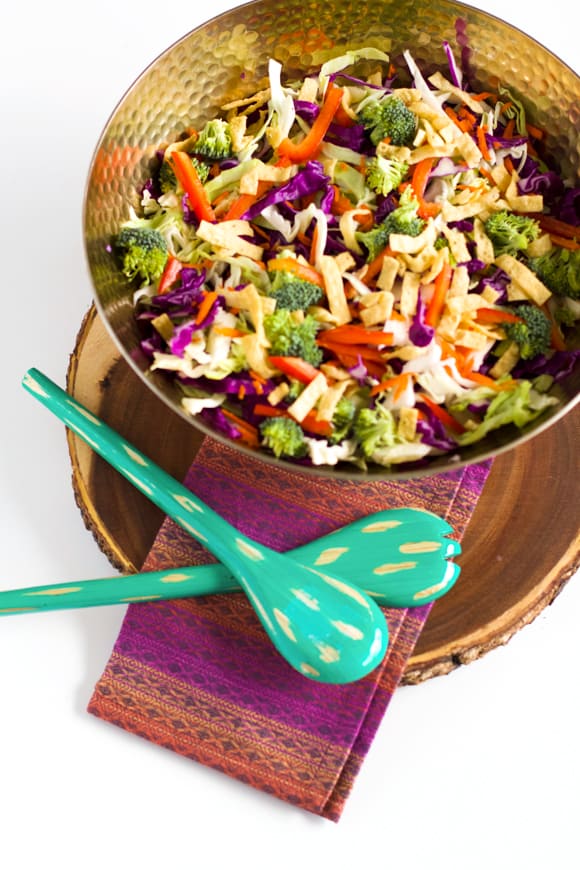 I love to entertain during the fall season, and especially love to host Thanksgiving. In fact, it's my favorite holiday to play the role of hostess. There's just something about a holiday where the food is the star and the atmosphere is typically low-key and joyous that makes my heart sing. Every other year I get to host my family for Thanksgiving dinner (the other years, we head to my in-laws house in the neighboring state). One thing that trips me up when I do host is what to serve for lunch on Thanksgiving Day. I mean, we're spending the entire day cooking in the kitchen for our feast and the last thing I want to do is make a big lunch that guests will fill up on. But, a crowd's gotta eat, right? I decided that a fun and flavorful salad was the perfect option for a light, but satisfying lunch. And this recipe in particular is great because the flavors are complimentary to the traditional Thanksgiving dinner we'll enjoy later, but just different enough to feel special and unique.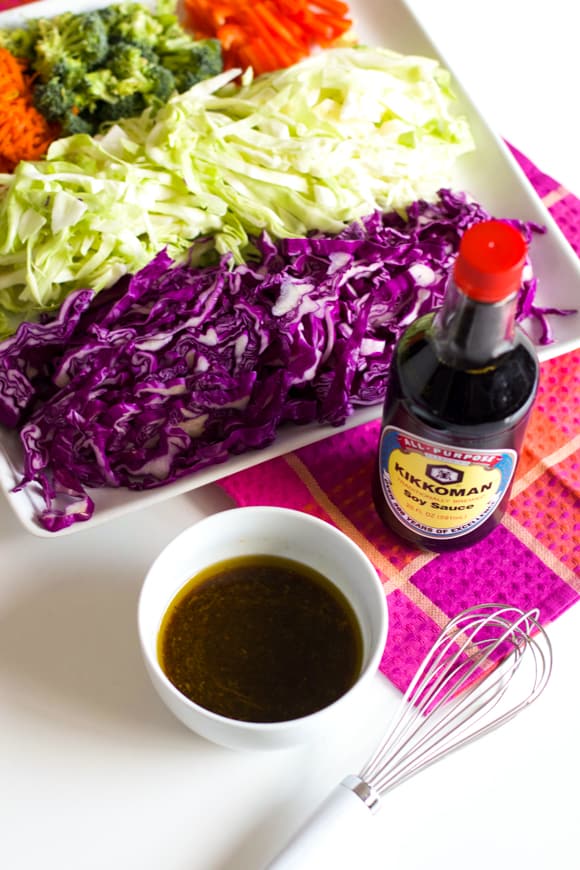 The salad is made up of a few fresh and bright veggies. Red and green cabbage, carrots, broccoli, and red bell peppers are tossed with a dressing made with Kikkoman Soy Sauce, which gives the salad a great Asian flavor. I like to offer the dressing on the side so guests can add their own desired amounts. Plus, if there is salad left over, you can store the salad and dressing separately and enjoy later (if you store the salad tossed with the dressing it will get soggy). Of course, if you don't expect to have left overs, you can toss the dressing into the salad right before serving.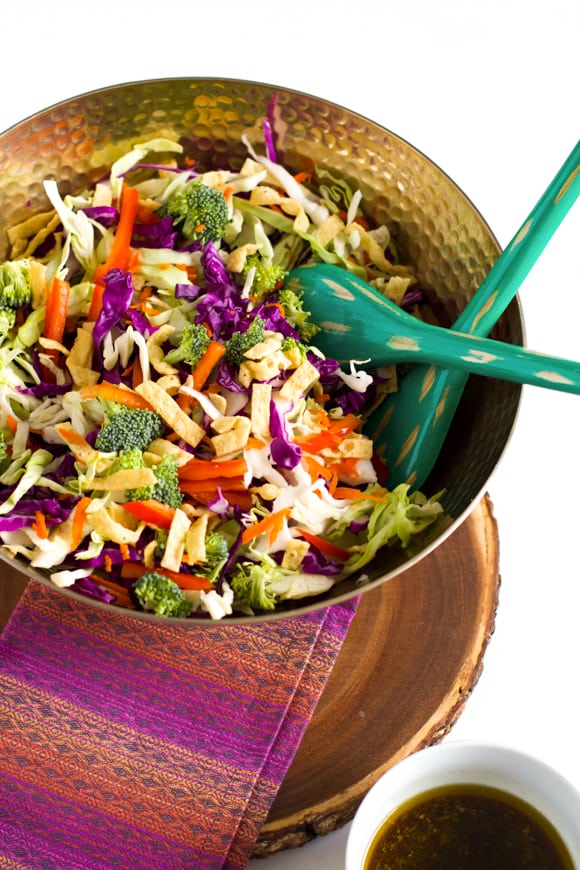 I also topped the salad with some fried wonton pieces, which gave it a great crunch.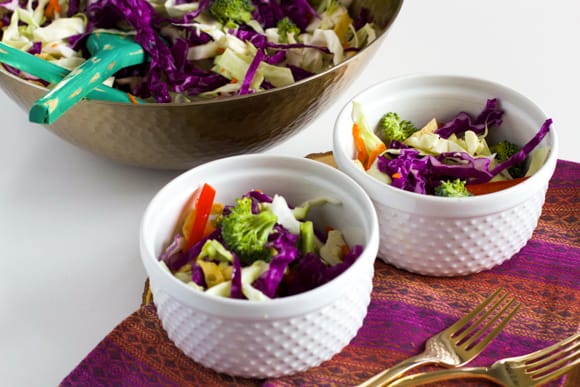 What I love most about this fall salad recipe is how much flavor it packs. It would make a great addition to any fall or holiday dinner.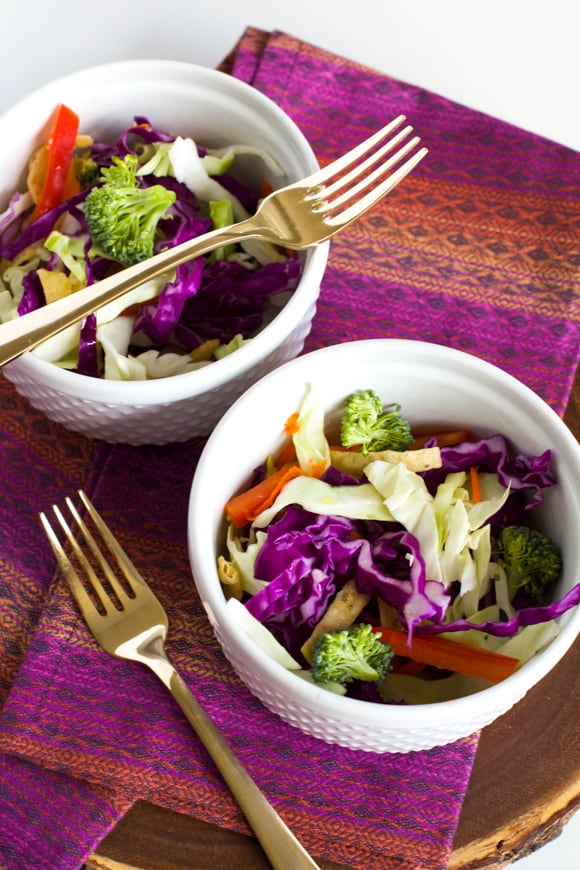 The dressing is actually really versatile. I can see enjoying it drizzled over fresh fish as well.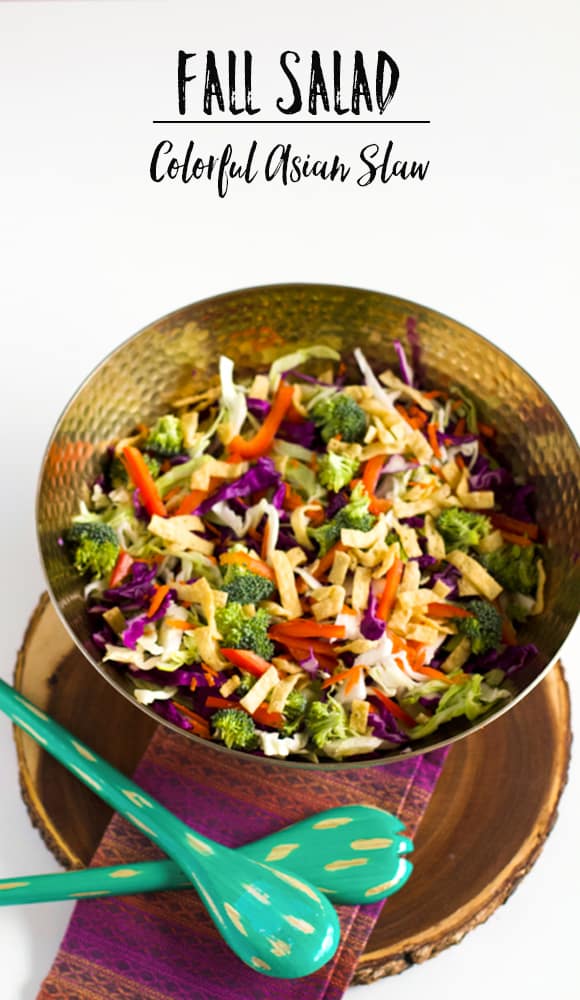 Learn more about Kikkoman on Facebook, Twitter, Pinterest, and Instagram.
What do you think? Will you add this colorful Asian Slaw to your fall salad line up?
Ingredients
½ Head red cabbage, shredded
½ Head green cabbage, shredded
1 Large carrot, grated
1 Head broccoli florrets, chopped
½ Red bell pepper, cut into thin strips
½ Cup fried wonton pieces
For Dressing:
¼ Cup extra virgin olive oil
1 Tbsp Kikkoman Sesame Oil
2 Tbsp Kikkoman Soy Sauce
2 Tbsp Kikkoman Rice Vinegar (or any vinegar if you're in a pinch)
2 Tbsp apple cider vinegar
¼ Tsp fresh grated ginger (more to taste if you like a good ginger kick)
½ Tsp garlic powder
¼ cup brown sugar
¼ Tsp black pepper
⅛ Tsp sea salt
To Make
Mix all chopped veggies in a bowl
Combine all dressing ingredients in a separate, small bowl and whisk to combine.
Serve immediately, or cover each bowl and refrigerate until ready to serve. Add wontons right before serving.