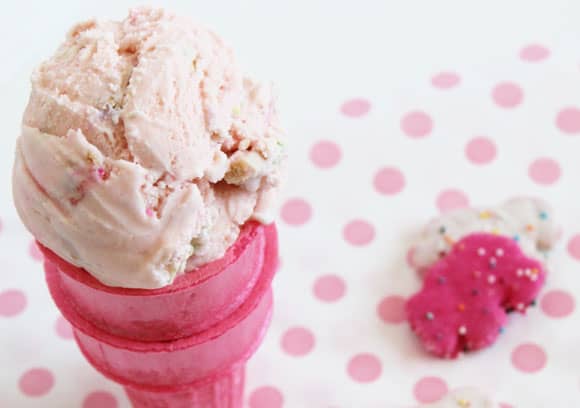 One weekend the Mr. and I were on the road and we popped into a local shop for an ice cream cone. When we both spotted Circus Animal Cookie ice cream …. we started grinning silly. It is one of our favorite childhood cookies, and now in ice cream form? TWO SCOOP PLEASE!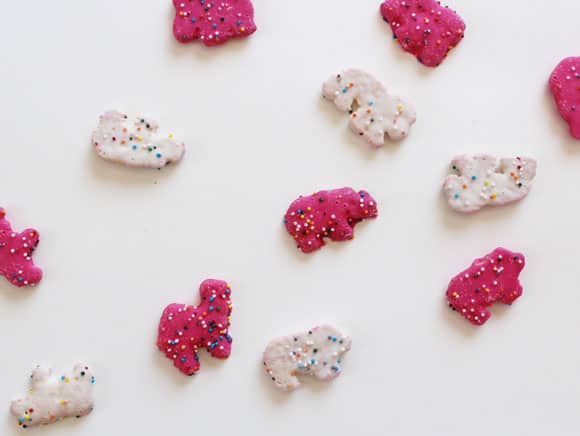 In my opinion, there are few things better than these adorably tasty pink and white cookies. And I knew I had to try to recreate this recipe at home. So, it all started with these sprinkle-covered dudes.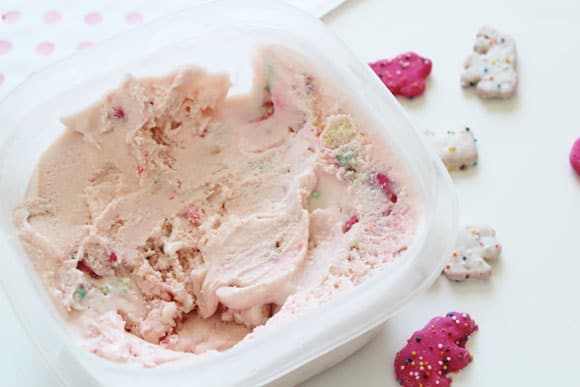 And the end product was this creamy, yet crunchy, pink ice cream. SO. GOOD.
Circus Animal Ice Cream
2 cups whole milk
2 tablespoons cornstarch
1/4 cup granulated sugar
1 1/4 cups heavy cream
1/4 teaspoon salt
3 tablespoons cream cheese, softened
1 1/4 cups sugar cookie mix (just buy the premixed kind)
20 Circus Animal Cookies, roughly chopped
Sprinkles (optional)
To Make
-In a small bowl, combine 1/4 cup of milk with the cornstarch and mix until smooth. Set aside.
-In a large saucepan over medium-high heat, combine remaining milk, heavy cream, sugar and salt. Bring to a boil and cook for 2 minutes.
-Turn temperature down, stir in cornstarch mixture then bring back to a boil for 1 minute.
-Whisk in cream cheese and cake mix, then pour into a large heat-safe bowl.
-Let mixture come to room temperature before covering and letting sit in the fridge overnight to chill for best flavor.
-Process in ice cream maker according to manufacturer's instructions.
-Add the cookies and sprinkles in last 5 minutes of churning.
-Transfer to freezer safe container and let harden in the freezer for several hours (or eat immediately for perfect soft serve texture).
In the mood for more summer dessert ideas? Check out these recipes I've gathered on Foodie.com.
Check out Summer Dessert Recipes

by Tori Tait at Foodie.com
This post was done in collaboration with Foodie.com. All thoughts are my own.