Anyone with a sweet tooth knows that a cookie is just not a cookie. Some are softer, some you crave more, some are perfect warmed, and well….some are just adorable! These cookies definitely fall into the "adorable" category. The Flour Pot has turned a delectable cookie into the perfect gift idea. Check out some of my favorite designs:
Shaken Baked, Not Stirred. Martini and Olive cookies.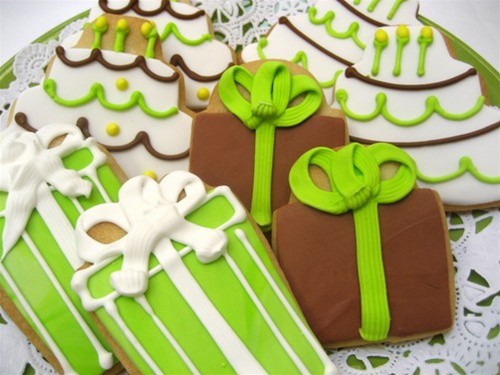 Cakes and Gifts, perfect for any party or to send as a birthday gift!
I am loving these cookies that are decorated as colorful fruit.
And perhaps my favorite, cookies that help you celebrate your engagement! You can send these as a gift to a newly engaged couple OR better yet, send them to your future bridesmaids. The Flour Pot has came up with the most thoughtful way to ask that special gal in your life to be your bridesmaid, send her an adorable cookie in a box that asks, "Will you be my bridesmaid?" How thoughtful is that?! Take a look at their custom designed bridesmaid cookies.