When I think of good food in the summer, I think about fresh and simple. Flavors that make you drool but minimal time in the kitchen. Are you with me? Who wants to be stuck indoors on a gorgeous summer day? Not this hostess.
One of my favorite new things to eat are cucumbers. I might be a little obsessed with them lately (I even made a cocktail highlighting them, recipe coming soon). If only they would produce in my garden (side note, anyone know a trick for growing good cucumbers?).
This appetizer/snack/lunch is one that I am eating almost everyday. The star? Cucumbers!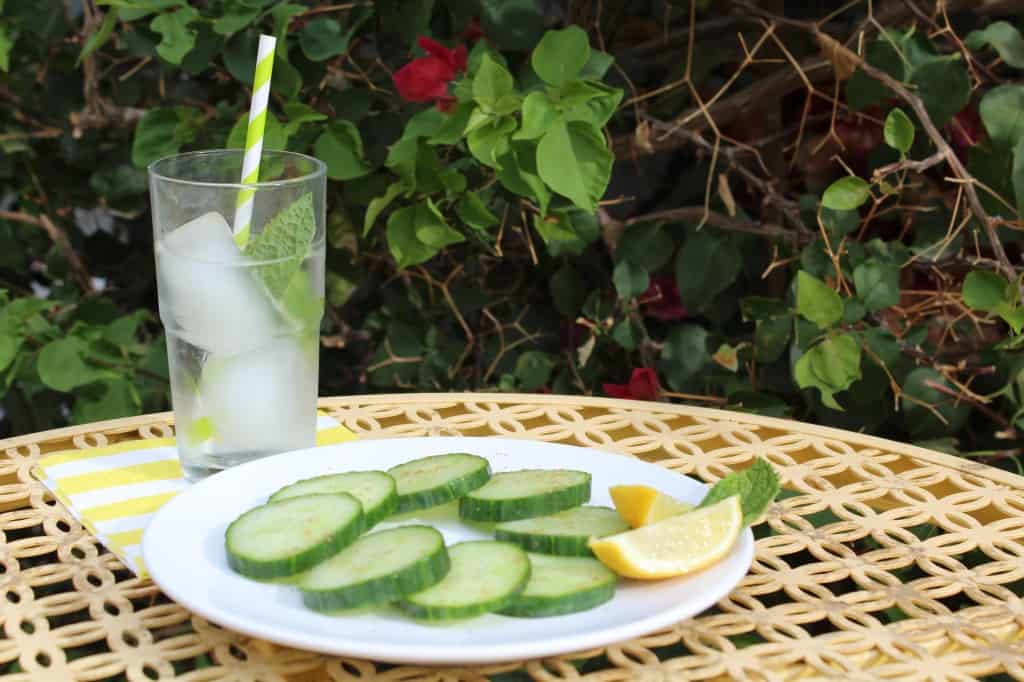 To make:
Thinly slice a cucumber and arrange on a plate or platter. Drizzle with a juice of a lemon. Sprinkle with a seasoning like Salad Supreme (you can also trying garlic salt and sea salt)
……………………………………………………………………………………………………
The next cucumber-recipe exploration is going to be this cucumber punch from Carla Hall. Carla is one of the super talented chefs rounding out the cast of ABC's The Chew. Have you seen it? The Chew is your one-stop shop for everything food. Celebrating and exploring life through food, The Chew is an innovative daytime program co-hosted by a dynamic group of engaging, fun, relatable experts in food, lifestyle, and entertaining. Featuring celebrity chefs Mario Batali, Michael Symon, and Carla Hall, lifestyle expert Clinton Kelly and fresh face of healthy living Daphne Oz, The Chew is a leap forward into a delicious new kind of talk show. I'm digging it (and their yummy recipes).
I'll be sharing some of my favorite recipes from The Chew over the next couple of weeks. The first couple that I'm dying to try are the cucumber punch and grilled cantaloupe. WHAT? I have no idea you could do that!
……………………..

All summer-long, ABC's The Chew is your one-stop shop for everything food. From grilling and outdoor entertaining to road trips and picnics, The Chew is dishing out the most sizzling, mouth-watering meals to satisfy your summer cravings!

Tune In: Fresh Daily. Weekdays 1e|12p|c
Stay tuned for more of my favorite clips and recipes I'll test along with them!
Compensation was provided by ABC via Glam Media.  The opinions expressed herein are those of the author and are not indicative of the opinions or positions of ABC.