Embarrassingly enough, I have been so busy that I hadn't even thought of details for our intimate Fourth of July barbecue (hence the last minute patriotic dessert ideas). So today, I decided to look around the house for some inspiration and boy did I find it — RIBBON! I have about 50 yards of American flag print ribbon lying around and decided to put it to good use today and come up with some simple ideas for DIY 4th of July decor.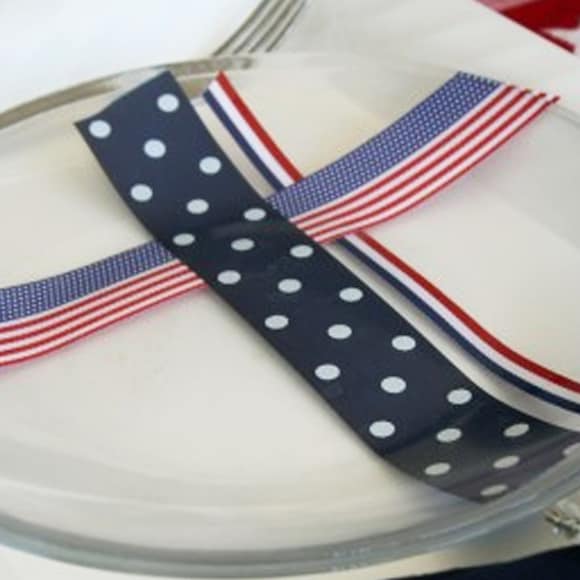 This is a simple 4th of July place setting. I just used to clear glass plates and layered strips of coordinating ribbon in between them. Paired with a navy blue linen napkin–simple!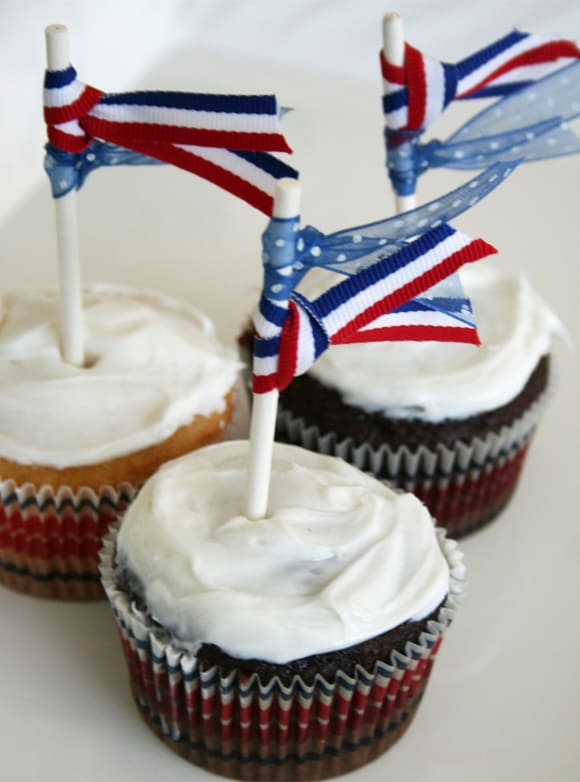 I used strips of ribbon to make these DIY ribbon cupcake toppers. These took maybe five minutes and I just used ribbon I had on hand. Check out these DIY instructions for more detail on how-to make these.
I even incorporated the ribbon decor outside since that will be where we are cooking and hanging out. About 6 strips of red, white and blue ribbon make up this decoration. I hung it from a tree and it looks really nice blowing in the wind.
I hope I have inspired you to look around your home and revisit supplies you have on hand when thinking of decorating. Remember, your party can look thoughtful … even if you just do a few simple touches.
Looking for more? Check out this tutorial for a Fourth of July centerpiece.