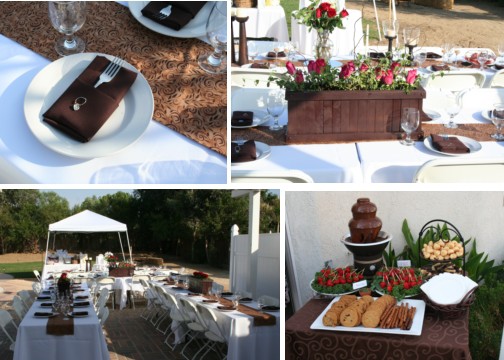 Fall Bridal Shower
If you are having or hosting a fall bridal shower, here are some simple ideas you just might fall in love with!
-Pick a natural setting and let nature do a lot of your decorating. Host the event in family or a friend's backyard. The outdoor colors of greens and browns will set the mood of your shower.
-Skip the formal flower arrangements; pick up some planter boxes, potting soil, and rich colored flowers from you local garden center. If you are having round tables then look for round planters, otherwise the rectangular planter boxes work wonderfully for oblong tables. Oh- and if you cannot find planter boxes in the right color, a little spray paint will do the trick.
-Don't forget the candles! Have candle lighting throughout your shower. Think bathrooms, table tops, even floating in a pool if there is one.
-Serve a deep red or auburn cocktail. Try Bridal Sweet Martini!
Bridal Sweet Martini (serving for 4)
6 oz vodka
2 oz strawberry juice
1 oz cranberry juice
Juice of 1/2 a lime
Combine all in mixer w/ice. Shake and strain into martini glasses.