Check out this website!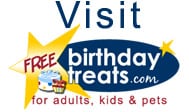 I find this site refreshing in the current economic time. This is a nation wide resource listing free and discounted offers you can receive on your birthday. From Disneyland to local restaurants, there is really no strings attached. Easy to navigate and fun to browse to see what you can get FREE for your birthday. Come on…how easy is this?! You can even search for free stuff for your pet!
Free Birthday Treats offers users access to free and discounted deals on items and services for kids, adults, and even pets. Now THAT is inspiring!
My tip: Sign up for their free email newsletter and be in the loop when knew freebies are added!
What do you guys think? What's the best FREE treat you've ever received on your birthday? What would make a good Birthday Freebie?