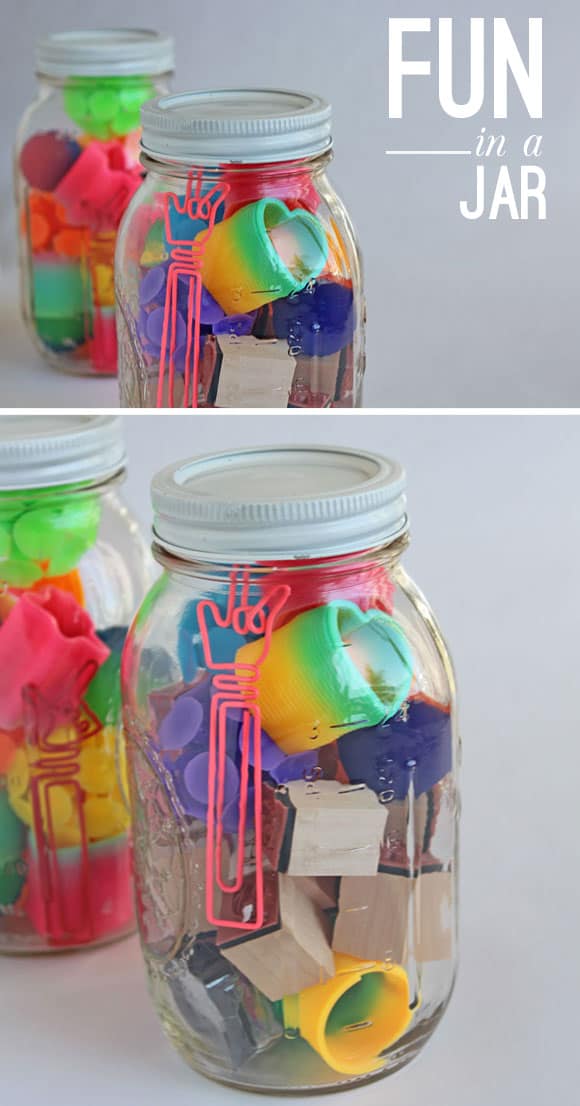 The end of the school year is fast approaching and it's during this time that I like to think about a few thoughtful things I can do for my girls to help them get excited about summer. Every year, I like to have a small gift for them to kick-off the first official day of summer – and this year, I've created "jars of fun."
Although we are constantly doing fun things during the summertime, my kids still seem to find time and ways to "be bored." That's where these little jars of goodies come in. To help keep boredom at bay this summer I've filled these jars with a variety of fun items to keep them busy in between scheduled activities and trips. They'll find everything from small toys to an animal stamp set, bookmarks, mini slinky's and bouncy balls. Because all the items fit into a jar, it's also an ideal gift for travel.
For older children you can place in gift cards to the movies or an ice cream shop, crossword puzzle books, or even a new pair of shades for the summer.
What would you put in your "jar of fun?"
For more ideas, see this canister of fun idea.
This post was created in collaboration with SC Johnson. See the original post here.