I have had the pleasure of discovering an inspiring company: Trees Instead. Trees Instead offers an eco-friendly alternative to giving the traditional bouquet of flowers. Now I will be the first one to admit, I love a gorgeous floral arrangement, but really, how much more thoughtful is giving a TREE? Fabulous!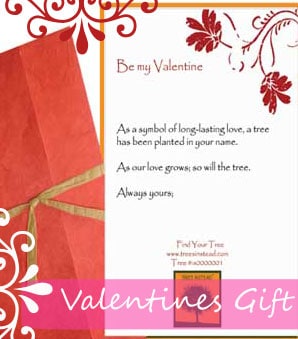 I have an idea! How about sending your love bird a certificate telling them you purchased a TREE for them this Valentine's Day? Not only is this a wonderful "green" act, it is so romantic. Come on, let your love grow! Trees can be sent for any occassion and can be purchased for as little at $25.00!
You can learn more about purchasing, sending, and visiting your tree at Trees Instead.