There is something that I love about a great weekend breakfast. Lazy mornings, hot coffee, and something great to eat — what could be better? And as the holidays quickly approach I'm working on my holiday menu (Christmas morning breakfast a biggie on the list as it's becoming my favorite occasion to entertain!) and I'm often trying new recipes. So, when  the folks at Pepperidge Farm recently asked me to take the   PuffectionTM  Holiday Entertaining Challenge, I was super excited to get baking!
With breakfast on the mind, I decided to try this recipe for Blueberry Cheescake Danishes.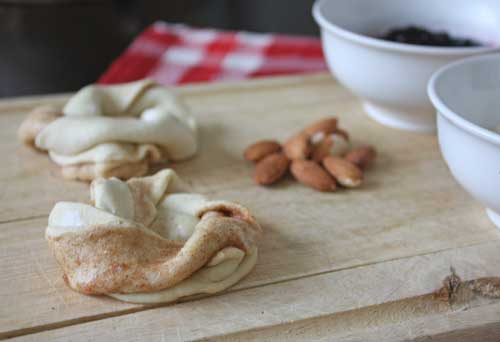 I was pleasantly surprised how simple this recipe was. With only a few ingredients, I had these little bits of heaven in the oven super fast. Then, I waited not-so-patiently for them to bake.
When they were done, they were warm and crispy and tasted wonderful! The divine smell of cinnamon and blueberry drew in a crowd who wanted a taste too. I shared, because I'm thoughtful like that ;).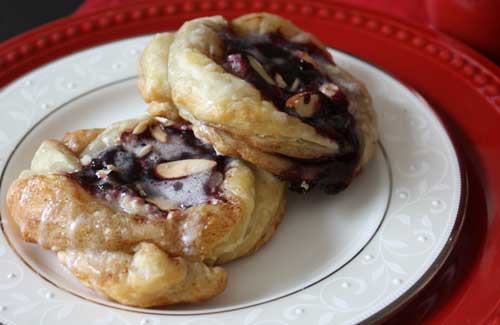 This recipe is definitely a keeper and will likely make a appearance on Christmas morning — they are THAT good.
Blueberry Cheescake Danishes
Ingredients
Vegetable cooking spray
1 tbsp. ground cinnamon
5 tbsp. granulated sugar
1/4 of an 8-ounce package cream cheese, softened
All-purpose flour
1 pkg. (17.3 ounces) Pepperidge Farm® Puff Pastry Sheets, thawed
2 tbsp. butter, melted
1/4 cup blueberry preserves or strawberry jam
3/4 cup confectioners' sugar
3 tsp. milk
1/4 cup sliced almond, toasted
To Make
1.Heat the oven to 400°F. Spray a baking sheet with the cooking spray.
2.Stir the cinnamon and 4 tablespoons granulated sugar in a small bowl. Stir the cream cheese and remaining sugar in a small bowl.
3.Sprinkle the flour on the work surface. Unfold 1 pastry sheet on the work surface. Brush the pastry sheet with half the butter. Sprinkle with half the cinnamon-sugar mixture. With the short side facing you, cut the pastry sheet lengthwise into 6 strips. Repeat with the remaining pastry sheet, making 12 in all.
4.Twist 1 pastry strip then coil into a spiral. Place the pastry onto the baking sheet. Brush the end of the spiral with the remaining butter and tuck tightly under the bottom of the pastry. Repeat with the remaining pastry strips. Place 1 teaspoon cream cheese mixture and 1 teaspoon preserves in the center of each pastry.
5.Bake for 20 minutes or until the pastries are golden brown. Let the pastries cool on the baking sheet on a wire rack for 5 minutes.
………………………………………………………………………….
Be sure to visit the Puffection TM tab on the Pepperidge Farm Puff Pastry Facebook page and share your own holiday Puff Pastry recipes, and http://www.puffpastry.com for more recipes, tips and how-to videos
Disclosure: Pepperidge Farm has provided you with a stipend for my time and materials invested in the Pepperidge Farm® Puffection TM Holiday Entertaining challenge, as always thoughts and opinions are my own.