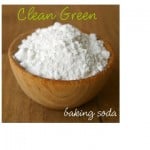 Who knew your Granny was a "green" cleaner all along? If we take a step back in time, I bet we don't remember our grandparents storing 8 bottles of random household cleaners under their kitchen sinks, now do we? In fact, past generations knew a thing or two about using green and affordable cleaners around the house (and they actually did get the job done).
Make cleaning in an environmentally safe way simple by breaking out the old household supplies. My favorite cleaner, baking soda!
Next time you need to get one of these jobs done, put down the green can and pick up the baking soda:
–Scrub out your sink– just sprinkle, scrub, rejoice!
– Greasy dinner dishes? Sprinkle a bit of baking soda on the bottom of your dishwasher and the greasy grime will be cut in the first wash cycle, before your detergent even starts it's thing. For cast iron pans that don't go in the dishwasher, sprinkle with baking soda and give them a quick scrub.
–Smelly sponge?? Sprinkle a tsp of baking soda after a heavy use and simply rinse it out.
–White sneakers not so white anymore? Simply make a paste of baking soda and water and scrub, now that's simple!
What are your secret uses for Baking Soda? How are you trying to live a bit greener?