I read a lot about having a "plan B" for your wedding day in terms of having an out door wedding. It's true — you need to have an "indoor" backup area in mind if there's a chance that the weather might not cooperate with your outdoor plans. But what about having a plan B for your outdoor birthday party, BBQ, or other event? No one really talks about that. Of course, most things you can schedule around the weather (like BBQs, reunions and other celebrations) but what about birthday parties?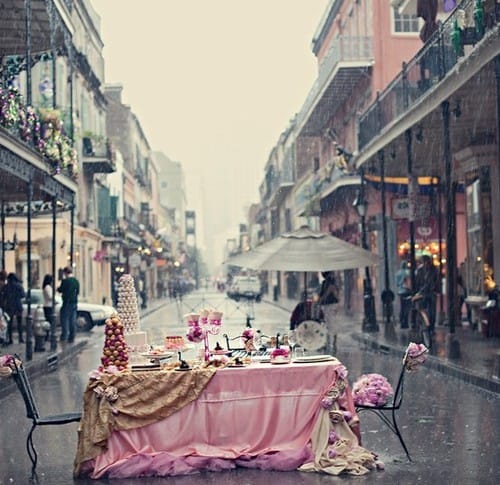 I know a thing or two about trying to plan an outdoor birthday party during rainy season (not that we really have a "season" here in southern, CA). Both of my daughters have birthdays in December (the 22nd & 23rd to be exact — yes, really). And given that the weather could be freezing and raining one day and 80 degrees and sunny the next,  it's really hard to plan.
We prefer outdoor parties — and luckily last year our cowgirl party fell during a warm spell (getting the horse inside would have been difficult). But sometimes it does actually rain here and we are forced to move indoors (like for our zebra party) which was just a week later. If you are planning a party an worried about the weather here are some tips that have helped me:
Make a decision that morning. Even if you really want to have the party outdoors, at some point you'll need to call it. Give yourself enough time to rearrange things and get set up indoors. You don't want to be running around stressed out at the last minute.

Make sure your decorations can be used outside AND inside in case you need to relocate.

Make sure your party games and activities can be played inside if needed. Think about having to put down newspaper or push furniture out of the way. Pinata? Might need a back up plan if you're moved inside.

Can you move your seating indoors to accommodate all of your guests? This is good thing to consider before inviting the entire class!
Have you had to alter your outdoor party plans? Do you have any tips to share? I'd love to hear them — we have 2 winter parties coming up after all!
image via wehearit.com