I have been a fan of celebrity chef LuLu Powers ever since I read her book Food to Flowers. So when she sent me these easy appetizer recipes for the holiday season, I knew they'd be great — and they are! Below she shares her recipes for Apple Cheddar Rye Puffs and Parmesan Pea Dip, both recipes would make perfect holiday appetizers.
Before we get to the recipes, I wanted to share this simple tip from LuLu:
Cocktail Ornaments:

Store cranberries in the freezer and use them to adorn cocktails. These frozen delights will give any gathering the holiday spirit.
And now for the recipes!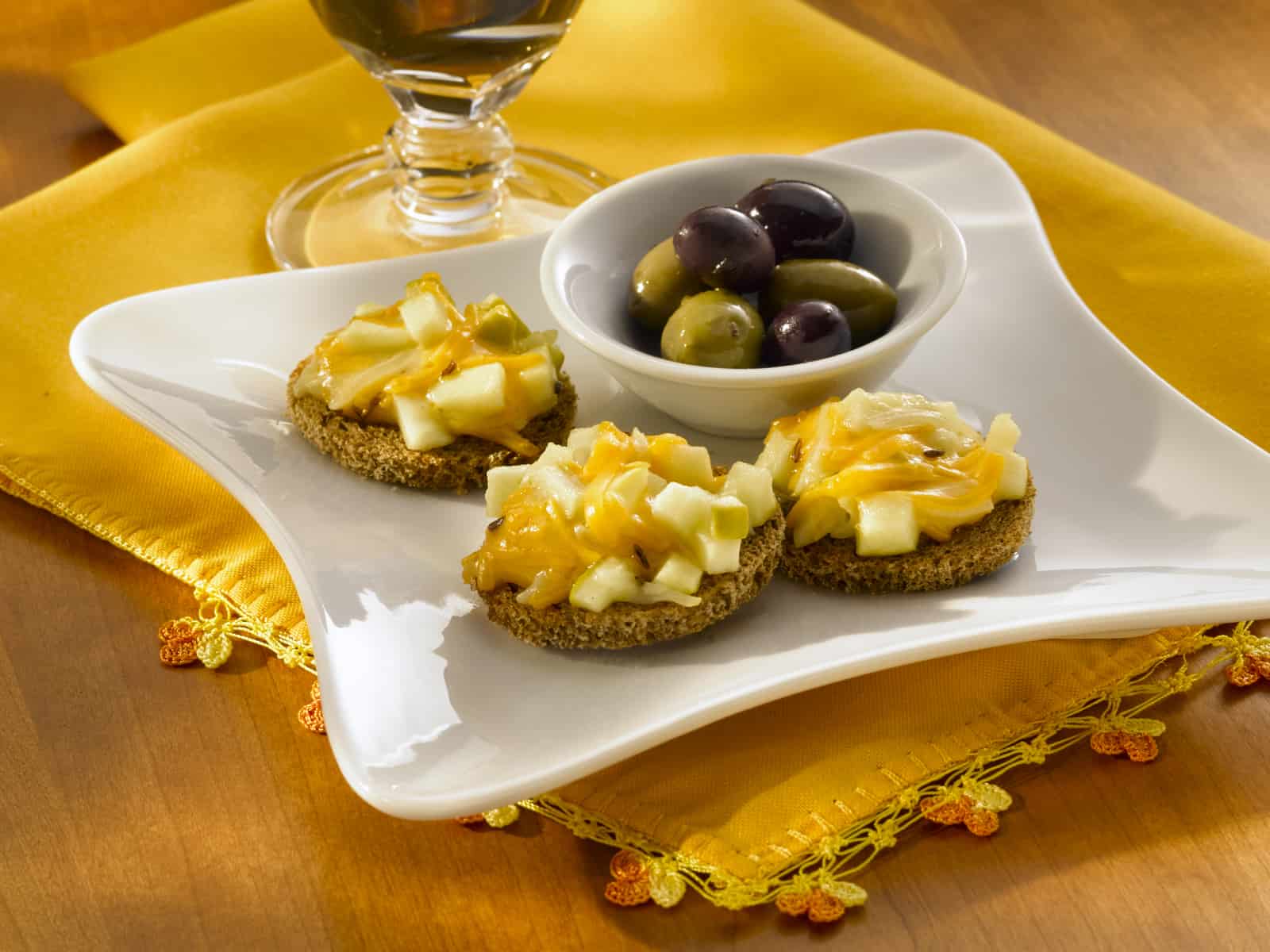 Apple Cheddar Rye Puffs
Prep time: 5 minutes
Cook time: 20 minutes
Yield: 30 appetizers
Ingredients
1/2 Granny Smith apple (cored, peeled and finely chopped)
1 cup Sargento Artisan Blends Double Cheddar shredded cheese
3 tablespoon mayonnaise
1 tablespoon honey
1 teaspoon Dijon mustard
1/4 teaspoon caraway seeds
1 loaf of mini rye bread
Fresh ground pepper
Directions
1. Preheat oven to 375 degrees F.
2. Cut rounds out of rye bread using a 1- 1/2 inch cookie cutter. Bake 10 minutes or until lightly toasted.
3. Combine remaining ingredients. Spread on toast and bake for 10 minutes more. Serve warm.
Helpful Hints
Bake only one side of bread and then apply mixture on other side.
Parmesan Pea Dip
Prep time: 10 Minutes
Yield: 2 cups
Ingredients
2 cups frozen petite peas, thawed, divided
1 cup frozen shelled edamame beans, thawed
1 cup mint
1/2 cup parsley
1/2 cup olive oil
1 tablespoon lemon juice
1 cup Sargento Artisan Blends Parmesan Shredded Cheese, divided
Salt and pepper to taste
Optional: 1 teaspoon maple syrup or a dash of hot sauce
Directions
1. Put 2- 1/2 cup peas and all other ingredients except oil and ½ cup cheese in food processor and process until consistency is mostly smooth.
2. Add oil and then remaining 1/2 cup peas. Process until mixture is slightly chunky. (If you prefer the dip smoother, process longer.)
3. Spread on rice crackers and sprinkle with remaining cheese.
Helpful Hints
This pea dip can be served over pasta or on top of cooked fish or chicken. Sprinkle with additional cheese.