Do you love photos in your home? I know I do- but like so many, I am just not confident about my display choices. Thank goodness I know someone who is a "photo-guru" if you will. Jill at Cool Photo Ideas has given us the how-to when it comes to displaying our cherished photos or prized art pieces in our homes.
Jill says,
IT'S ALL IN THE PLANNING
"Give thought to the space you want to liven up. Once you have an area picked out then you can measure the area and get a general idea of sizes of pictures you may want to incorporate. Generally speaking anything smaller than an 8″ x 10″ tends to get lost on a large wall, so be sure to think those things through!"
Oh and this is my favorite tip:
STICK IT TO ME
"Once you know your sizes, lay your frames (or if you don't have frames yet, you can get a general measurement by taking the size of the image and add about 4″ for the width of the frame. So if you would like to hang an 8″ x 10″ image, trace out a 12″ x 14″ frame) on a roll of kraft paper and trace around them. Cut each frame out separately. You now have "frames" that you can hang on the wall with blue painters tape (which will not peal paint off your wall), to gauge where you will hang your final framed images."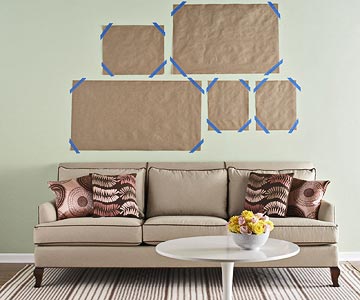 STAY IN THE LINES
"Keep moving your paper frames around until you love the look! Be sure to allow approximately 2″ between your frames. Then you can finish up your project with ease by simply hanging your frames over the paper spots as shown. The sample shows a great way to create a display, buy drawing an 'imaginary' line and then working above and below the line to create an organized look. Perfect for the beginner!"

Love this design tip from Cool Photo Ideas? There are many more where this came from! Check out:
Jill knows how to solve your "fear of putting holes in the wall only to find you hate the way the portraits look when they are hung." Cool Photo Ideas is full of solutions.
This fabulous e-zine is filled with ideas, sources, articles, contests and more – all photo related of course!
Tell me, what area of your home would you like to decorate with photos? Come on, everyone has that empty wall…..