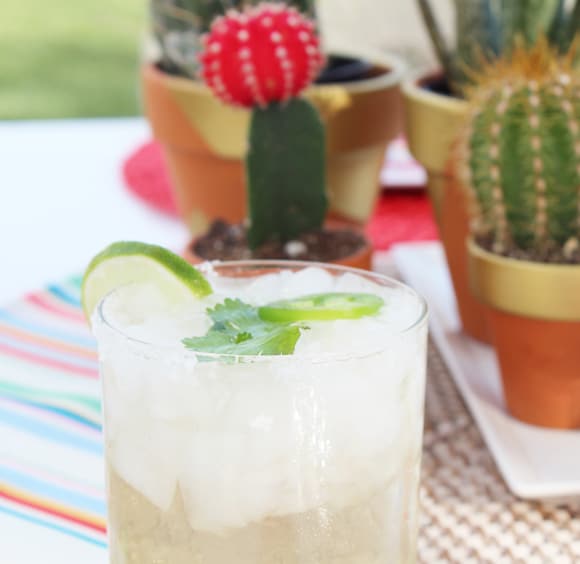 This jalapeno margarita recipe knocked my socks off. I'm adding this recipe to my growing "spicy cocktail" collection and filing it right next to this jalapeno martini.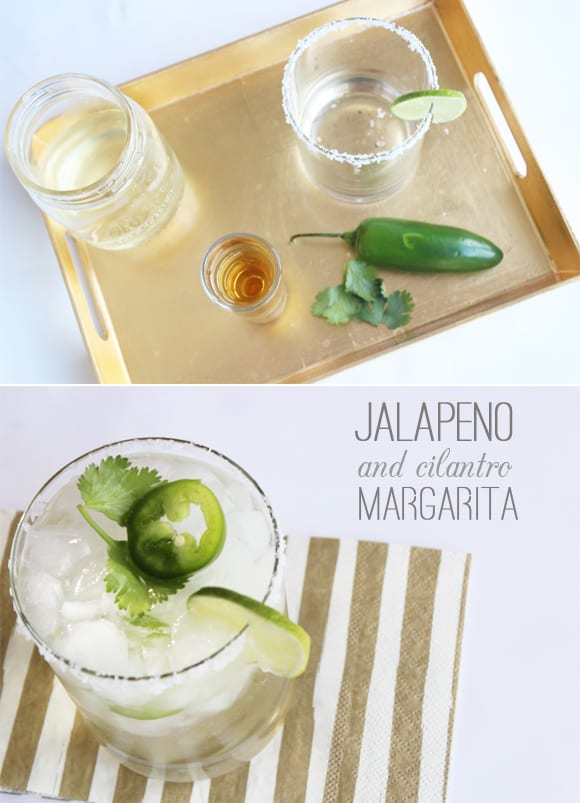 It's nice and refreshing like a traditional margarita but with a light kick of heat from the jalapeno. I'm also in love with the subtle cilantro flavor that comes through. I'm predicting that this jalapeno margarita will be the star of  your next Taco Tuesday or Cinco de Mayo party!
Jalapeno Cilantro Maragarita
Ingredients
makes 2 drinks
4 limes freshly squeezed
1/4 cup tequila of choice
1/3 cup cilantro infused simple syrup
6 slices of a fresh jalapeno
club soda (optional, but I like to add just a splash to the top of the glass)
To make: Combine lime juice, tequila, cilantro syrup, 4 jalapeno slices into a shaker filled with ice. Shake well and strain into glasses that have been rimmed with salt (if you like) and filled with ice. Garnish each drink with 1-2 slices of jalapeno, a sprig of cilantro and a slice of lime.
To make cilantro syrup: In a small saucepan, heat 1 cup of water and 1 cup sugar until sugar is dissolved. Remove from heat. Toss is a healthy handful of cilantro (stems and all are fine). Let it steep until the syrup is completely cooled. Strain off cilantro leaves using a mesh strainer so all you have left behind is the infused syrup.
If you're not a cilantro fan, simply omit it from the recipe and just use regular simple syrup.
Cheers!