I have talked a lot about cleaning green here on Thoughtfully Simple. From do-it-yourself mixtures to some of the leading "green" brands; I am always looking to share new ways to clean your home in an earth friendly way. One thing I hear a lot of is how it is just so easy to grab the traditional cleaners that have always worked well at the grocery store. Well, in response to your comments…I have found a simple solution!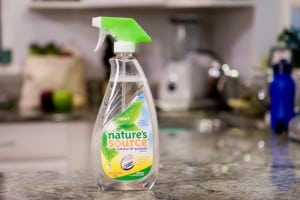 I recently had the pleasure of trying out a new green cleaner from the SC Johnson, A family Company. Nature's Source is a new line of fabulous Eco-friendly cleaners that (dare I say it) work well! A new twist on your old favorites like Windex for your glass cleaning needs and Scrubbing Bubbles for your bathroom detail. Right at your local grocery store, you can find these trusted brands now reformulated with a more earth friendly formula.
I was impressed with how well these cleaners worked and how they really smelled fresh and clean without smelling like cleaner. From the kitchen to the bathroom (and many places in between), these green cleaners really get the job done.
So, there you have it….. green cleaning really is simple after all!