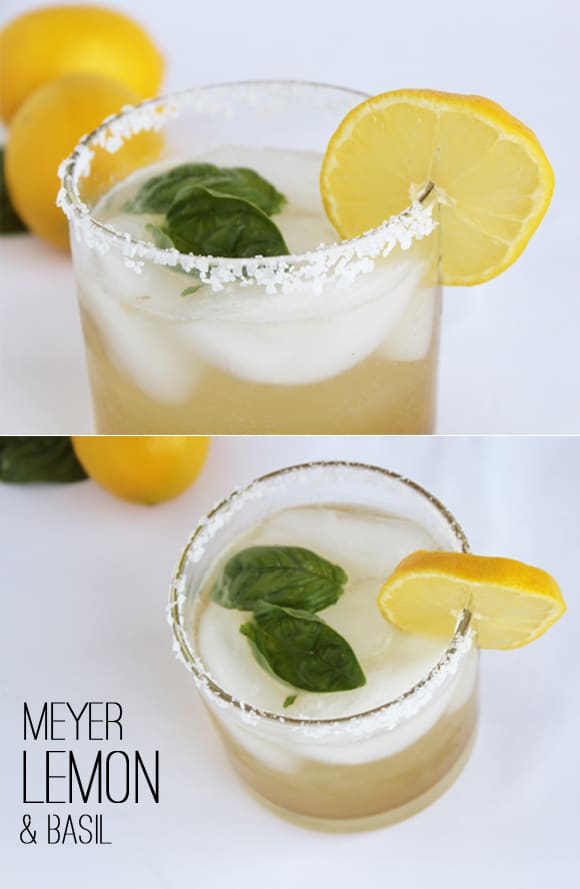 This margarita recipe is the last one of our week-of-margaritas and I have to say, it's my favorite! I saved the best for last (well at least my taste buds think so).
I am mildly in love with Meyer Lemons. My dream home has a grove of these. And basil? It grows in abundance here in the summer so it makes the perfect choice. The combo is delightful.
Meyer Lemon & Basil Margarita
Ingredients
makes 2 drinks
2 freshly squeezed Meyer lemons
2 slices Meyer lemons for garnish
1/4 cup tequila of choice
1/3 cup agave
8 leaves of fresh basil
Lime and salt to rim glass (optional)
To make: Combine  juice from lemons, tequila, agave, and 6 torn basil leaves into a shaker filled with ice. Shake well and strain into glasses that have been rimmed with salt (if you like) and filled with ice. Garnish each drink with slice of lemon and a basil leaf.
Be sure to check out the other new margarita recipes from the week.
Cheers!