I am a self diagnosed canned pumpkin junkie.  This time of year I come up with all sorts of reasons to use it; cooking, baking, or otherwise. That is just how this mini pumpkin milkshake came to be. They are so creamy and they taste like your favorite milkshake just collided with a pumpkin pie. They're rich, so making them in mini form seems to be the perfect choice. (Plus, everything is cuter in mini version, right?)
Served up in mini glasses also make them adorable to offer to guests or little ones during your next gathering or special dinner. Tall shot glasses work perfectly for these mini milkshakes. You can also pick up disposable plastic shot glasses
 which are handy if you're entertaining.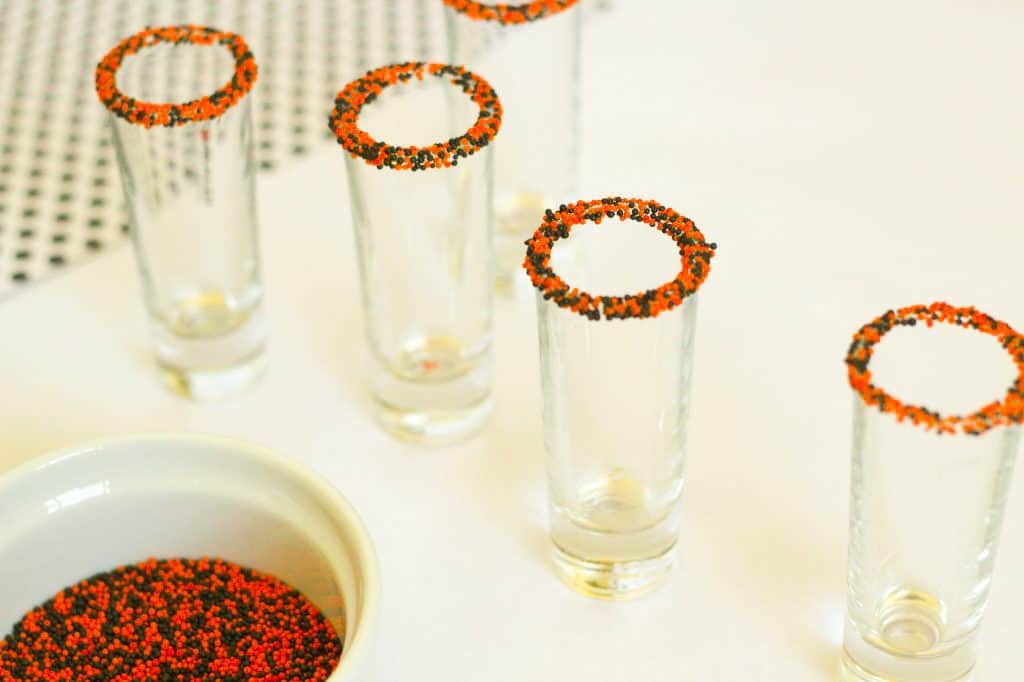 To rim the glasses, simply turn the glasses upside down and "dip" them into a plate of Karo syrup. Then, dip them into a shallow dish of sprinkles. The syrup helps the sprinkles stick really well to the glass.
Cut a cute straw in half and add them to each cup.
Mini Pumpkin Milkshake
Prep: 10 minutes
Yield: 6 small milkshakes
Ingredients
3/4 cup canned pumpkin puree
1/2 cup original flavor malted milk powder
1/2 cup milk
2 cups vanilla ice cream
Whipped cream
Directions: In blender combine pumpkin puree, malted milk powder, milk, and vanilla ice cream. Blend until smooth and then pour into small or mini glasses. Top with whipped cream before serving.
Looking for more simple Halloween treats? Try these ghost cupcakes.