It's been very quiet on the blog for some time now but I am excited to be back and am ready to share new content with you all (including our plans for a modern neutral nursery!). Because . . .
If you didn't catch it on Instagram, we're expecting!
And, it's a boy! (Yes, we're still in total shock!)
With just about 10 weeks to go, we're finishing up the final touches on the nursery. Here's the inspiration and planning I put together before we built the room. We converted my old office/loft space into an additional bedroom for the baby. I knew that I wanted it to have a modern, neutral vibe even before we knew if we were having a boy or girl.
I wanted it to feel bright with some texture and natural elements throughout. All of the pieces below ended up making it into the final design–plus a few others I can't wait to show you.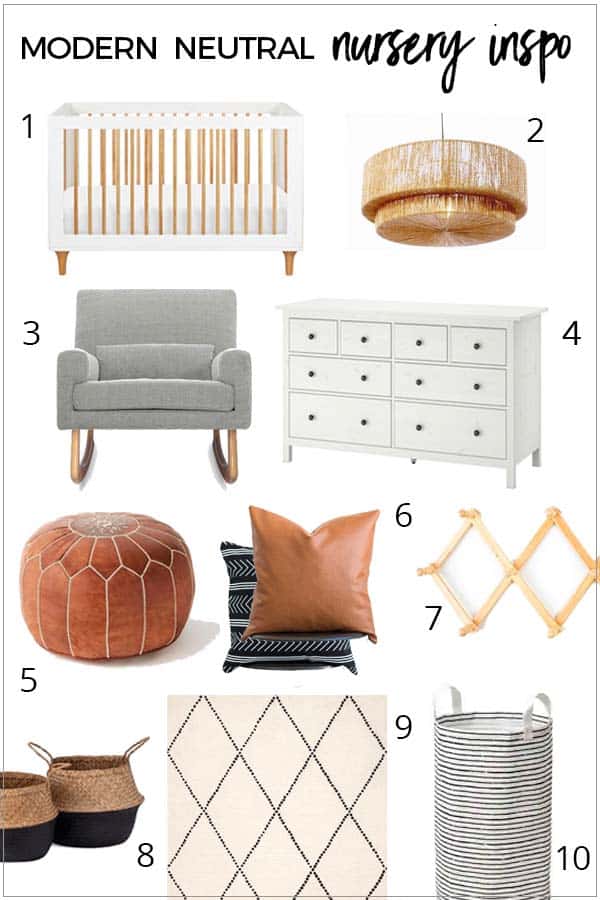 What do you think? I can't wait to share photos from the actual nursery. More to come soon!
Sources
1. Crib
2. Light Fixture
3. Rocker
4. Dresser
5. Leather Pouf/Ottoman
6. Pillows
7. Rack
8. Baskets
9. Rug
10. Hamper
What are your nursery must-haves?