Shopping, baking, decorating, shopping and more shopping — tired yet? Could you use a little help this holiday season? I know I could!
Check out this contest from our friends at ForRent.com and Homes.com for a
chance to win $2,500 (now THAT would help, right?).
They have a simple and fun Facebook contest going on and the grand prize is $2,500 (I'd totally get that new dining room table I've been dreaming about and dozens of these darling bowls).
Here it is: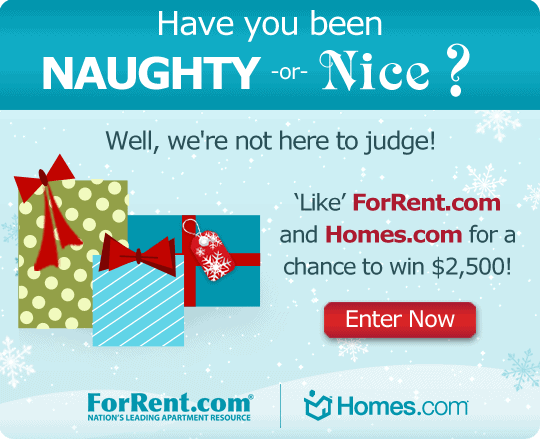 Like ForRent.com and Homes.com for a chance to win $2,500!
*Bonus: in addition to the $2,500 grand prize, each of the above Facebook pages will be giving away weekly $100 gift cards (enter each week for the $100 drawing or just once for the grand prize drawing).
Enter to Win the $2,500 Grand Prize & Weekly $100 Gift Card Giveaways
"Like" Homes.com &/or ForRent.com on Facebook and fill out the entry form located on the Naughty or Nice tab on the left side under their profile picture.
While filling out the form refer the contest to friends using the "refer a friend" option. Referring your friends increases your chances of winning.
Good Luck everyone! Contest ends at 12pm EST on December 16, 2011. Grand prize and weekly winners will be emailed and announced on Facebook.
Now, what would you do with an extra $2,500 to spend this holiday season? After you enter, be sure to come back and let me know in the comments!
This is a sponsored post. Homes.com has paid me to review their holiday contest and offer my opinion. I only recommend companies or services I believe my readers will enjoy — cheers.