When it comes to birthdays, my friend Julie from Free Birthday Treats knows her stuff. If you are looking for a birthday freebie, special discount, or a budget-friendly way to celebrate, Julie is your go-to gal. So when she shared the news of the More Birthdays Campaign recently launched by the American Cancer Society with me I was so thrilled! As you know I love to celebrate, and the more thoughtful the better. Naturally I was on board with this campaign.
I'll let Julie tell you about it herself (she is the birthday guru you know) :)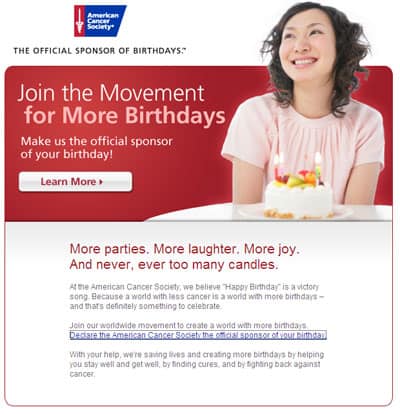 Take it Julie!
Thank you! Well, I created FreeBirthdayTreats.com because birthdays are a celebration of life and should not go past without some acknowledgement. In the weakening economy though, it's tough spending money on celebrations. So I track down birthday freebies and discounts to help others continue to celebrate their special day.
To say the least, I'm very passionate about birthdays and this brings me to an email I received today from the American Cancer Society: Join the Movement for More Birthdays. I adore it! Declaring the American Cancer Society as the official sponsor of your birthday…awesome! It just launched today and will be an ongoing long-term campaign.
For me, this is a no brainer, but then I lost my dad to cancer over 16 years ago. Had he have been diagnosed sooner, he might still be with us today.
I joined the movement and would like to invite all of you to do so as well. Just visit http://www.morebirthdays.com to declare the American Cancer Society as the official sponsor of your birthday, join their Face Book group, send an e-card, download their More Birthdays Kit or start your own birthday page like I did: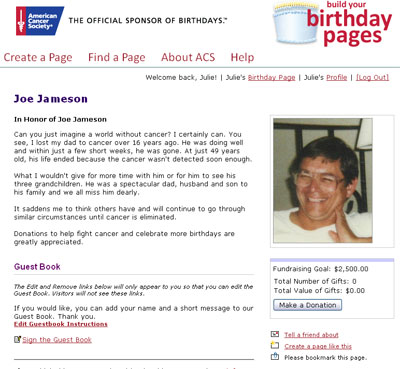 I created this page in honor of my father, Joe Jameson. My goal is to raise $2,500 to help create a world with no cancer. Donations are welcome at: http://main.acsevents.org/site/TR/Events/BirthdayPages?pxfid=492974&fr_id=19690&pg=fund Thank you!
Thanks Julie for sharing! I predict this new ACS campaign is sure to take off- it's such a thoughtful idea!