This post has been sponsored by the J.M. Smucker Company. All thoughts and opinions are my own.
Today, I'm talking about how to make cold brew ice cubes, and three other ways to simplify your busy day.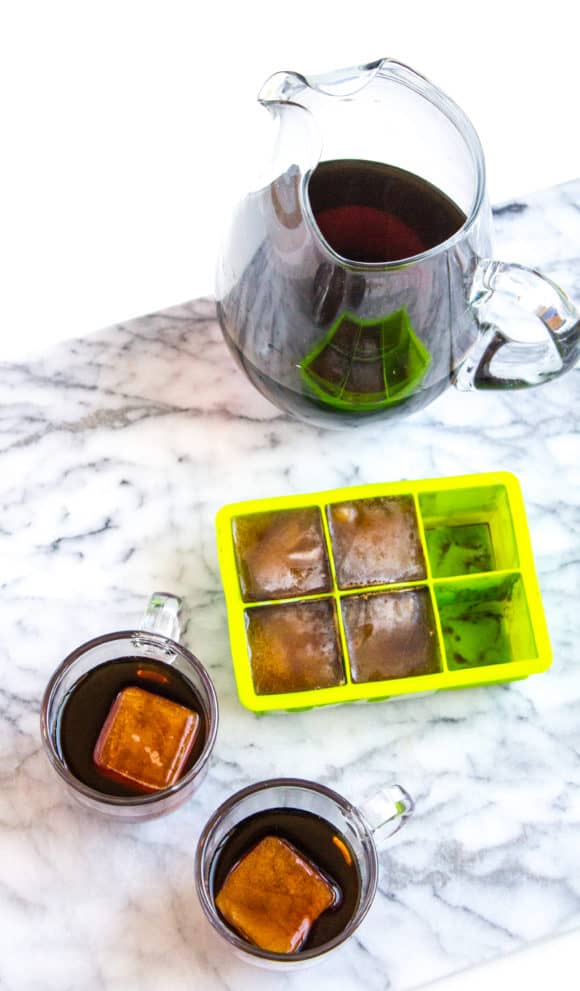 I don't know about you, but my days seem to fly by. Between kids, work, and all of the "extra" stuff that needs to be tackled on a daily basis, I often feel pretty frazzled trying to get everything done. Over the past few months, I've made it a point to find a few ways to simplify my day-to-day and it's really helped me feel more like I'm running the day vs. the day is running me.
I wanted to share with you four ways I've been simplifying my day. Maybe you could use a little help in this area, too. Now that fall is here, the days are going to get a lot more hectic as the holiday season approaches. Hopefully these ideas will help you conquer it all!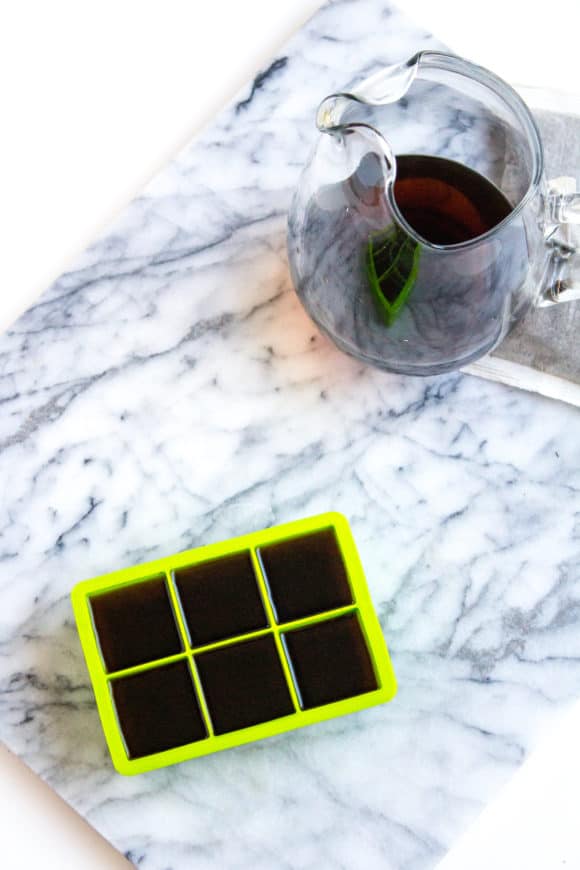 I start my day at around 6:00 am which means by the afternoon I'm pretty much dragging. I love a great cup of cold brew as an afternoon pick me up but never seem to take the time to make it (which means I don't often get to enjoy it). One thing I've been doing lately is pre-making cold brew and cold brew ice cubes which means a delicious cup of cold brew is ready for me whenever I fancy. I won't say this has been a life-changer (because that sounds a little over-the-top), but if you enjoy cold brew coffee like me, you'll want to start doing this for sure!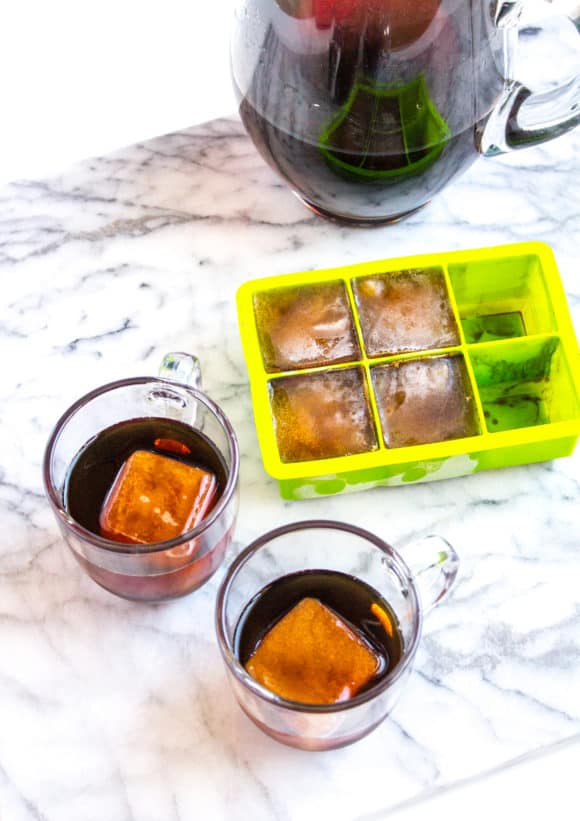 I love having cold brew ice cubes on hand to pop into a glass to keep my cold brew, well, cold. As the cube melts, it doesn't dilute the coffee.
The new-to-shelves Dunkin' Donuts Cold Brew Original Blend coffee packs (original), which you can find on the coffee aisle at any Target, have helped simplify this process. And, it's really simple to make (which is right up my alley). If you're not familiar with Cold brew, it's a brewing method where the coffee grounds are steeped in cold water for around 8-12 hours. The colder temperature brings out the rich, smooth flavor and it does not have that bitter or acidic tastes you might have experience with other types of iced coffee.
How to make Dunkin' Donuts Cold brew:
Put 2 Coffee Filter packs (1 pouch) into a pitcher
Fill the pitcher with 4 cups of cold water
Steep it in the fridge overnight, or for 8–12 hours
When it's done steeping, remove the filters and add 3 more cups of cold water
And now, simply, enjoy!
How to make cold brew ice cubes:
Once your cold brew is ready, fill up an ice cube tray and place it in the freezer. Place the pitcher with the remaining cold brew, back into the refrigerator.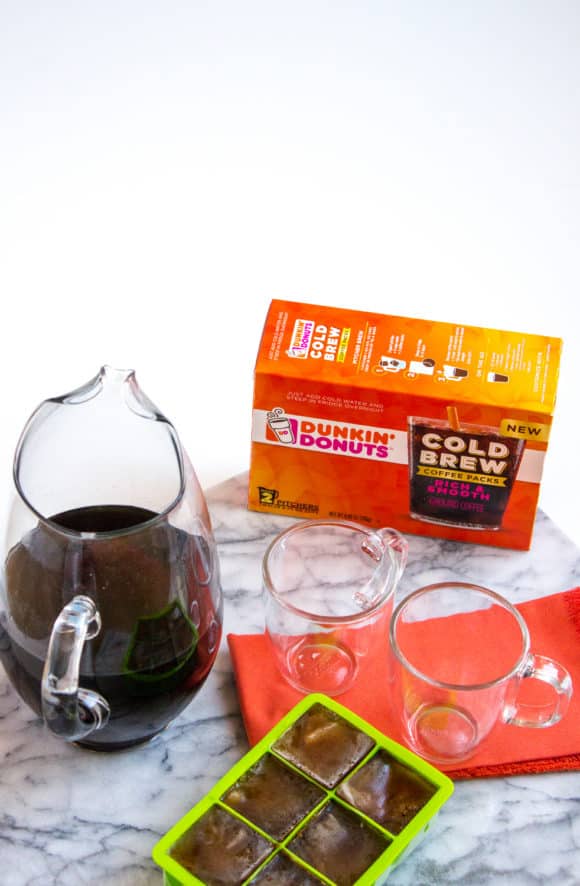 The next time you're ready for a mid-morning or afternoon pick-me-up, grab a glass, add a cold brew ice cube, and pour your cold brew on top.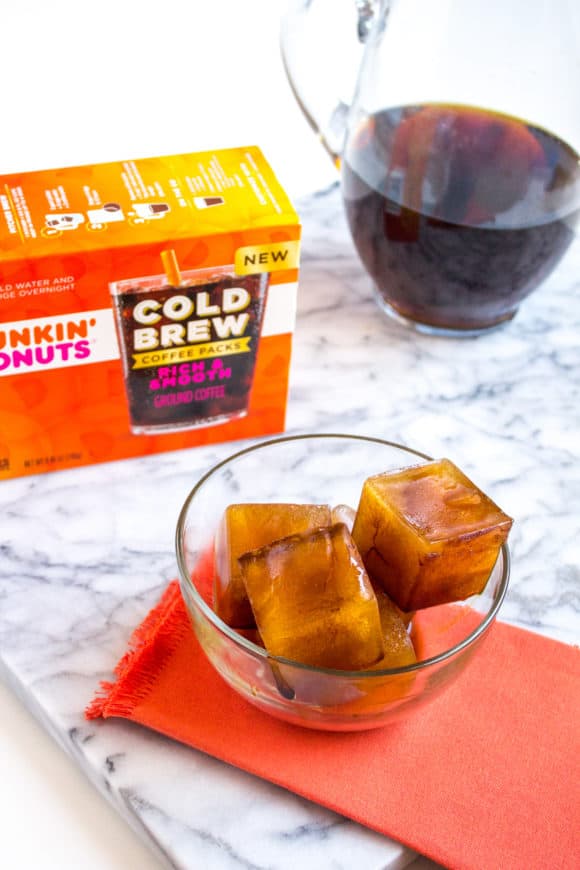 Having cold brew and cold brew ice cubes on hand is a simple way to make your day a little easier to manage.
3 additional ways I've simplified my days:
I make my kiddos lunches the night before right after I clean up the dinner dishes. This only adds about 10 minutes to my evening routine but feels so much easier than rushing to get it done in the morning.
I map out what we will be having for dinner the Sunday before the work/school week starts and write it on the chalkboard in our kitchen. This cuts down on curious minds asking me "what's for dinner?" and gives me a  game plan to follow in the evenings after work. I've found by eliminating that daily decision of "what to make for dinner" has me feeling less overwhelmed on a daily basis.
I've delegated breakfast. This one is a game changer. We tend to always cook at least one big breakfast on the weekends so I've started making extra of whatever it is (waffles, pancakes, breakfast burritos) and then I freeze them. That way in the morning, it's easy for my husband to quickly heat up a delicious breakfast for our girls while I help them get ready for the day. We keep fresh fruit in bowl in the fridge and have those washed, sliced, and prepped on the weekend as well. It's a simple thing to do on a weekend and helps us all have smoother mornings during the week.
What do you think? Will any of these ideas help you simplify your busy days? Do you have any other tips or tricks to share? I'm all ears so drop them in the comments! 
The next time you're at Target, be sure to pick up a box of Dunkin Donuts Cold Brew to try for yourself. I think you'll love it! (Use this Cartwheel Offer).