I recently received a copy of Lulu Powers' new book Food To Flowers, and to be honest, I had no expectations about this book. However, once I starting flipping through the pages, I very was pleasantly surprised.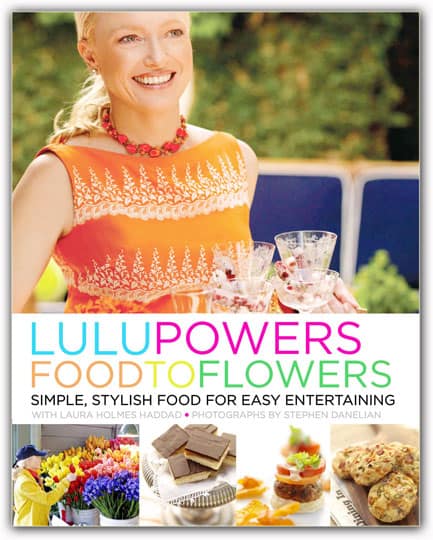 For those of you who aren't familiar with Lulu Powers, she is a chef to the stars, catering parties for a cache of A-list celebrities. At first it was this vibrant and stunning photographed cookbook that had my attention- but soon I realized Lulu's recipes and tips for simple entertaining at home were the shining star. Her ability to guide you through the party planning process, with loads of information about entertaining and hosting in a fun, relaxed manner- is impressive.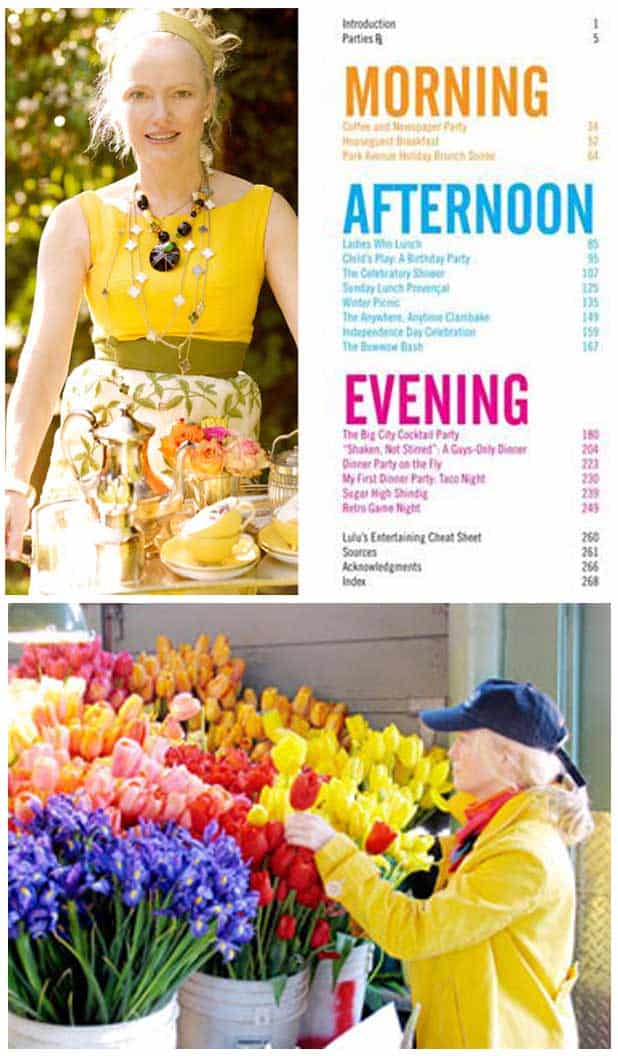 The cookbook is brilliantly separated by time of day- morning, afternoon and evening. With delightful (but not intimidating) recipes for each time slot… Lulu's recipes really make sense. From Sticky Buns and Lulu's Blood Mary recipe (morning) to Lavender-Glazed Roasted Chicken (evenings), you will find a recipe sure to tickle your culinary fancy.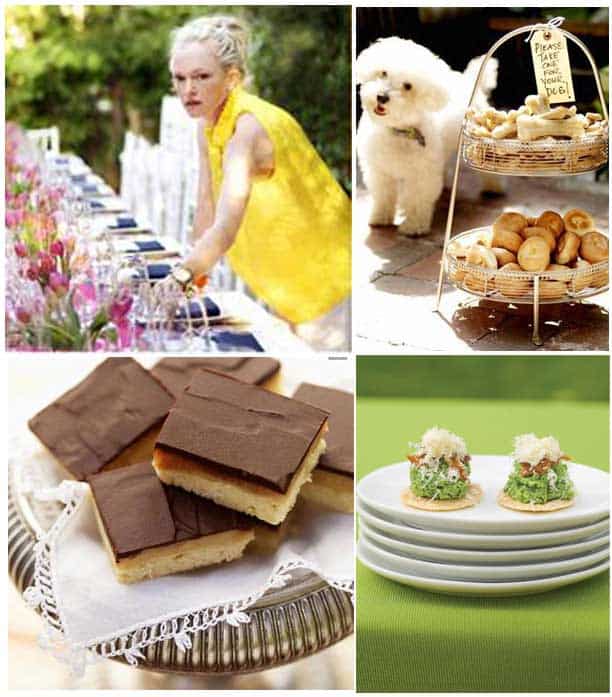 Great recipes? Check. But this book is SO much more than a cookbook. A complete guide for any party hostess, Lulu offers tips for planning the perfect party, setting the perfect bar, and even provided a list of resources and vendors she likes to use.
From (my FAV) a Coffee and Newspaper Party, to a Pup Party (complete with dog-friendly recipes)- she has covered it all.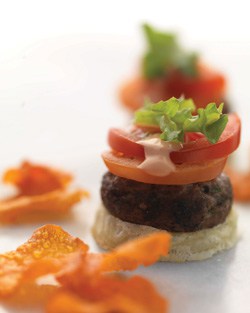 For your next party appetizer, try: Burger Bites with Lulu's Special Sauce
Makes 30 to 35
For the Burgers
1 pound ground beef
3 tablespoons ketchup
3 tablespoons barbecue sauce
1 teaspoon Lindberg-Snider Porterhouse and Roast Seasoning
2 teaspoons ground cumin
1 teaspoon ground black pepper
1 loaf sliced potato bread
For the Sauce
1 cup mayonnaise
2 teaspoons yellow mustard
2 tablespoons ketchup
1 tablespoon barbecue sauce
2 teaspoons Worcestershire sauce
2 teaspoons Tabasco sauce
2 tablespoons sweet pickle relish
2 teaspoons prepared horseradish
1 tablespoon freshly squeezed lemon juice
2 teaspoons sugar
1 teaspoon Lawry's Seasoned Salt
1/4 cup chopped cornichons
2 tablespoons chopped peperoncini
4 garlic cloves
1/2 teaspoon ground white pepper
1/4 cup chopped scallion, both white and green parts (optional)
In a large bowl, mix the ground beef, ketchup, barbecue sauce, porterhouse seasoning, cumin, and pepper together until well incorporated. Shape the mixture into 1 1/2-inch patties.
Roll out the bread with a rolling pin. Using a 1-inch cookie cutter, cut 4 rounds out of each slice of bread and set aside.
Combine all the sauce ingredients in the bowl of a food processor and pulse until smooth.
In a saute pan over medium-high heat, sear the patties for 1 to 2 minutes on each side for medium-rare, or until done to your liking.
Serve the burgers between 2 potato bread rounds, with a dollop of sauce on each patty.
For all the other recipes and party planning tips, check out Lulu Powers Food To Flowers.