This post is sponsored by Kellogg's, all thoughts are my own.

I have a hunch that many people don't entertain because it simply stresses them out. I've shared tips for easy entertaining with you in the past but it really is a passion of mine. My mission is to help you realize that hosting friends and family can bring joy to your life and does not require you to "go all out." Entertaining should bring you joy –not a case of the hives!
I'm gathering inspiration today for a very casual get-together I plan to have next week. I'm hosting a few girlfriends and we're going to have a mini business brainstorm session which will definitely include some small bites and drinks. We're each in the midst of building businesses, pumping out creative projects, and furthering ourselves in our respective careers and having a face-to-face #girlboss type meeting of the minds will surely give us that hustle-boost we each need. Not to mention it's a great excuse to get together :).
I started with a mood board. I knew I wanted to keep things super simple but still a little special. Cute office supplies, flavorful (but easy) appetizers, and champagne are all on the list.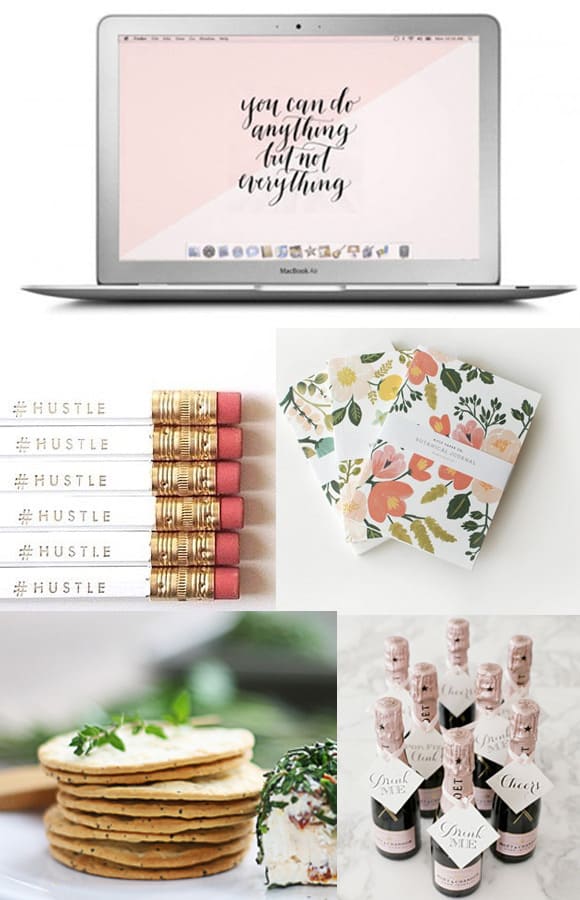 Desktop Downloads :: #Hustle Pencils :: Rifle Notebooks :: Simple appetizers :: Mini Champaign Bottles
Gathering inspiration from above, I've decided to make two really simple appetizers. I've picked up the few ingredients  I'll need. I plan to create little pairings of sweet and savory on top of Town House Crackers (I grabbed Original, Pita, Pretzel Thins and Flat Bread). I think I'll pick some fresh mint from the garden and incorporate somehow as well. Stay tuned, because I'll be sharing pics and the recipes!

Kellogg's: From presentably munch-able options, to dipping inspiration, to versatile possibilities, we have the variety that will help her stylishly host any type of gathering – from planned to impromptu.