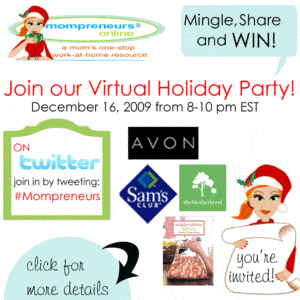 Just in time for the holidays! Join me as I help to host a fabulous virtual holiday party with my two friends Patricia Cobe and Ellen Parlapiano, co-authors of the Mompreneurs(R) series of books
and co-founders of MompreneursOnline.com.
December 16th from 8-10pm EST on Twitter.
Follow along and join in to the party by tweeting with hashtag #mompreneurs
Catch guest tweets from:
– Sam's Club, Sharing home and office organizing tips and more! Follow @SamsClubDeals.
–Emily McKhann, Co-Founder of TheMotherhood.com! You can follow her on Twitter: @EmilyMcKhann and @TheMotherhood.
– Jodi Kahn, author of Simply Sublime Bags and handmde expert. Follow her on Twitter: @jodikahn.
–Haizel MacIntyre, Recessionista Super Mom who will be tweeting on behalf of Avon Products, Inc. @Lta_nymama3
–Marsha Hudnall, Sharing healthy tips for your holiday feasting. On Twitter: @MarshaHudnall
– The Mompreneurs themselves: @Mompreneurs_P and @Mompreneurs_E
CHAT!
We will be sharing holiday beauty tips and tricks, handmade gifts ideas, helping one another out this holiday season, sharing recipes– and much, much more!
WIN!
Chances to win a fabulous basket from Avon!
We are giving away over 10 memberships to Sam's Club!
Check back-more details coming soon!!
So, will you be joining in the holiday fun?