I love a good smoothie recipe. Add in caffeine and I'm ALL over it. This  is my absolute go-to smoothie recipe (which I happen to typically finish in 2 minutes flat). YUM.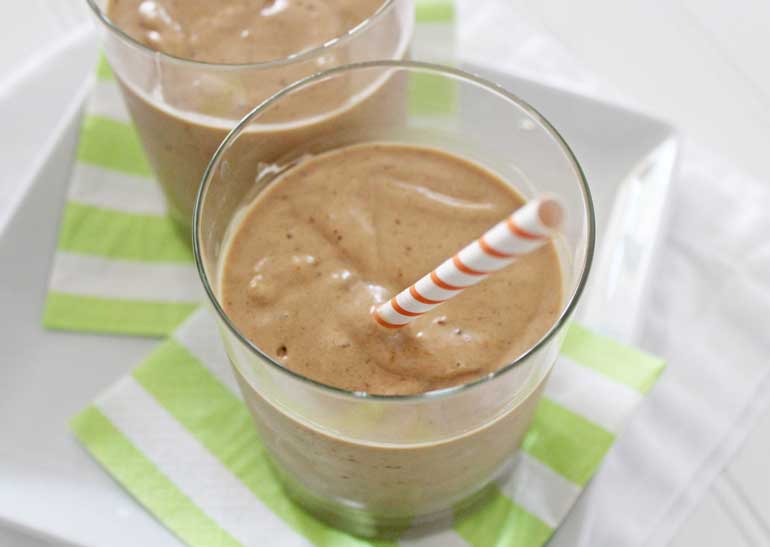 This recipe is great for breakfast as it has peanut butter for protein and a bit of espresso for a pick-me-up. It is also great after a workout, during an afternoon slump, or as a tasty dessert.
The star players in the glass? Banana, coffee and peanut butter.
Frozen Banana, Peanut Butter & Coffee Smoothie
recipe originally created for SC Johnson were I am a Blogger Panel Member. See it here. 
Prep time: 10 minutes
Yields: 1 large shake or 2 small shakes
Ingredients
2 bananas, frozen, peeled and cut into bite-sized chunks
1/2 cup creamy peanut butter
1 cup almond or skim milk
1/2 teaspoon vanilla extract
1 tablespoon instant espresso
Directions
Ahead of time: peel, cut and freeze the bananas in Ziploc® brand Freezer Bags with the Smart Zip® Seal for at least 4 hours (or overnight is best).
Blend frozen bananas, peanut butter, almond milk, vanilla and instant espresso.
Pour into a glass and inhale enjoy.
Coffee on the brain? Try this homemade coffee creamer or coffee martini (depending on the time of day!).