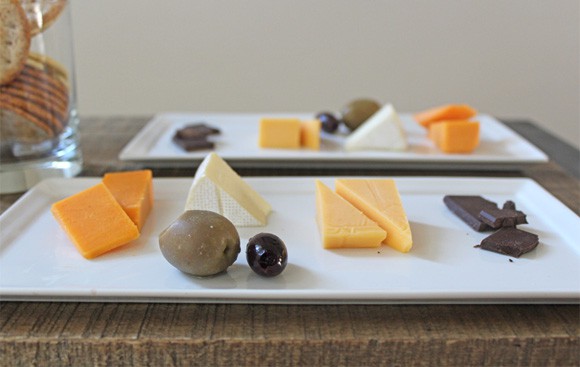 The idea of creating a cheese platter for guests can be a bit overwhelming. Deciding between the many unique cheeses and trying to come up with the correct flavor, texture combinations and serving sizes can get to be difficult. However, don't throw out the idea of serving a cheese plate to your next guests. What is great about cheese plates is that most of the ingredients have a very long shelf life so you can always keep them on hand and be prepared for unexpected visitors.
By stocking up on a wide variety of cheese options, you can serve small and individually-sized portions, allowing a nice cheese presentation with little effort (and little waste). Simply take out what you need and place the rest back in the refrigerator.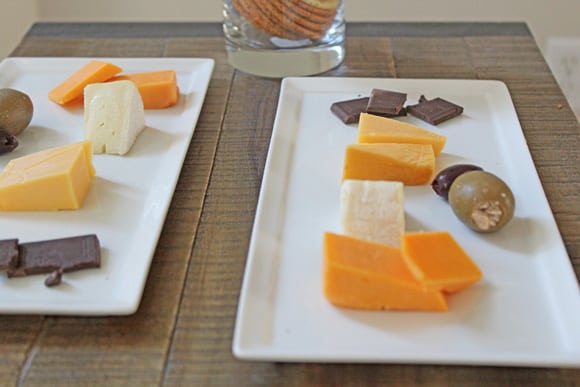 Suggested ingredients to keep on hand:
• Three different types of cheese. I recommend making two of them popular cheeses such as sharp cheddar and Brie and one more unique cheese like smoked Gouda (pictured above).
• A few different types of olives
• High quality dark chocolate
• A variety of crackers
Serving tip:
• Portion out individual sizes and serve guests their own mini-cheese plate. Each platter should have 2-3 small bites of each ingredient. For the crackers, place out a bowl of crackers for all of your guests to share.
Okay, what did I miss? What do you love to see on a cheese platter?
Post originally created for SC Johnson were I am a Blogger Panel Member. See it here.