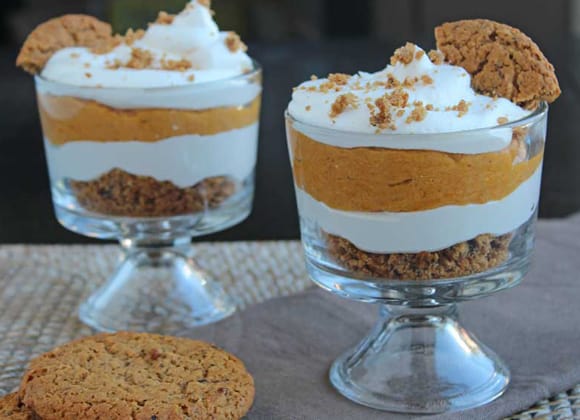 It must be something in the air this time of year, but I'm obsessed with pumpkin recipes. Pumpkin is such a versatile ingredient – it's great in everything from muffins, to soup, to the time-treasured pumpkin pie. I have recently discovered a new way to serve pumpkin that can double as both a snack and dessert. This pumpkin parfait recipe is more of a dessert but you can easily replace the oatmeal cookies with granola for a healthier option if you want to justify having it for breakfast. Or, you can be like me and just eat it for breakfast anyway. True story.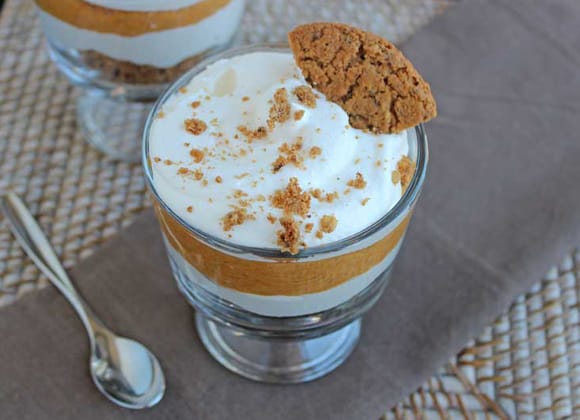 Hostess Tip: Make these up to a day ahead of time and store in the refrigerator. Right before serving, top with whipped topping.
PUMPKIN PARFAIT
Prep: 15 minutes
Yield: 2 small parfaits
Ingredients
1 cup pumpkin puree
1 teaspoon pumpkin pie spice
1/4 cup Greek yogurt
2 oatmeal cookies, crumbled
1 1/2 cups whipped topping
Directions
In a small bowl combine the pumpkin puree, pumpkin pie spice and Greek yogurt. Set aside.
Next, place the whipped topping into a Ziploc® bag and make a small opening in the bag by cutting off one of its corners. This will allow you to easily squeeze the topping into the glass. Using a separate bag, repeat the above step for the pumpkin filing.
Layer your glass with the cookie crumbles, whipped topping, pumpkin filling, whipped topping (again) and sprinkle the top with a few remaining cookie crumbles.
recipe originally created for SC Johnson where I am a Blogger Panel Member. See it here.