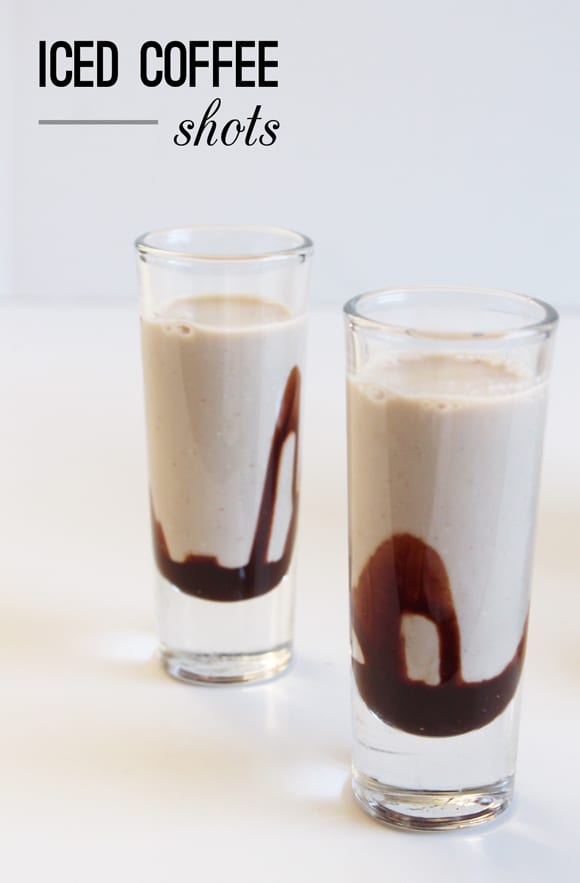 It's known that I love my coffee. I'll take it almost any way you want to serve it up, in a martini, a coffee smoothie, heck I've considered an IV (kidding, not kidding). When the weather warms up I turn to iced coffee recipes to keep me going throughout the day. So when I learned about International Delight's new Iced Coffees I got excited. Good iced coffee that is simple to serve? I'm in!
I thought it would be fun to create a mini-version of an iced coffee recipe. This makes for a fun summer pick-me-up midday or something unique to serve to guests during the dessert course.
Start by adding chocolate syrup to the bottom of shot glasses. The size of these 2oz glasses make it a perfect 2-sip drink. Next, add 4 oz of International Delight Iced Coffee to a cocktail shaker filled with ice (shaking it over ice makes the iced coffee extra cold but you can always skip this step too).
If you decide not to use a cocktail shaker, just simple pour the iced coffee into the shot glasses (so simple!).
Otherwise, strain your shaker into each glass.
The International Delight Iced Coffee (I used Vanilla Sweet and Creamy, but any flavor will work) has such a smooth flavor it really makes these little sips a treat. Afternoon treat for you, or on a serving tray for guests at your next dinner party — I'm going to say that these iced coffee shots are always a good idea.
Hostess Tip: You can totally turn this recipe into a fun cocktail or "real" shot. Just add your favorite liquor to the cocktail shaker and there you have it!
This is a sponsored conversation written by me on behalf of International Delight. The opinions and text are all mine.