We may be past the 4th of July, but the summer entertaining season is just heating up! If you're like me, you like to have that go-to crowd pleasing dish that you can whip up for impromptu BBQs and get togethers. I recently discovered Mario Batali's Warm Potato Salad while watching The Chew and I'll admit, I got a little excited. Why? The recipe calls for NO mayo (the main reason I am not typically a potato salad fan) and it includes fried eggs. Fried eggs is one of my favorite foods so I knew I had to give this recipe a try. See Mario whip it up here:……….
…………………….
And here is my version:
 ……………………………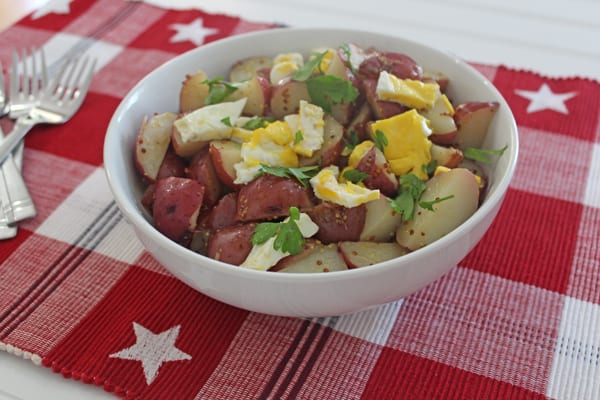 WARM POTATO SALAD  based on Mario Batali's recipe, a few alterations 
Ingredients
2 pound Tiny New Potatoes
2 teaspoon Balsamic Vinegar
1 tablespoon Whole Grain Mustard
1/4 cup Extra Virgin Olive Oil plus 1 tablespoon
Salt and Freshly Ground Pepper
3 eggs
Handful of Chopped Fresh Parsley
-Bring a salted pot of water to a boil. Add  potatoes & cook until just tender. Drain and allow to cool. Once  cool enough to handle, slice them in half. Place them all in a large bowl.
-In a pan add 1 tablespoon of olive oil and fry each egg. Remove from heat when cooked and thinly slice.
-In another bowl, combine the balsamic vinegar, mustard,  a pinch of salt and a few grinds of freshly ground pepper, and whisk in the olive oil. Pour over the potatoes, then add the parsley and sliced eggs. Toss everything to coat, and serve warm.
Hostess Tip: You can even make this ahead of time, just warm in the microwave before you serve.
If you're looking for more ideas to serve up a crowd this summer. This episode is a "burger throw down" and there are several great burger recipes to try (some really unconventional, so mix things up a bit!).
 What will you serve up this summer?
All summer-long, ABC's The Chew is your one-stop shop for everything food. From grilling and outdoor entertaining to road trips and picnics, The Chew is dishing out the most sizzling, mouth-watering meals to satisfy your summer cravings!

Tune In: Fresh Daily. Weekdays 1e|12p|c Stay tuned for more of my favorite clips and recipes I'll test along with them!

Compensation was provided by ABC via Glam Media.  The opinions expressed herein are those of the author and are not indicative of the opinions or positions of ABC.