I've teamed up with Megan Media and Tropicana for this post as part of their #BelieveInYourGut campaign. Of course, all opinions are my own.
For the past year I've really been focused on trying to eat a healthier diet as a part of living a more healthy lifestyle. As a busy, working mom, I often put my nutrition on the back burner (can you relate?). I mean, one can only survive off of coffee for so long. I realized it was time to make some swaps in my daily diet that would really fuel my body.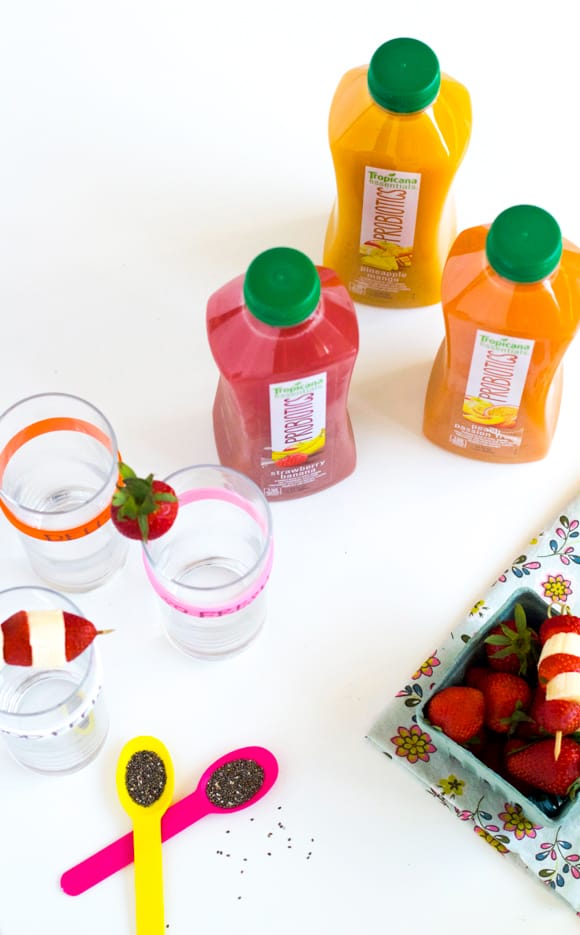 I decided making small daily swaps was much less intimidating than a complete overhaul. (Let's be honest, I'm not giving up coffee or wine on the weekends.) And I wanted to share a few things I've added to my routine that have me feeling refreshed, focused, and energized. Also, I've found if I make things a little more fun, I'm more likely to stay motivated. This shouldn't surprise you though. :)
Adding daily probiotics to my diet. I recently learned just how much my gut affects my overall health and wellness, so I'm looking for ways to get good bacteria into my system more often. Tropicana Probiotics makes getting more probiotics into your diet delicious, accessible, nutritious and convenient–which means "doable" in my book. It's 100% juice with no added sugar or artificial flavors and delivers over one billion live and active cultures to your gut. It can't get much easier than swapping out your morning juice for one of these delicious flavors:  Strawberry Banana, Pineapple Mango, and Peach Passion Fruit They were each so good that I couldn't even choose a favorite.
Fresh fruit garnishes, on everything. Your morning glass of juice or water might not be a cocktail, but adding a fun, fresh, fruit garnish will certainly up the fun level! I've found myself grabbing fruit more often as a snack later in the day when I add it into my morning beverages. I like to make up a few mini skewers to grab as snacks (my girls love them too!). (more…)