As you know, I'm partnering with Sterling Vineyards, Padma Lakshmi and 3 other bloggers to help judge this year's Ultimate Host Challenge and today, I'm announcing the second of four challenges that YOU can enter!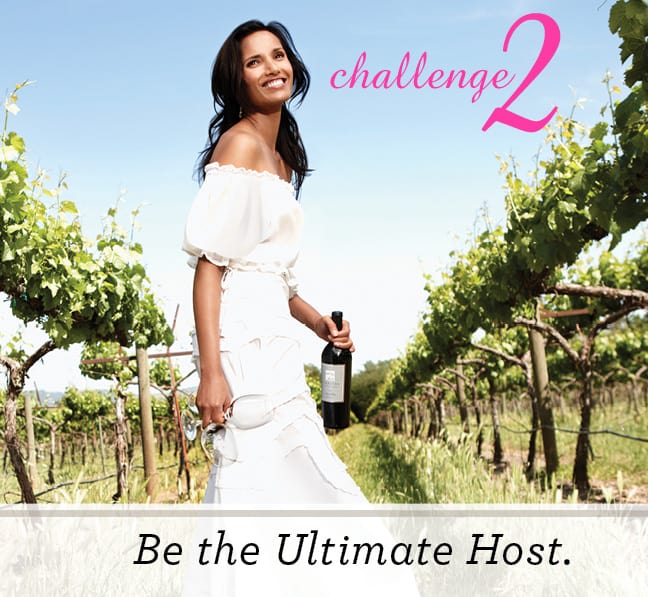 I know you are all capable of winning the title of Sterling's Ultimate Host. You know how to put those thoughtful touches on your events and I know you are all great at finding inspiration. I'd LOVE it if one of you, my talented and charming readers, won this title … so please be sure to enter!
Padma explains the challenge in this video:
……………………………………………………………..
Challenge 2: Dessert Pairings
"Will you pair zesty lemon squares with Sterling's citrusy Sauvignon Blanc? Or will it be a romantic evening with chocolate and robust Sterling Merlot? Crafting the perfect dessert and wine pairings is just one hallmark of the Ultimate Host."
How to enter: Simply submit your video, photo, or text submission to show us how you would complete this challenge. All entries should be submitted on Sterling Vineyards' Facebook page here. Entries must be submitted by October 9, 2012.
What you can WIN: Winners from each of the 4 challenges win a Sterling gift basket and a chance to compete in a grand finale event in NYC for the top prize of $25,000 plus a trip for 2 to the Pebble Beach Food & Wine Festival in Carmel, CA. PLUS, the title of "Sterling Ultimate Host" for the year.
I know you are brimming with ideas for this challenge! Submit your video, photo, or text entry with your great ideas for a Ladies' (or Guys') night in over on Sterling Vineyard's Facebook page!
Okay tell me, who's entering ('cause I really want to meet you in NYC!)?