Yes, I took a 30 day sabbatical. For all of my adult life, I've been going full-throttle. School, work, parenting, more work, side work, fun work. You name it, I want to do it (and am determined to do it perfectly). It's a blessing to love what you do, but sometimes it can also feel like a curse. Honestly, most days it feels like a tornado that ends with a migraine. (I bet some of you can relate.)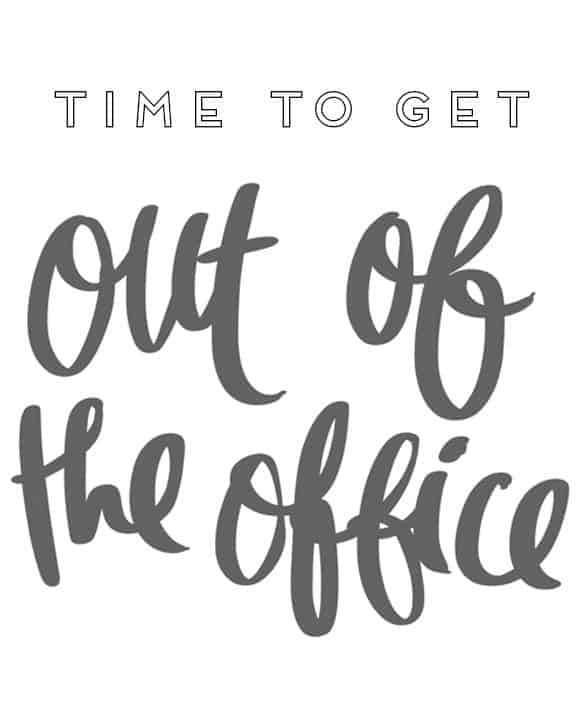 So, when the company I have been working for for the last seven years (The Grommet) announced a new policy that would give me the chance to take a 30 day paid sabbatical, I was equally excited and nervous. I've taken a week vacation before (still checking in here and there) but this was an entire new level. I wondered if I could do it. (I also tried negotiating working one day a week during it so I could still get stuff done, I know…pathetic). In the end I took an entire 30 days off.
I wanted to share a few things that I took away from this experience. From the planning process, to how I spent my time, to what I learned when I took a step back and let things
go … for thirty. whole. days.
The planning dilemma
I was stressing over what to do with my time off (what a first-world problem to have, I know). But you see, I want everything to be just right. When in my life will I get another chance to take 30 days off? I ran through several ideas. My first thought was to quickly plan an international trip. Over the last two years we've traveled a lot (my favorite was to Maine last summer) but never outside of the US.  However, my husband couldn't get that much time off, and traveling with a family of four is pricey. I ran through other ideas like volunteering my time, finally getting that passion project going I've been thinking about for years, creating a ton of content for this blog, deep cleaning my house (yes this crossed my mind), and more. In the end my husband asked me what I wish I could do every summer. And my answer? "Fun stuff with my daughters." I work from a home office and summers are HARD. When the kids are out of school they are always asking to go do fun things and I am always saying "no" because I'm working. I keep business hours so hitting the beach on a Wednesday isn't something we can just go and do. I realized that I wanted to be able to do whatever they wanted, and just have some summer fun.
So, that was it–we would do fun family things until our time ran out. I planned my sabbatical to end on their first day of school. We had 30 days to fill.  If you ever find yourself struggling with how to spend your time, just ask yourself that same question; what do you always wish you had more time to do? Then, do that. It definitely helped me put things into perspective and gave me a clear direction.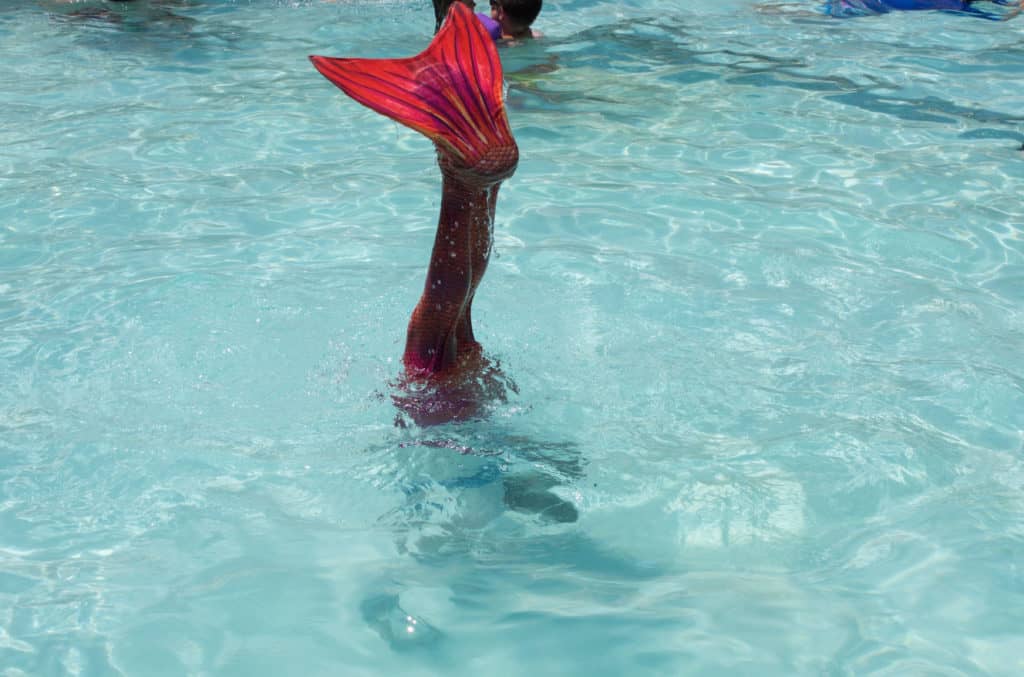 What we did
If you follow my Instagram Stories, you can skip this part because I posted almost daily (but they disappear so don't try finding them now, ha!). With four weeks, we decided a series of short (drivable) trips would be how we tackled our planning. We started in Palm Springs for a few days at a great family-friendly resort (the perfect place for a 10 year old to rock a mermaid tale). From there, we spent a week with our extended family boating on the Colorado River. It was very HOT (but fun).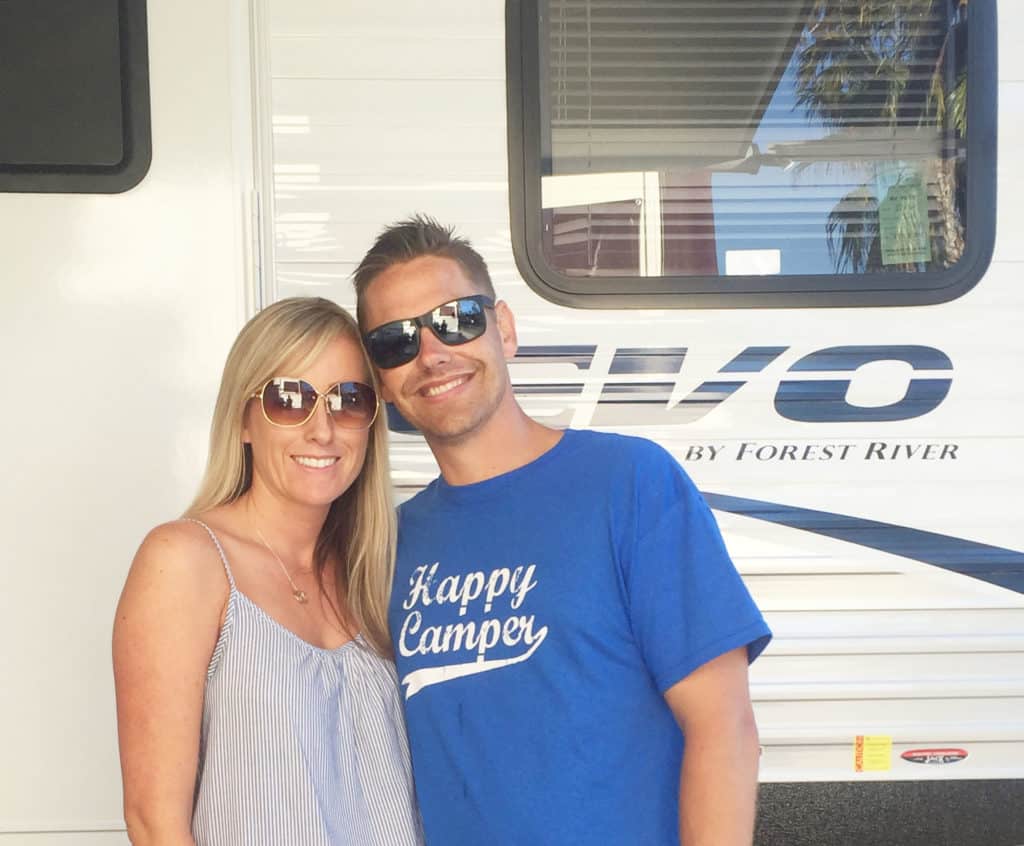 We came home and loaded up our new camping trailer (the Mr. is going to kill me for using this photo … so we'll see if he reads this post) ;) He's made a couple appearances on the blog now that he might not realize (like our wedding and his 29th birthday).  ;)
We camped at Newport Dunes for four days which was a really fun trip.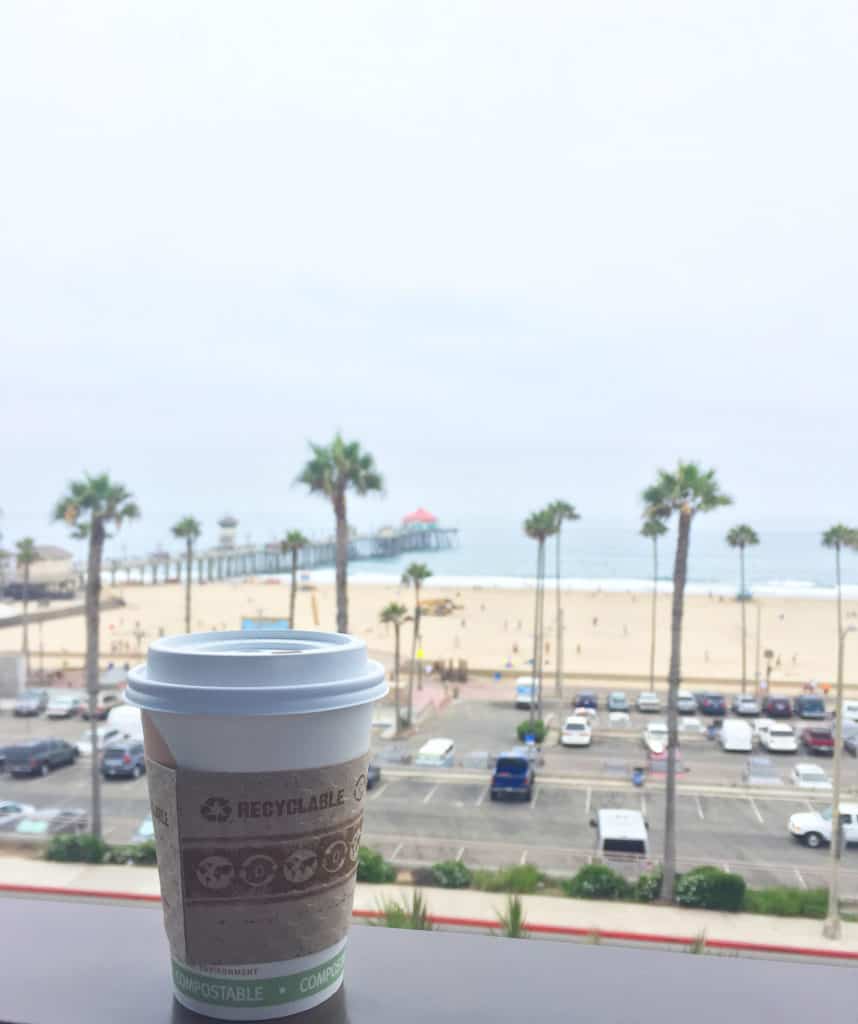 After that, we headed for a few days at the Kimpton Shorebreak Hotel in Huntington Beach. This was our view. It was everything my soul needed. And more.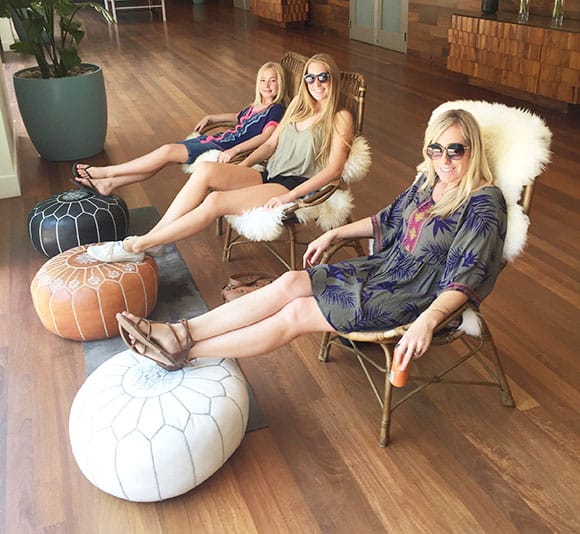 My girls and I spent a few days laying on the beach, shopping, and eating the best food. It was all so wonderful to just chill with them and be beach bums for a few days.
Honestly, this whole summer I didn't even take many photos, just a few on my iPhone. I was definitely enjoying the time with my crew and living in the moment. I wish every morning we could hang in a coffee shop and chat over breakfast. On this particular morning (above) we discussed dragons and college towns. Life is full of exciting and varying topics with a 10 and 16 year old.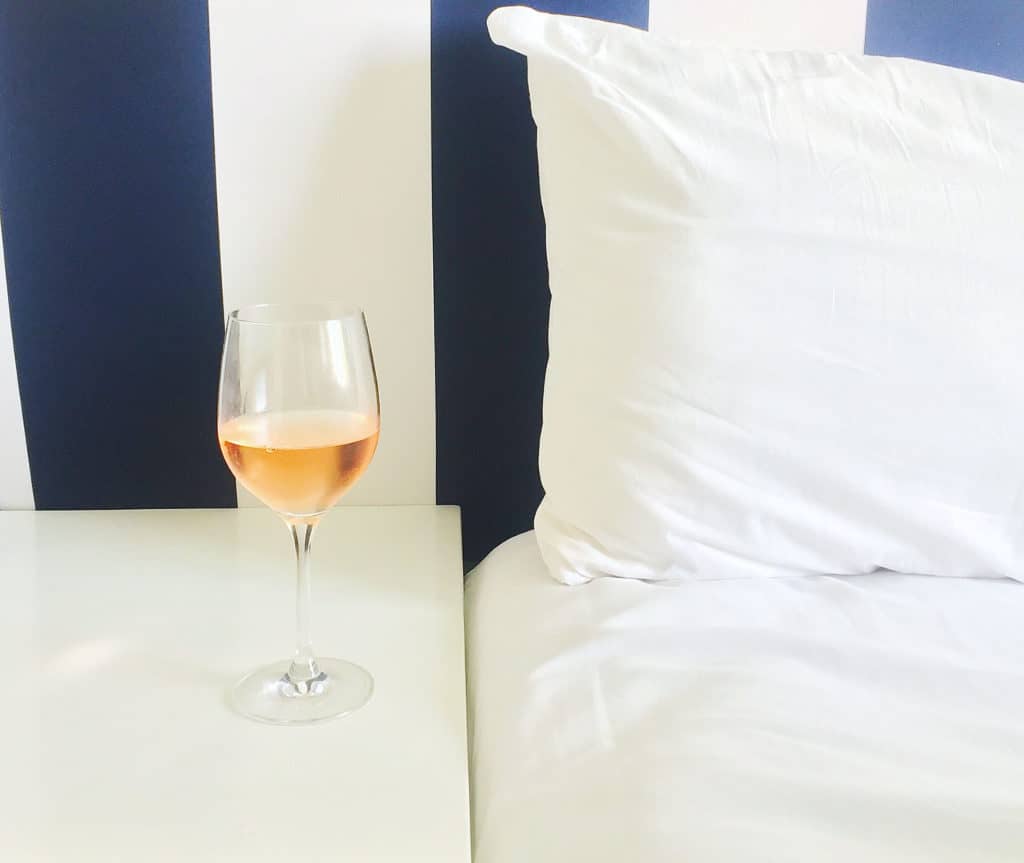 The Mr. and I also found a few chances to head to dinner or grab a drink. We ate at several new favorite spots and I made it my mission to taste tests all the rosé I could find. We are typically such a busy family that those adult dates are rare. I'm so glad our summer was full of them. After our time in Huntington Beach, we headed to Lake Mead for a few days to hang with more family, soak up some more sun, and pack in all the fun we could. I didn't take one single picture, but I know the memories will last.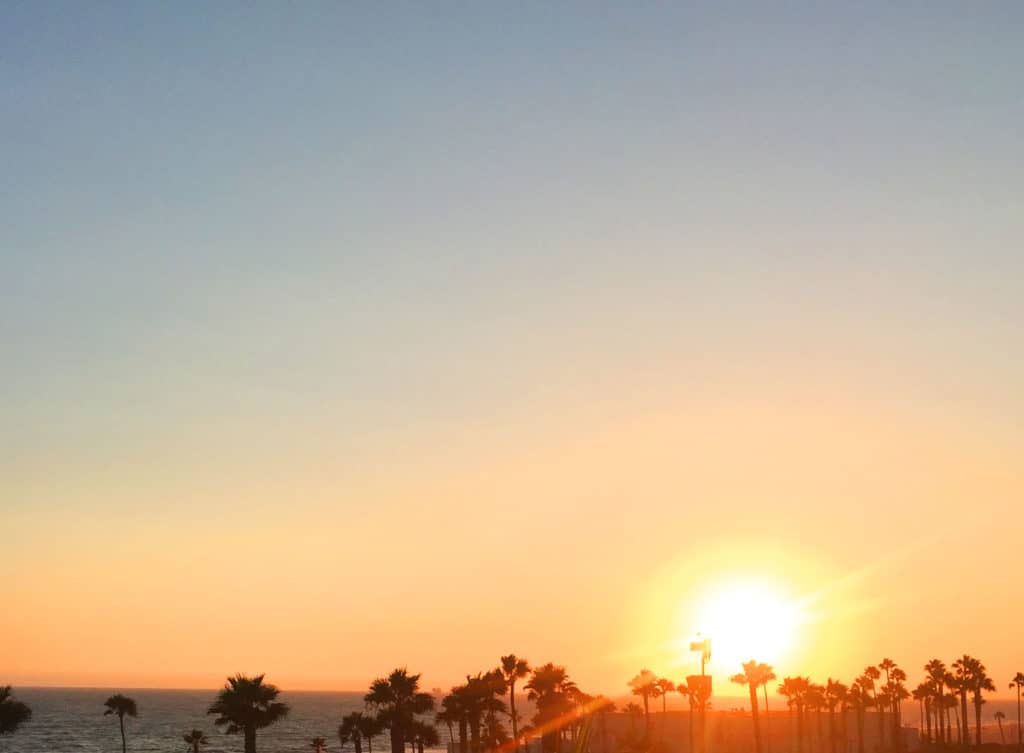 As the sun sets on my 30 days off, I do feel like it FLEW by. We were busy! In fact, we only slept at home for seven nights of those 30 days. But we were always together and always doing things we enjoyed. So, I didn't spend my sabbatical in the South of France, or Santorini, but it was perfect for us and just what we (I) needed.
Here are some things I learned while on sabbatical
-Your kiddos just want to spend time with you. We did a lot of fun trips but also did things like spending the afternoon at the library and grabbing ice cream. And those times were just as special and memorable.
-Your work will not collapse while you are gone.
-It's good to take a step back from your daily grind. I was truly able to get some much needed perspective and readjustment in my life. It's great to pour yourself into your work, but not at the expense of your family. I hope to be a bit better balanced from this point on.
-If you want to make a scrapbook about your summer, you should actually take pictures. (Hahaha joking a bit on this one, but it's true. I was bad at this!)
Have you ever taken a sabbatical from work?
I'd love to know what YOU would do with time off? Tell me in the comments!