This is a sponsored post. All opinions are my own.
Does the idea of impromptu guests make you sweat a little? Do you stress out a little bit during the holiday season when friends and family just "drop by?" I'll admit, I'm not a huge fan of the "drop-by" either but I have learned how to be prepared for when that happens.
It's all about have some essentials always on hand so if you need to put together a quick cocktail hour, you can (and with ease). There are five things that I always have stocked in my kitchen which means when someone drops by, I look like the hostess with the mostest and I don't even break a sweat! I'm always about easy entertaining so nothing too fussy here!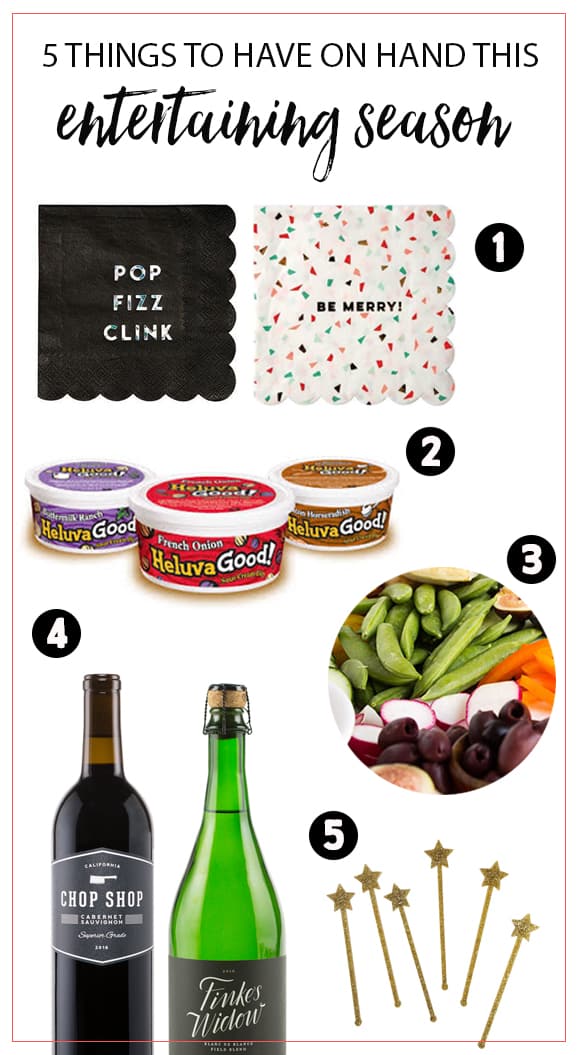 1. Festive Paper Napkins – I have more of these than most because I always keep the leftover from a party or holiday. So, when guests pop in I have a drawer full of festive napkins to pull out. I would say this is pretty close to decorating when we're talking about keeping things simple. Pull out some appropriately themed napkins for a bit of instant festivity. They have cute ones here.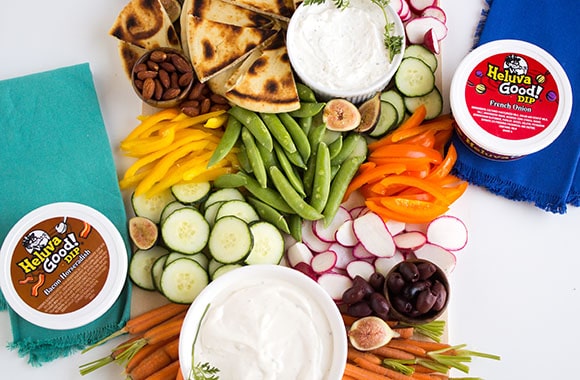 2. Flavorful Dip – I've been talking about Heluva Good! dips for a few months now, and there's good reason. They taste so flavorful and fresh that folks will think you just made it yourself. Keep a few of these on hand and when guests arrive, put the dip in a serving bowl, and viola! You can also use it to make small bite appetizers.
3. Snacking Veggies – Pre-cut (or purchase pre-cut) veggies for snacking (great with the dip mentioned above). When guests come over you can simple pull them out and put them on a platter. They work for any crowd big or small and will stay fresh in your fridge for a while so just use them as needed. If you're really ambitions, throw together a bountiful veggie tray.
4. Wine and Champagne – You'll want to be able to offer guests something to drink if they stop in. I always keep one bottle of red wine and one bottle of champagne on hand just for this occasion. Next time you're out, grab extra and put them away for this purpose. I use Winc wine club which makes it super easy to refill my stash during the busy holiday season. It arrives the day after I place the order which is super helpful.
5. Stir Sticks and Cocktail Picks – Like the cute napkins, these are fun to have on hand to up the festive element. I like to pick ones that will be cute for all holidays like these gold stars. You can see lots of choices, here.
My hostess tip is to stock up on these five things to help make your entertaining season as simple (and stress-free) as possible.
If you need a little more help, check out these past articles:
Visit HeluvaGood.com for full product info and to find out where you can buy Heluva Good! dips in your neighborhood.