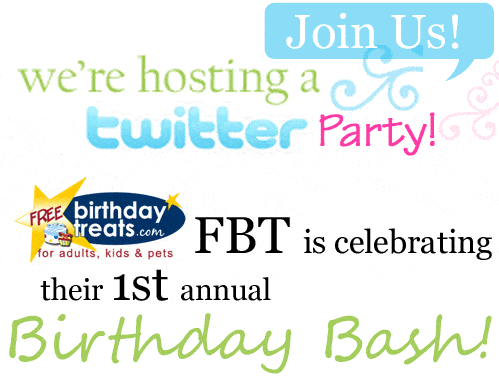 And you're invited!
In celebration of Free Birthday Treats' first birthday, we're hosting the 1st Annual FBT Twitter Birthday Bash (#FBTbash) and we would love for you to join us!
We'll be sharing fabulous party ideas for kids, adults, and even pets! Great topics, unique ideas, great party favors, plus a whole lot of fun!
Here's the scoop:
Who:
You, Me (@hostesstori), Julie from Free Birthday Treats (@JulieFBT) and some great live guests:
Lisa Kothar, Peppers & Pollywogs – Kids birthdays @LisaKothari
Amy Swygert, American Cancer Society – More Birthdays Campaign @amyuwm
Debba Haupert, Girlfriendology.com – Celebrating birthdays with your girlfriends @Girlfriendology
Jill Caren, Cool Photo Ideas– Capturing and perserving those birthday memories @coolphotoideas
We'll also have great party tips from Sally Strebel, Best Party Ever and Lynn, Celebrate Green
What:
Twitter Party to celebrate FBT's growing success and one year birthday milestone!
Where:
Where else? On Twitter! Join the party by using hashtag #FBTbash in every tweet!
When:
Wednesday May 13th from 5-7 PST
RSVP:
Let us know you're coming! Follow @hostesstori & @JulieFBT then copy and tweet the following:
Be sure to look around here and get in the party mood! We have tons of Party Ideas, Party Food & Drink, and Fab Gift Ideas.
Also- don't forget to stop by Free Birthday Treats and see what all the talk is about for yourself! I bet you're dying to know what you can get FREE for your birthday!
P.S. Feel free to leave your twitter handle in a comment below so others can follow you too!