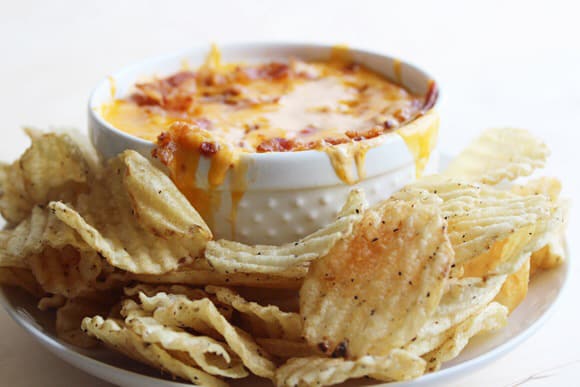 Looking for something warm, delicious and sure to please for game day? This bacon beer cheese dip will do the trick. Perfect to serve Superbowl Sunday (or anytime you want to impress your guests, really).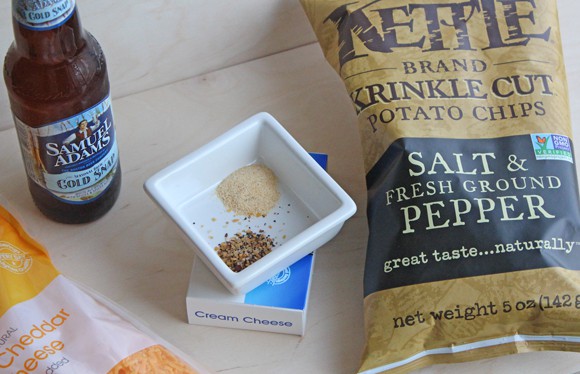 The main players here: cream cheese, shredded cheddar cheese, a bottle of good beer, garlic powder, montreal steak seasoning, Kettle Brand chips (I used Salt & Fresh Ground Pepper), and …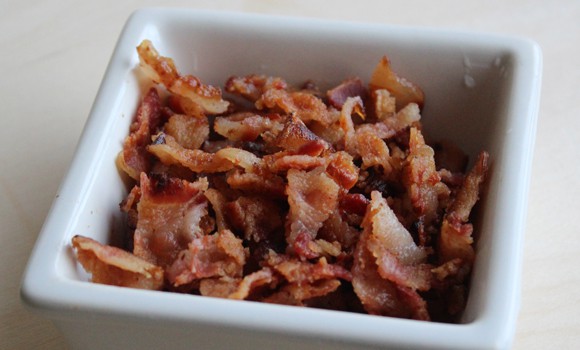 bacon. Cooked, chopped, amazing, bacon.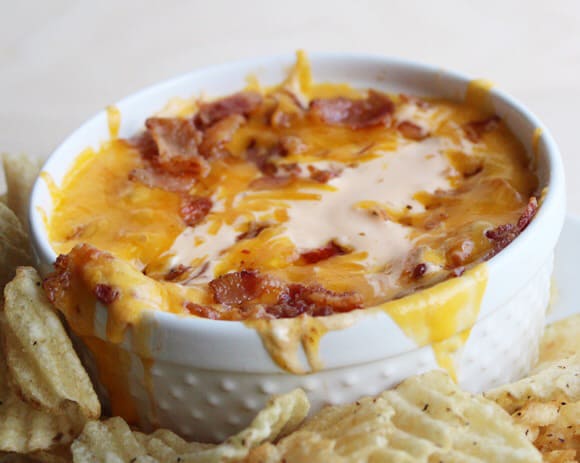 This beer cheese dip is the perfect combo of creamy, cheesy, and a little crunchy (thanks to the bacon). The Kettle Brand chips are the perfect choice for dipping because they are a bit thicker than your typical chip and have a great balance of salt and pepper which goes great with the richness of this dip.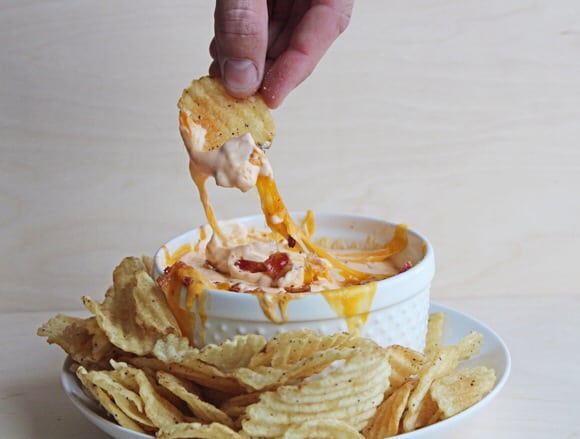 You will definitely want to double-dip.
Bacon Beer Cheese Dip
Served with Kettle Brand chips
Ingredients: One brick cream cheese, 1 1/4 cup shredded cheddar cheese, 1/2 bottle good beer (I used Sam Adams), 1 tsp garlic powder, 1 tsp montreal steak seasoning, 1/2 cup cooked and crumbled bacon.
To make: Combine cream cheese, 1 cup of the cheddar, beer, garlic powder and steak seasoning in a small saucepan and cook over medium heat until melted. Transfer to a small bowl and top with remaining 1/4 cup cheese and the bacon. Bake in the oven for 10 minutes until cheese is melted and bubbly.
Serve with Kettle Brand Salt & Fresh Ground Pepper Chips.
Enjoy!
This is a sponsored post. I received payment and product for Kettle Brand. All opinions are my own.